Mary J. Blige and The-Dream Pay Homage to Soul Legends on "Vegas Nights"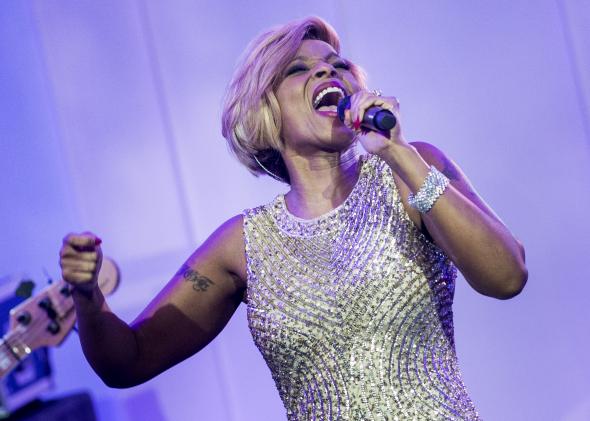 Last week, Mary J. Blige lent her velvet vocals to a duet with Sam Smith on "Stay With Me." And now she's following up last year's successful holiday compilation, A Mary Christmas, with the Think Like a Man Too soundtrack—also doubling as her 12th album—out June 17. For the soundtrack, Blige recorded 14 original songs inspired by the Kevin Hart-led sequel, including the catchy lead single "Suitcase" and "See That Boy Again" featuring Pharrell.
Now, Blige has unveiled the soundtrack's The-Dream collaboration "Vegas Nights," and it's the best track yet. Over a shimmering '90s dance-infused beat, Blige coos about the joy of driving down the Las Vegas strip before rising up into the stand-out chorus: "Just let me get a little Michael tonight/ Get a little Gladys, yeah, alright/ Get a little Lionel Richie, Marvin Gaye/ And some of that Barry White." It's an obvious track to add to your summer playlist, much like the first movie's "Tonight (Best You Ever Had)," and a reminder that it's time for Blige to put out another proper album.