What Actually Happened Last Season on Mad Men? A Refresher Course.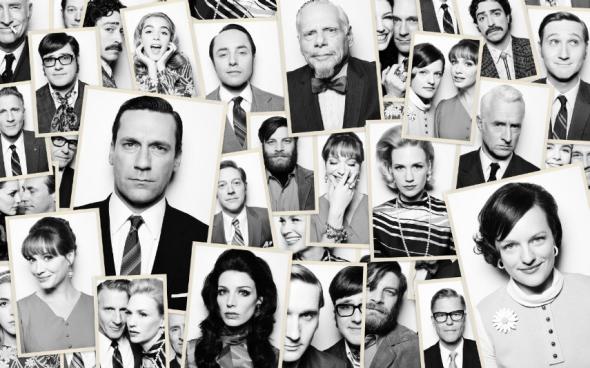 As I geared up to be a panelist on this year's Mad Men TV Club, the events of Season 6 were a little hazy in my mind. And I'm a card-carrying member of the Don Draper analytical-industrial complex! Sure, I was out last season on maternity leave, but I still watched the darn thing. And yet … I couldn't remember any details, beyond a lot of moping and drinking. Was Don really shtupping Linda Cardellini? I think maybe Peggy stabbed a guy?
He was, and she did! Herewith, a quick update on our heroes and heroines, and what befell them in Season 6.
She is killing it at Cutler, Gleason & Chaough. Then CGC merges with SCDP and she's stuck working for Don again. She buys an apartment on the crime-riddled Upper West Side, and stabs boyfriend Abe by accident one night. They break up. Her boss Ted Chaough confesses his feelings for her. She has some for him, too. Then Ted decides to stick with his wife and move to California. She is peeved.
Trudy kicks him out, but won't grant him a divorce. He lives in a depressing bachelor pad. His mother falls for her nurse, Manolo, marries him, then falls off a cruise ship. He grows suspicious of rival account man Bob Benson, and rebuffs his sexual advance. Pete then learns Benson is an impostor who has lied about his education and experience. He confronts Benson with this news—but decides not to out him to the partners (remembering how that failed when he tried it with Don). Benson and Pete are set to share the Chevy account, but then Pete is humiliated when he crashes a car in the firm's Detroit lobby; the city kid can't drive. He also decides to move to California.
His mom dies. He tries to make nice with Joan and spend time with their son. Eventually Joan relents and invites him to Thanksgiving.
She dies her hair black, then blond again. She gets skinny. She and Don tryst for old time's sake at a motel when they are visiting Bobby at camp.
Her acting career is going ok. She wears a T-shirt like Sharon Tate's T-shirt, and everyone speculates she is going to die. She doesn't. But she does walk out on Don when he abruptly cancels their planned move to California.
Read all of Slate's coverage of Mad Men .