TV on the Radio Are Back With Another Soulful Ballad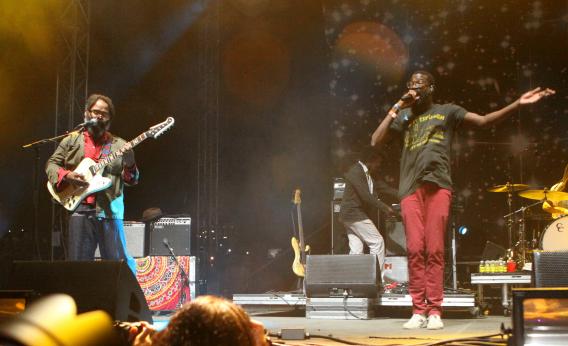 After a couple of years of silence, TV on the Radio have been coming back strong with new material the last few weeks. At the end of July they released the new single "Mercy," and now they're back to share "Million Miles," with a new video. (If you just want to hear the song, skip ahead to 1:30.)
"Million Miles" is in some ways the flipside of "Mercy." While "Mercy" was a straight-ahead rocker with a propulsive, "Wolf Like Me"-like beat, "Mercy" is a slow-swaying ballad. And while TV on the Radio kept singer Tunde Adebimpe front and center, this one centers around bandmate Kyp Malone's pretty, pained falsetto, as he sings about love and loss, before being joined by some horns. Both are TV on the Radio signatures, in their own way.
Advertisement

TODAY IN SLATE
Politics
The Democrats' War at Home
How can the president's party defend itself from the president's foreign policy blunders?