Mariah Carey and Miguel Deliver One of the First Songs of Summer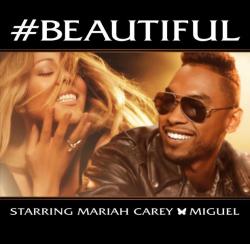 The last time we heard new music from Mariah Carey, it was an underwhelming ballad for the soundtrack of Oz the Great and Powerful, released back in February. This arrived on the heels of another middling single, "Triumphant (Get 'Em)," a run-of-the-mill R&B track that showcased its "featured" rap artists more than it did the songstress herself. (That song was originally announced as the lead single for her upcoming album, but, possibly due to its tepid response, it may no longer appear on the new album at all.)
With the release today of "#Beautiful," though, a breezy duet sung with Miguel, Carey has finally given her fans something to savor—and a tune that could be one of the big hits of summer.
Advertisement

Granted, she has also contributed to the hideous new trend of including hashtags in the title of songs and albums (see also Will.i.am's #willpower). Nonetheless, "#Beautiful" is a wonderfully easy listen, with the duo's voices blending smoothly together, accompanied by lush, almost Wall-of-Sound production. It's an interesting departure for Carey, whose recordings over the last 15 years or so have veered toward a more modern R&B sound. Here, the production is pure pop, and it sounds great.
TODAY IN SLATE
The Extraordinary Amicus Brief That Attempts to Explain the Wu-Tang Clan to the Supreme Court Justices
The Human Need to Find Connections in Everything
It's the source of creativity and delusions. It can harm us more than it helps us.