Listen to the New Mariah Carey Song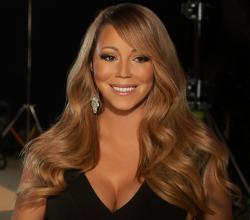 Mariah Carey has had a surprisingly long shelf life for a pop star. It's been more than 20 years since her debut album, and while her dominance on the charts has waned in the last few years, she's remained in the spotlight thanks to the occasional fun TV cameo and, more recently, her American Idol judging duties.
But this year we can expect more than just televised appearances. Her latest song, "Almost Home," the theme for Oz: The Great and Powerful, arrived yesterday, and a studio album is planned for release later in 2013.
Produced by Stargate, the Norwegian production team behind hits by Rihanna, Katy Perry, and Whiz Khalifa, "Almost Home" is standard fare as far as soundtrack ballads go. The lyrics are blandly inspirational: "When you're almost there, almost home/ Know you're not alone," etc. The minimalist beat also sounds rather over familiar at this point, echoing various hits going back to the late '90s. The song is pleasant enough in parts, but almost instantly forgettable.
As a Carey fan, I'm holding out hope that her new album will have more memorable tracks, even if her lead single, released last year, was also less than stellar. And while the ballad certainly doesn't rank among the singer's best work, it does provide the latest evidence of what we can count on after all these years: She's still got the voice.