Sigur Rós Return With Heavy New Sound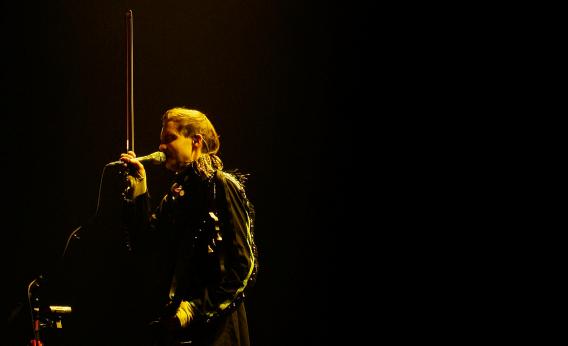 The members of the Icelandic band Sigur Rós have long described the group as a sort of metal band—lead singer Jónsi grew up listening to Metallica and Iron Maiden—but the claim is usually greeted with bemusement. That might change after new album Kveikur, announced today on their website, especially if new track "Brennisteinn" is any indication. You can listen to "Brennisteinn" by watching the new music video below.
The band, best known for glacial rhythms and Jónsi's ethereal falsetto, have had their heavier moments in the past. There are thunderous, crashing climaxes in songs like "Ný batterí" and "Untitled #8" (aka the "Pop Song"), for instance—but these moments generally come after several minutes of slow build. "Brennisteinn," on the other hand, announces itself with monster Inception-like braAAHMs right out of the gate. Jónsi's reverberating bowed guitar is still there, but his voice often drops out of his usual falsetto as he sings over tumbling drums. Even the video is a little metal, deserting the usual verdant hillsides of their homeland for a scorched, alien landscape and some grotesque pagan ritual (a subject that's an old metal favorite).
Sigur Rós has been taking this "more aggressive" sound on tour, and, surprisingly for a band that sings 8-minute songs in Icelandic and with made-up words, they continue to get bigger in the U.S. They'll be on Fallon tonight, and they're playing Madison Square Garden on Monday. Kveikur comes out June 18.

Update, March 23: Here's the band debuting "Kveikur," the title track off the new album, on Fallon: