A Brief History of Singing in Invented Languages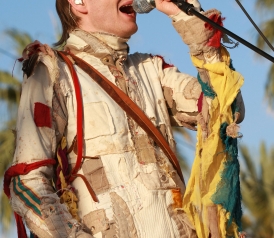 Many musicians sound like they're singing in an otherworldly tongue; relatively few actually endeavor to invent their own language. There are, however, a handful of ambitious souls who do just that. Among the better known examples is the band Sigur Rós, which released a live album Inni, earlier this month. Inni features a few songs in "Vonlenska," which is Anglicized as "Hopelandic," and which the band occasionally uses when they're not singing in their slightly less obscure, native language of Icelandic.

Although often referred to as an invented language, Vonlenska has no syntax or grammar and the words don't actually mean anything—so it's more like a systematic form of scat singing. The Cocteau Twins and Ekova have also used nonsense languages to dreamy effect.

Why not stick with one of the world's 6,500 or so (the estimate varies widely) existing languages? Sigur Rós's drummer and keyboardist Orri Páll Dýrason told the Stranger in 2005 that using a nonsense language allowed listeners to decide for themselves what the songs mean. "Maybe it's when people don't understand the lyrics, they think about something personal."
The tradition of singing in invented (or "constructed") languages goes back at least as far as the mystic and nun Hildegard von Bingen. One of the more important composers of the 12th century, Bingen also developed one of the first invented languages, Lingua Ignota, going so far as to create a new alphabet for it. However, her musical and linguistic vocations rarely intersected. Only one composition, "O Orzchis Ecclesia," features Lingua Ignota, and only five words of the language appear in it. It may be the earliest surviving example of a composer breaking free of her language's constraints and inventing her own words to sing.
Here's a clip of the ensemble Sinfonye performing "O Orzchis Ecclesia":

Enya, the preternaturally ethereal Irish singer, has sung in English, Gaelic, French, Latin, Spanish, and Japanese, so it made sense that she would take a stab at the J.R.R. Tolkien-created Elvish when she recorded songs for the Lord of the Rings soundtrack. And that's not Enya's only foray into the world of invented languages: Enya's lyricist Roma Ryan felt no existing language was quite the right fit for her ideas, so she created Loxian for Enya's 2005 album Amarantine—and provided some background info on its (imaginary) native speakers. "The Loxians are much like us," explains Enya's website. "They're looking out, they're mapping the stars, and wondering if there is anyone else out there."
If it's intergalactic back stories you want with your band's invented language, though, it's hard to beat Magma, the French progressive rock band that came to prominence in the 1970s. Drummer Christian Vander devised the band's customized tongue, the very German-sounding Kobaïan, ascribing it to the residents of a planet ever at odds with Earthlings. It may seem an unlikely premise on which to base a band's career, but Magma has impressively stuck with the concept over 10 albums and 40 years (the storylines aren't always clear—they're written in Kobaïan—but particularly fervent fans have worked out rough translations and even unofficial Kobaïan dictionaries).
With only this description, it would be understandable if you decided that French prog-rock is not the thing for you. But Magma's music is weird and bombastic in a good way, and worth at least a listen.
Sometimes invented languages build bridges right here on Earth. The Eurovision Song Contest prompts hand-wringing each year among competing European nations about the number of entrants choosing to sing in English over their native languages. Belgium's Urban Trad sidestepped the controversy in 2003 by singing in an unnamed fake language for the song "Sonami." The gambit paid off with a second-place finish to Turkey. Five years later, fellow Belgians Ishtar took a similar tack—only to find that a fake language alone was not enough for a top finish: Ishtar placed 17th.