Stream RZA's All-Star Soundtrack for Man With the Iron Fists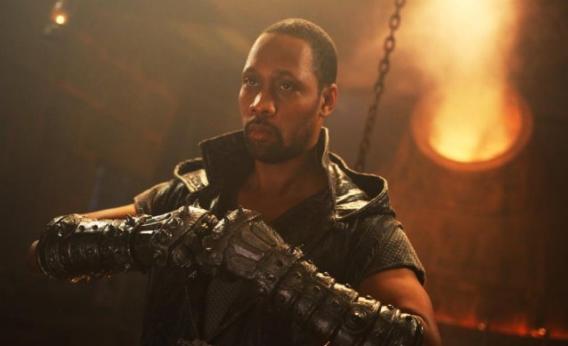 It's rare for any movie soundtrack to become more anticipated than the actual movie, but with RZA's Man With the Iron Fists that may actually be the case. It's no offense to the movie—which looks like the gleeful realization of one kung-fu fanatic's lifelong dream—but rather a credit to the names on the soundtrack, which includes new music from Kanye West, Pusha T, The Black Keys, Corinne Bailey Rae, the members of the Wu-Tang Clan, and several of hip-hop's most promising up-and-comers. The soundtrack doesn't come out until next week (the movie comes out the week after), but you can listen to it in full via the player below.
As the producer and organizing force behind the Wu-Tang, RZA brings together the styles of many of his former crewmembers. The young Boy Jones even shows up in place of his late father, Ol' Dirty Bastard (he's performed ODB's parts with Wu-Tang in the past). And this is just one of several cross-generational collaborations. RZA himself shares the mic with psychedelic Brooklyn hip-hop group Flatbush Zombies, while Wiz Khalifa collaborates with none other than Ghostface Killah. The album's biggest genre mashup, meanwhile, reunites RZA with The Black Keys (the two previously collaborated on rap-rock album Blakroc).
Filling out the eclectic remainder of the album are a hit '60s single from Motown pioneer Mable John, some Cantopop from Hong Kong chanteuse Frances Yip, and some contemporary R&B courtesy of Corinne Bailey Rae and Tre Williams. Altogether, it ain't nothin' to mess with.
Here's the tracklist with production credits, via HipHop DX:
1. The Black Keys / RZA - "The Baddest Man Alive" [produced by The Black Keys and The RZA]
2. Ghostface Killah / M.O.P. / Pharoahe Monch - "Black Out" [produced by Fizzy Womack]
3. Kanye West - "White Dress" [produced by Kanye West and The RZA]
4. The Revelations feat. Tre Williams - "I Forgot To Be Your Lover" [produced by Bob Perry]
5. Idol Warship [Talib Kweli / RES] - "Get Your Way" [produced by Frank Dukes and BadBadNotGood]
6. The Wu-Tang Clan / Kool G Rap - "Rivers of Blood" [produced by Frank Dukes and BadBadNotGood]
7. Method Man / Freddie Gibbs / Street Life - "Built For This" [produced by Frank Dukes]
8. Killa Sin - "The Archer" [produced by Frank Dukes]
9. RZA / Flatbush Zombies - "Just Blowin' In The Wind" [produced by The RZA]
10. Pusha T / Raekwon / Joell Ortiz - "Tick, Tock" [produced by Frank Dukes and S-1]
11. Corrine Bailey Rae - "Chains" [produced by Steven James Brown and Corrine Bailey Rae]
12. Francis Yip - "Green Is The Mountain"
13. The Wu-Tang Clan - "Six Directions of Boxing" [produced by Frank Dukes]
14. Mable John - "Your Good Thing (Is About To Come To An End)" [produced by Isaac Hayes and David Porter]
15. Wiz Khalifa / Ghostface Killah / Boy Jones - "I Go Hard" [produced by The RZA]