Who's Your Father Figure? Honoring the Best P.T. Anderson Daddies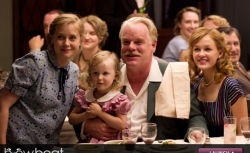 Over the last two weeks there's been a lot of talk about the paternal relationship at the heart of The Master. Cult leader Lancaster Dodd (Philip Seymour Hoffman) takes the impetuous Freddie Quell (Joaquin Phoenix) under his wing, helping the "scoundrel" improve his manners (Freddie should not fart, he explains, like an animal), and scolding him for being "naughty" (by brutally assaulting skeptics, for instance). After Freddie finally confesses past sins (such as having sex with his aunt), Dodd reassures him, "You're the bravest boy I've ever met."

Dodd may be a manipulative bullshitter, but his fierce loyalty to Freddie makes him a strong contender for best father figure from the films of Paul Thomas Anderson. He has some stiff competition, though. Anderson, who has named his production company after his father's television character, often builds his movies around fathers, some of them biological, many of them surrogates, and nearly all of them loving monsters.*

But who's the most fatherly of them all? Is it Jack Horner, head of the porn studio family in Boogie Nights? Sydney, the Vegas veteran gambler who shows the lonely and orphaned John C. Reilly the tricks of the trade in Hard Eight? Or is it Daniel Plainview, family oilman and generous provider? In the slideshow below, we've assessed the paternal pluses and minuses of each of PTA's father figures. If you found yourself fatherless in the cinematic universe of PT Anderson, who would you want to be your daddy?


*Correction, Sept. 24, 2012: An earlier version of this article incorrectly suggested that the namesake of Paul Thomas Anderson's production company, Ghoulardi, was a radio character. Ghoulardi was a television character.