Is Francesca Woodman the Sylvia Plath of Photography?
I was already halfway through A Confederacy of Dunces when I learned that author John Kennedy Toole committed suicide before the Pulitzer-winning-book was published. In hindsight, I was grateful for the couple hundred pages of ignorance; after learning his fate, I could not stop searching for his personal turmoil beneath the humor on every page.

Similarly, I would have preferred to walk into the Francesca Woodman exhibit at the Guggenheim without knowing anything about her. To remain truly ignorant, I would have had to enter the exhibit halfway through, or skipped the introduction on the wall, which spells out very clearly in big white letters: "In 1981, at age twenty-two, Woodman committed suicide." The work that fills several rooms in the museum was created in less than a decade by a woman on her way from adolescence to adulthood. "The untimeliness of her death is underscored by the startling sophistication of the photographs and videos she produced," the intro goes on to explain.
As a result, it is hard not to see death everywhere one looks—in the series Woodman called "On Being an Angel"; in the sequence where she transitions from a full-bodied girl to mere handprints, in the other small black-and-white photos of her pale arms stretched out and up, as if she's ready to float away. There's humor in her work too, in the notes that accompany her photos ("call me"), in her her commentary in a video. But it's not hard to understand why so many blogs and reviews describe her work as "haunting." Would the impact be different if she was still alive, and this was just the "early black-and-white nude performance" room before some bold color phase? It's impossible to say.
Just how unusual is it for work created by a 22-year-old to end up at the Guggenheim?
"It's pretty unusual. Even to be under 30 is fairly unusual. I feel like she was something of a prodigy," says Jennifer Blessing, Senior Curator of Photography at the Guggenheim, who organized the New York presentation of the exhibit. Blessing shares the take on Goodman put forward by Corey Keller, who curated the original show at the San Francisco Museum of Modern Art last year: Woodman was an old soul, with talent beyond her years.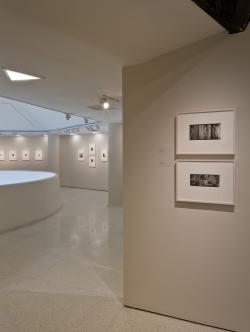 "She came to RISD fully formed," Blessing explains, citing interviews that Keller did with Woodman's classmates at the Rhode Island School of Design. "She was a lot more mature than other students. Both of her parents were working artists and took their work quite seriously. So from quite a young age she knew what it was to be an artist. What's interesting about the show is it's six years of production but she maintains a consistent clear visual vocabulary."

Art and photo blogs have covered the show extensively, and the response has been almost unanimously positive. Critics liken Woodman to Sylvia Plath and even even Emily Dickinson in her willingness "to challenge the convention of received wisdom." Woodman, as many have noted, was creating this work when photography was just starting to be taken seriously as an art form.

Others, including Ken Johnson of the New York Times, are less willing to call her a renegade. "She was not the most original photographer of her time. Lots of other artists were toying with photography in nondocumentary ways … and many were using their own bodies as subject matter in photography," he writes (though he concludes his review more positively).
I asked Blessing if she thought Woodman would have her own show at the Guggenheim without the dark and melodramatic backstory to her work.

"Yes I do," she told me, acknowledging that it's a natural thing to wonder about. "But I worry that kind of logic is a little sexist, too. That she was just a girl."
It's important to remember, she urges, that though Woodman often turns herself into the subject, the work isn't about her. Even the term "self-portrait," used on the wall of this exhibit, is misleading, Blessing says.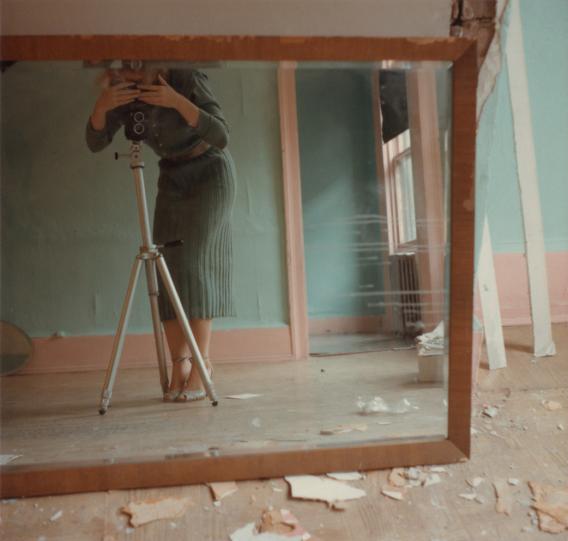 "It's not really self-portraiture. It's not really that she was trying to reveal something about herself. It was as if her body was a material," she says. "We can't ultimately understand why she did what she did and so trying to extrapolate meaning or connection to the work in that way is not helpful. I try to look at the work itself and images themselves. They are very complex and evocative and multifaceted and rich and I go from there."
Once you've seen a Francesca Woodman photo, there's no mistaking the rigid angles of her elbows and knee joints, the decaying walls and strategically placed mirrors, for work by anyone else. Even when she uses other models, they resemble her in their paleness, pose, or stare. The possession of such visual consistency is impressive for someone so young. It also means that even before you get up close to these intimate photos, you know right away who made them—and what became of her.