What's the Best Movie of 2011?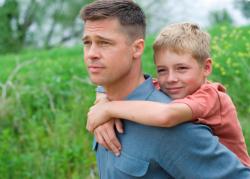 As the results of last week's poll about the year's best album showed, Slate readers don't always agree with Slate critics. While none of the Music Club's critics listed Adele's 21 in their top tens (some even found it "boring," though others rushed to its defense), readers roundly affirmed that the blockbuster album was their favorite LP of the year. 21 received 16% of the vote, almost twice as much as any other album. Records from indie rockers like Fleet Foxes, The Decemberists, Wilco, and Bon Iver were also favorites with Slate readers, despite appearing on none of the Music Club critics' top-ten lists.

So we're very curious to find out which movie our readers liked best this year—especially since, as Slate senior editor Dan Kois wrote in one of his Movie Club entries, 2011 did not seem to feature an obvious signature film. The two most popular picks among our Movie Club critics were Weekend and A Separation: Each appeared on three of the four clubbers' lists. Six other movies appeared on two of the four: Certified Copy, The Interrupters, The Tree of Life, Tinker Tailor Soldier Spy, Cave of Forgotten Dreams, and Jane Eyre.

But there was more disagreement than consensus in the Movie Club this year. Stephanie Zacharek was left unmoved by The Tree of Life, and defended The Artist against its detractors. Michael Phillips preferred Fast Five to Nicolas Winding Refn's more critically acclaimed Drive. Kois deemed critical darling Shame the worst movie of the year. And Dana Stevens continued to rail against Lars von Trier's Melancholia, which won the National Society of Film Critics' Best Picture of the Year award on Saturday.

Will there be any more consensus among Slate readers? In the poll below, choose the one film you loved best in 2011. 30 of the 50 choices come from the Movie Club's top-ten lists; we added 20 more based on a combination of box office performance (see, e.g., Harry Potter and the Deathly Hallows Part 2 and The Twilight Saga: Breaking Dawn - Part 1) and appearances in other critics' polls (hence our inclusion of Hugo, Margaret, Meek's Cutoff, and Take Shelter, among others). You can also vote for "other" and let us know what movie we overlooked in the comments.

Vote for your favorite by Friday at noon EST.