The Spy Who Confused Me
Tinker Tailor Soldier Spy is stylish, well-acted, and really hard to follow.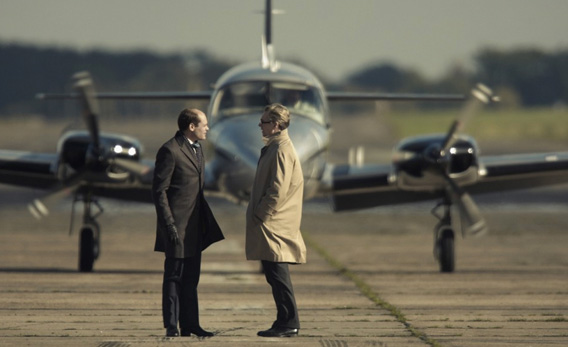 Click on the audio player below to listen to Slate's Spoiler Special podcast on Tinker Tailor Soldier Spy after you've seen the movie.
Swedish director Tomas Alfredson's adaptation of Tinker Tailor Soldier Spy (Focus Features) packs the book's sprawling tale of skullduggery in the British intelligence service—a story that filled a densely plotted six hours in the 1979 BBC version—into 127 minutes. This extreme compression of John le Carré's spy novel has a couple of effects: It condenses the book's already thick atmosphere into pea-soup fog, and it makes the multi-stranded, timeframe-skipping plotline all but impossible to follow for newcomers.
I can attest to this from experience because I didn't start reading the novel and watching the classic Alec Guinness series until after seeing this new Tinker Tailor, at which point the older versions served as retroactive exegesis for the new one: "Oh, now I get why he tailed that guy!" If you believe that espionage thrillers should provide their own "now I get why he tailed that guy" moments, Tinker Tailor Soldier Spy is not your movie. It's murky almost to the point of impenetrability, rife with non sequiturs too random even to qualify as red herrings. But Alfredson creates a world that's so gloomily atmospheric—not just the beautifully chosen sets and locations, but the smoky quality of the air and the echo of staticky radios in musty rooms—that not quite knowing what's going on starts to seem like part of the point.
The setting this film evokes with such moody precision is the London of the early 1970s, a dank, chilly-looking city where men in rain-soaked topcoats scurry in and out of "the Circus"—Le Carré's dry nickname for the MI6 headquarters, a place of dingy ochre interiors and mistrustful glares. The head of the service, a World War II-era spy known only as Control (John Hurt) calls agent Jim Prideaux (Mark Strong) into his dimly lit study to inform him that there's a KGB mole in their ranks. After Prideaux's fact-finding mission to Budapest backfires spectacularly, Control is ousted from the top spot in disgrace. Months later, still convinced there's a double agent in their midst, retired agent George Smiley (Gary Oldman) is recruited to investigate the organization from the outside.*
That's a lot of plot already, and we haven't even gotten to Ricki Tarr (Tom Hardy), the rogue spy who has an affair with the wife of a Russian operative, or Peter Guillam (Benedict Cumberbatch), the junior agent whom Smiley enlists to smuggle key documents. Then there's the lineup of potential moles, a starchy, unsmiling crew that includes characters played by Colin Firth, Ciarán Hinds, and Toby Jones. These secondary characters are sketched far too quickly, with back stories that take up whole sections of the novel reduced to a line or two of dialogue. To their credit, though, the fine supporting actors make their time onscreen count double, especially Cumberbatch and Kathy Burke, who plays a laid-off former colleague of Smiley's in a single, unforgettable scene.
Gary Oldman, who first made his name playing gonzo bad guys (Sid Vicious, Dracula, Lee Harvey Oswald) but has been moving in middle age toward more muted, self-effacing roles, delivers what may be the performance of his career as Smiley, a bookish, remote, seemingly colorless man whose still waters run very deep indeed. It's a rigorously unshowy and therefore all the more demanding role. Most of Smiley's intelligence-gathering is done from the depths of a wing chair, where he slouches across from his interlocutor, listening with a weary, wary intensity that hints at a lifetime spent seeing things no one should ever see. In the film's most-powerful scene, Smiley sits with a younger colleague, describing a long-ago attempt to "turn" a Soviet agent who had been tortured by the CIA. In one of this dispassionately framed movie's rare close-ups, he recalls his final question to the unresponsive detainee: "Don't you think it's time to recognize there's as little of worth on your side as there is on mine?" It's the closest the film comes to making a larger political statement. Though the Cold War now feels far enough away to serve as an exotic backdrop, there's a grim timelessness to the moral equivalence of that question.
Some of what comes after—including a Christmas party with Santa Claus in a Lenin mask and a spectacularly staged assassination set to a Julio Iglesias cover of Charles Trenet's "La Mer"—is arguably more style than substance (though Lord knows Tomas Alfredson, who also directed the ravishing vampire romance Let The Right One In, has style to burn).* Even Alberto Iglesias' old-school symphonic score and Hoyte Van Hoytema's chiaroscuro cinematography aren't quite enough to provide cover for Tinker Tailor's rushed incoherence. But the film's best moments are the quiet ones in which Oldman's ironically named Smiley provides the story with its wise, unsmiling soul.
Correction Dec. 9, 2011: This article originally misidentified a cover of "La Mer" as Hungarian-accented. It was done by Julio Iglesias. (Return to corrected sentence.) This article also originally stated that Control tasked George Smiley with investigating MI6 from the outside. Smiley was enlisted by a civil servant. (Return to corrected sentence.)