Oh Snap!: Learning To Train-Surf in Bangladesh
People generally ride the roofs of trains in Bangladesh for one of three reasons: 1) It's free. 2) It's fun. 3) There is no room inside.
Unfortunately, regardless of the reason, the reality is the same: Sitting or lying on the corroded metal roof of a train moving at 40 kilometers per hour is dangerous.
"When the train starts your feet will shake and you will try to hold something, but there is nothing to hold on to," says Bangladeshi photographer G.M.B. Akash, who learned to balance while shooting the photos above. (The project came to my attention through Anastasia Photo in New York City, which is currently featuring a larger exhibit of Akash's work titled "Survivors.") "Knowing that at any time an accident can happen will make you nervous [and] give you insecurity, making it more risky," he added.
Those who ride the roof every day to work, too broke to pay for a spot inside, eventually get accustomed to the shaking. They learn how to gracefully duck low-hanging tree limbs and nonchalantly avoid decapitation by stray wire. These regulars often grow so comfortable that they doze as they ride. But all it takes is a sudden stop or a crazy dream, and then even these veterans run the risk of rolling right off.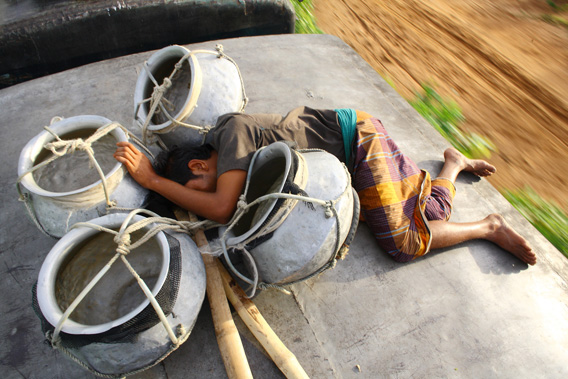 In the process of documenting train riders for the project, Akash encountered hundreds of low-paid workers for whom roof-surfing was an economic necessity. He met mothers squeezed onto the small spaces between carriages, nothing protecting their babies from the moving rails below except their arms. He met homeless children with nowhere particular to go, who simply enjoy living dangerously. He captured all these characters in bold color, their purple shirts and clashing paisley prints infiltrating routine commutes with deceptively joyous electricity.
When Akash was growing up in Bangladesh, photography was not considered a career. The idea that a boy would want to dedicate himself to pictures was incomprehensible to the aspiring doctors and engineers around him.
"People had no knowledge at that time how a photographer could change the world," he says.
Seeing an exhibit in Dhaka in 1998 on AIDS victims showed him that photography could be as powerful as medicine. He left determined to document the most neglected parts of Bangladeshi society—sex workers, the homeless, the gay community. In just a few years he began getting noticed, receiving invitations to attend prestigious international photo workshops and to publish his work in magazines, including National Geographic. Over the last several years he has received numerous awards for his work.
Akash is now established enough to draw assignments that can send him all over the world. But he has no desire to leave his home.
"Bangladesh is my soul, and my country gives me everything I want in my life," he says. "People are suffering, dying, but at the end of the day they fight with a smile. These smiles inspire me to live my life."
G.M.B. Akash's "Survivors" is on exhibit at Anastasia Photo until December 23.