Oh Snap!: Paranormal Light-Painting Activity
The haunting images in the slide shows below were created without Photoshop or any special effects. They are simply the result of inspired experimentation with long exposures and lighting.
Light painting is not a new phenomenon. (Recall Man Ray's creations from the 1930s and Picasso's centaur). But in the last few years the art form, which falls on the border of drawing and photography—and borrows techniques from graffiti and even set design—has exploded online.
"Light painting spreads more easily than the zombie virus." That's how Dennis Calvert, the creator of the supernatural scenes in the gallery above, puts it. Like many of those now regarded as masters, he's only been playing with light for about two years.
And like many a long-exposure addict, he discovered the possibilities by accident.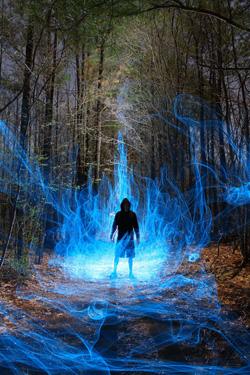 "I finally got out of college and bought a good digital camera. I was doing longer exposures with stars and stuff and I lit a cigarette lighter and it just blew my mind—and it was kind of like a drug addiction after that. It spiraled out of control and I got really obsessed."
A Web developer in Culmann, Ala. (dry since Prohibition, Calvert tells me, until just recently), he found the tools he needed for his new hobby in the local Wal-Mart's camping and automotive sections: glow sticks, flashlights, electric tent lights, and other devices used by Alabamans to trick out their dashboards. Before long, he was building complex rigs for his scenes and driving hours away to scout the perfect abandoned farm or factory setting for what have become intricate light stories. Eventually he quit his day job to dedicate himself entirely to photography.
"You can take this light we use to perceive the whole world and bend it in a way that creates science fiction and pure fantasy," he says.
So fantastical, it's hard to believe the pictures were created purely by moving lights around. So with every image he posts on Flickr, he reminds people: "straight out of the camera."
Although light painters are moving in a number of different directions, this refusal to alter the images after they are taken is a unifying principle. The photos in the slide show below, taken by Portland-based Ted Ducker—whose Flickr handle is Outabounds—were made in a similarly unprocessed way. They're simpler but equally eerie: UFO-like balls of rainbow light on a moonlit landscape in front of Mt. Hood; what appears to be a monstrous white spider crawling through the sand.
These orbs of light, a staple of modern light painting, look simple, but they're complicated to make. Ducker credits the legendary Captain Blithering (a master light artist cited frequently in light-painting blogs and forums) for training him, and says a lot of practice goes into making the orbs precisely symmetrical.
"For me it comes and goes. The other night I just didn't seem to get it," he says. Ducker has been light painting for a year and a half.
Still, long-exposure artists know that experimentation is key. Frequently, the truly magical monsters and ghosts emerge from what seemed, at first, like a mistake.