A long, thin, volcanic plume from space
In Chile, the volcano Puyehue-Cordón explosively erupted in June, sending thick layers of ash to the east over the country and into Argentina. While the activity has died down, an ash plume still flows from the stratovolcano, and was spotted by NASA's Terra satellite on July 8: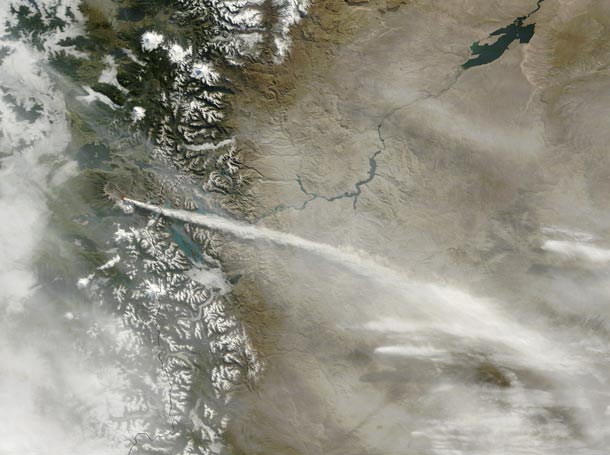 Advertisement

Chile is on the left, Argentina on the right. The image shows a region over 400 km (240 miles) across, giving you an idea of just how long that plume is... and see all that beige covering Argentina? That's ash. As the wind has shifted the plume has changed direction, covering vast swaths of land with volcanic ash.
Credit: NASA images courtesy Jeff Schmaltz, MODIS Rapid Response Team, Goddard Space Flight Center
I've collected quite a few images of volcanoes from space into a gallery slideshow. Click the thumbnail picture to get a bigger picture and more information, and scroll through the gallery using the left and right arrows.]
Bad Astronomy Gallery
(click any image to see it full size)
TODAY IN SLATE
Politics
Talking White
Black people's disdain for "proper English" and academic achievement is a myth.