A Red Carpet for Beijing
Economist Dambisa Moyo on why Africa is opening its arms to China and what the U.S. may be missing out on.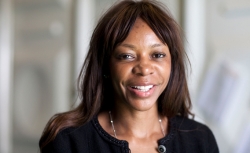 Economist Dambisa Moyo snickers when she hears talk that the Chinese are trying to take over Africa. What they want, as she argues forcefully in her latest book Winner Take All, are natural resources, which are in abundant supply around the African continent.
And as Moyo tells Slate's Jacob Weisberg, African nations that are doing business with the Chinese are getting plenty in return.
This productive engagement raises the question: Are the U.S. and its counterparts in the West missing out on a huge opportunity?
In Part 1 of our interview, Moyo explains why traditional aid to Africa doesn't work and how Bill Gates and others could better spend their money there. And in the second segment, she discusses her long journey from childhood in Zambia to seats on the boards of Barclay's Bank and Barrick Gold.