From Africa to the Board Room
How a Zambian-born economist left home for Oxford, Harvard, and Goldman Sachs.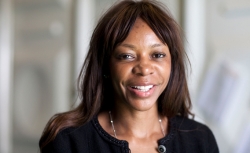 When economist Dambisa Moyo writes about the challenges facing African nations, she draws in part on her own roots and the great distance she has traveled since growing up in Zambia in the 1970s. She left her native country midway through college and went on to pursue graduate degrees at Harvard and Oxford. She later worked at the World Bank and Goldman Sachs before joining the boards of Barclay's Bank and the Barrick Gold, the world's largest gold company.
As an African woman working in and around the heights of global finance, she is frequently surrounded by white men. But Moyo tells Slate's Jacob Weisberg that she relishes the opportunity to offer her perspective, especially in when it comes to international development in Africa.

In Part 1 of our interview, Moyo explains why traditional aid to Africa doesn't work and how Bill Gates and others could better spend their money there. Tomorrow, look out for Moyo's take on what China's rise means for Africa and why the U.S. should pay close attention.