Tumblr vs. Pinterest
A Tumblr executive explains the real difference between the two sites—and takes other reader questions.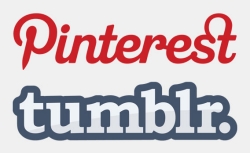 As Pinterest racks up new users and generates buzz, it's fair to ask what exactly is the difference between the visual social sharing site and Tumblr? That was one of the questions Slate readers had for Tumblr vice president Andrew McLaughlin, who recently sat down for an interview with Jacob Weisberg.
McLaughlin also gives his take on Internet privacy, saying he thinks it's time for the U.S. to set basic minimums for privacy protection, so that people can feel free to experiment and interact on the Web without fear of being haunted later by what he calls their permanent digital record.
In Part 1 of Andrew McLaughlin's interview, he talks about the uncommonly positive vibe on Tumblr. Part 2 focuses on the steep challenges for American tech companies in China. And in the third segment, McLaughlin shares his views on how best to protect copyright on the Web.