The Great (Digital) Wall
Tumblr executive Andrew McLaughlin on why American tech companies struggle in China.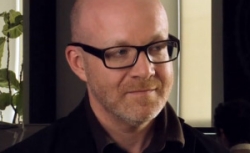 Technology companies that want to break into China inevitably have to make compromises around censorship. And the challenges don't end there.
Tumblr executive Andrew McLaughlin says that even those that are willing to accommodate the Chinese government's demands won't be allowed to come out ahead.
McLaughlin was at Google when the search-engine giant made its ultimately failed foray into China, and he says that experience has left him "scarred." In an interview with Slate's Jacob Weisberg, McLaughlin says that even though the Chinese government can't control the flow of information to the extent it once did, it can and does undermine American tech companies' prospects for success inside China.
You can watch Part 1 of Andrew McLaughlin's interview, in which he talks about the uncommonly positive vibe on Tumblr. Look for more of our interview in the days ahead, including McLaughlin's take on how Tumblr handles delicate copyright issues.