YouTube for Artistes
The Web video site Vimeo goes after an audience tired of the poorly lit basement aesthetic.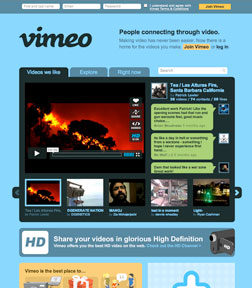 My nomination for the most mesmerizing minute and 34 seconds of video on the Web is nothing more than a meditation on a stretch of power lines as thousands of birds come and go at sunset. What the clip lacks in plot, it makes up for with fantastic production. Wes Johnson, a photographer in Mesa, Ariz., who created the piece, shot the scene with a high-definition camera that allows you make out individual birds as they come and go on the swaying lines. Johnson sets the video to Yann Tiersen's "L'autre Valse d'Amélie," from the Amelie soundtrack, laid down with startling synchronicity to the images.
Unlike many popular videos online, Johnson's clip—which I found on Jason Kottke's blog—features no cute children, ironically profane white rappers, nor any other staples of viral video stars. Perhaps that's why the clip didn't make its splash on YouTube. Instead, Johnson posted it to an alternative video-sharing site, the Web's best place to find beautiful videos. It's called Vimeo.
About 73 million people visit YouTube every month, according to the traffic-monitoring firm Compete. Vimeo gets just a tiny fraction of that horde, fewer than 3 million. But the content looks like it comes from the Web's most talented lot. Vimeo attracts a high-art, film-buff set—the kind of people who, when making movies for the Web, pause to consider such virtues as cinematography, framing, music, and composition. You could argue that those concepts don't matter much in the digital world, at least as far as page views are concerned; some of the most popular videos ever to wash up on the shores of the Web—"Numa Numa," Laughing Baby, "Evolution of Dance"—were shot on cheap cameras in uncertain light and are blighted by poor sound. But that's precisely why watching Vimeo is a revelation. The videos here suggest that there is a market on the Web for good old-fashioned quality.
Not every video on Vimeo is amazing, of course. Some are boring or incoherent, and more than a few seem to be trying too hard to be artistic. What's astounding about Vimeo is its high ratio of signal to noise. Most of the videos posted here, even the terrible ones, are at least trying to say something interesting. That's a lot more than can be said of much of what you see on YouTube.
Vimeo has been growing rapidly over the last few months, and nowadays its videos spread widely online. I was originally clued in to Vimeo's rising profile by a recent film called "The Crisis of Credit Visualized," by Jonathan Jarvis, a graduate student at the Art Center College of Design in Pasadena, Calif. Jarvis uses simple diagrams and clear on-screen text to explain the roots of the financial crisis, for the most entertaining and informative 11 minutes I've spent on the Web this year. Jarvis posted the video on YouTube, too, but the higher-quality Vimeo version saw much more action. More than 1.5 million people have watched Jarvis' video on Vimeo; half as many saw it on YouTube.
Vimeo was founded in the fall of 2004 by filmmaker and Web entrepreneur Jakob Lodwick, who was among the crew of young men who also started two other great collections of online fun, CollegeHumor and BustedTees. YouTube launched a few months later but took off immediately on the strength of user-generated viral hits and a smorgasbord of copyrighted clips from TV shows and movies. YouTube, which is now owned by Google and has been sued by Hollywood, has since instituted much stricter rules on the kinds of videos allowed on the site, but Vimeo's guidelines are even less permissive. Vimeo lets you post only videos that you've created yourself; it won't even let you post screen captures from your greatest video-game victories. YouTube allows studios to post movie trailers or clips from TV shows while Vimeo prohibits such commercial videos. Vimeo makes money through ads it posts on the site—though never on the videos—and from a $60-a-year subscription program for people who want to upload more than 500 MB of video files per week. (Vimeo declined to say whether it's profitable; the site's traffic, though, has increased by nearly 700 percent during the last year.)
For many years, Vimeo, like other video sites, languished in obscurity under YouTube's shadow. In 2006, Barry Diller's Internet conglomerate IAC purchased a controlling stake in CollegeHumor, BustedTees, and Vimeo; Lodwick and the company didn't see eye to eye, and in late 2007, IAC fired him. Around that time, Vimeo launched its high-definition service, making it the first big site to offer filmmakers a chance to stream videos that didn't look as if they were shot on a cell phone. Vimeo's timing was just right; high-def cameras were just starting to become more widely available, and people looking for an alternative to YouTube's grainy ghetto began to flock to Vimeo. "We refused to believe that video quality online couldn't be amazing," says Blake Whitman, a community director at Vimeo. "We thought that HD was the future, and we knew it was technically possible—and we got some really incredible filmmakers, motion graphics artists, and animators who were looking for the highest-quality site out there."
In particular, Vimeo began to attract photographers who wanted to stream the sort of footage that wouldn't really work on YouTube. Here's a shining example: On the first warm-weather weekend of 2008, Keith Loutit, a photographer in Australia, planted himself on the ridges overlooking Tamarama Beach, in Sydney. His high-def camera was outfitted with a series of tilt-shift lenses, which produce a shallow depth of field, making a scene resemble a miniature town. The result is an enchanting landscape that one can watch several times over. (Loutit has made several other videos in this style.)
Many of Vimeo's competitors, including YouTube, have since given users the option of posting high-definition videos. Vimeo's continued appeal comes from the atmosphere that developed from this emphasis on good videos. For instance, the staff puts out ideas for filmmakers to tackle on the weekends—things like creating an homage to your favorite Vimeo video or making an orchestra out of everyday objects. Vimeo's staff also regularly post funny videos of their own.
These efforts make Vimeo seem like a small town, a sensibility that's especially apparent on the comment threads attached to videos. Where YouTube is notorious for attracting the most inane and vile commenters on the Web, people who respond to Vimeo videos are unbelievably nice. "I won't say you'll never find a negative comment, but in more than two years, I've literally seen 20 negative comments," Whitman says. "And I've watched 50,000 videos easily."
It's unlikely that Vimeo will ever be as big as YouTube, though that's not really its aim. With size comes all kinds of problems—lots of terrible videos, lots of terrible commenters. What Vimeo proves is that online, being well-behind the leader has its benefits. I'll always head to YouTube when I'm looking for the next viral sensation; for the real talent, though, I'll go to Vimeo.