NFL Playoffs, the Super Bowl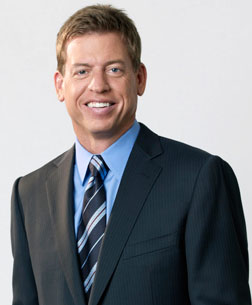 I'm for as much Concussion Bowl talk as we can muster now, presidential and otherwise, because we're likely to hear nothing about the subject on the big day itself. That's not only because, as Josh pointed out, fans aren't particularly interested in which of our tough, gutsy, big-hearted warriors will win this year's Most Likely To Develop Early-Onset Alzheimer's Award (sponsored by the Brain Injury Association of America). It's because the game will be broadcast on the Fox network, which employs Troy Aikman as its main in-game color commentator, and Aikman has taken a vow of silence on the issue of concussions in professional football.
When the Hall of Fame quarterback retired in 2001, it was widely reported that he had suffered at least 10 concussions—it was probably a good number more—during his 12-year NFL career. "I know it's the right thing for me because of my health, concussions, the back problems I've had," Aikman told reporters at the time. These days, though, he seems hellbent on disavowing his own well-chronicled history of brain injury while letting other ex-player-broadcasters with more conscience and common sense—like NBC's Cris Collinsworth—speak up on the central issue in the sport today.
Aikman's bogus rationale for his nothing-to-see-here approach was exposed recently by Bob Wolfley of the Milwaukee Journal Sentinel, who noticed that Aikman, during Fox's Dec. 26 broadcast of the Packers-Giants game, was quiet on the subject of Aaron Rodgers playing in his first game after concussion No. 2 of the season. Aikman told Wolfley that he shouldn't be "the poster boy for head injury" because, at age 44, he hasn't experienced any short-term memory loss. He added that he doesn't want to talk about concussions on the air because he doesn't know what a specific player is actually feeling. (Um, Troy, your on-field experience is the only reason you get to "analyze" games.) And about the concussions he sustained—which were tallied contemporaneously—well, only two "were of major concern," Aikman said. "As far as head injury goes, I would say all of the others were pretty minor and inconsequential," he added, incredibly.
Aikman might want to chat with a neurologist about the cumulative effects of "minor" concussions, or maybe just read a newspaper. One reported that concussions "are frequent during practice and in games. In fact, but two games were played during the season in which a case of concussion did not occur." Yes, I just employed an old writer's trick. That quotation came from a report by the doctor for the 1906 Harvard football team. I found it in a New York Times story about proposed reforms for the sport after a "season of troublous times." Basically, lots of high-school and college kids were dying while playing football. According to another Times report, "concussion of brain" was responsible for 15 of the 50 football deaths in 1908, 1909, and 1910. The newspaper listed the dead, just as the National Center for Catastrophic Injury Research at the University of North Carolina does today.
Aikman's know-nothingness is particularly curious, given that in 1995—after what was said to be his sixth concussion in his first six years in the NFL—his agent, Leigh Steinberg, convened a panel of neurologists to lecture Aikman and several other quarterbacks about the perils of concussions. (Sign of the times: Steinberg's wish list, including sideline evaluation of a player's fitness to return to a game and a review of helmet technology, were dubbed by a reporter as "wishful thinking.") Four years ago, Aikman praised the NFL for requiring baseline neurological tests on players during training camp (while also claiming that back problems were the main reason he quit).
If I were Roger Goodell, I'd encourage Aikman and other announcers on the league's broadcast partners to drop the Wizard of Oz approach. The NFL has the stoutest public-relations machine in team sports. And yet, though the league has taken steps, effective or not, to limit the sorts of hits that used to be compiled and sold by NFL Films, nothing will slow the widely spreading perception that its brand of football is ever-more crazy dangerous. Tom, I think the public will happily accept football as the I-95 of sports. I don't think it will abide people in positions of influence, like Aikman, pretending there isn't a problem because he hasn't experienced one—not yet, anyway.
So if not concussions, what story will be jammed down our gullets like (according to Allen St. John's The Billion Dollar Game) the 8,000,000 pounds of guacamole we'll consume on Super Sunday? That Super Bowl Ex El Vee is a Historic match between two Legendary franchises founded in the league's Rag Days that have Old School ownerships and Blue Collar fan bases that Live and Die by, or maybe Bleed, their team's Traditional colors. Wherever Vegas sets the line on media mentions of Lambeau, Rooney, Lombardi, Hornung, Noll, Bradshaw, Steel Curtain, and frozen tundra, I'll take the over.
This point won't get much airtime, but it's worth noting that the Steelers and Packers owe their current ownerships to league commissioners at different moments in history. The Packers were founded in 1919 by Earl "Curly" Lambeau and named for a local meatpacker, the Indian Packing Company. Two years later, the team joined the NFL's forerunner, the American Professional Football Association. According to When Pride Still Mattered, David Maraniss' biography of Vince Lombardi, the Packers were in such poor straits after World War II that Lambeau "persuaded a fan to auction his roadster to keep the team out of hock." In 1949, to stave off the same fate as every other small-town NFL franchise, the Packers went public, raising $125,000 from the people of Green Bay and becoming a nonprofit corporation.
But the structure proved chaotic and, over the next decade, the Packers were a laughingstock. The NFL's big-city owners, Maraniss writes, wanted Commissioner Bert Bell "to fix the Packers or bounce them from the league." In 1959, Lombardi arrived in "the salt mines of Siberia," as Green Bay was known around the league, winning resumed, and, most important, NFL owners agreed to split their growing television revenue equally. Green Bay survived, and still does, a finger in the eye to the billionaire boys' club that constitutes the rest of the league.
The Steelers, too, were born in a much different time. The family whose patriarch—boxing promoter and horse-racing handicapper Art Rooney—paid $2,500 for an NFL franchise in 1933, shouldn't, by all logic, own the team anymore. As the business of the league grew more complex at the end of the last century, the Rooneys found themselves out of compliance with increasingly stringent ownership requirements. A complicated family dynamic made keeping the team even more difficult. In 2008, the Rooneys received an offer from a native billionaire financier valuing the franchise at $840 million. They turned it down and, at Roger Goodell's insistence, bankers found a way to keep the team in Rooney hands.
So there we have it. Two rosters filled with head-injury victims. But wearing uniforms that embody NFL history and NFL tradition and NFL royalty and tough, gutsy, big-hearted NFL play. "I already hate this Super Bowl," Drew Magary just wrote on Kissing Suzy Kolber. "DURRR HISTORY DURRR THEY DO THINGS THE RIGHT WAY DURRRRR." Nate, are you stammering about the game, too?