NFL Playoffs, the Super Bowl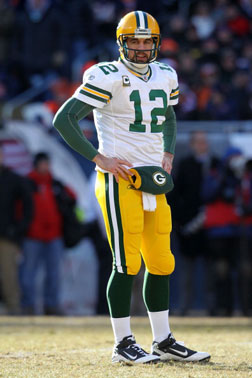 I received a small amount of comment and Twitter hate last week from fans of the Chicago football team who objected to my observation that Jay Cutler, in person, can be kind of a jerk. "As a Bears fan I could care less if Cutler is 'nice' to anyone, let alone a kicker or media," one guy wrote, snap!-ping me twice. "All that matters is on the field." Well, I wouldn't be surprised if he and my other detractors were screaming at their television sets on Sunday that Jay Cutler is kind of a jerk and they didn't want him on "their" team anymore. Because when "your" team wins, jerkiness is easily overlooked. When your team loses, it's causal. The latest word is that Cutler—who once admitted to a mutual friend that, during a crucial game in his rookie season, he talked his way back into a game despite what he figured was a concussion— tore a knee ligament.
In sports as in life, immediacy is the currency of stupidity. I understand deadline writers falling into the trap of drawing sweeping conclusions in the absence of facts; in this instance, we didn't see Cutler get hurt, he wasn't on crutches, he didn't make an owie face, the Bears didn't tell anyone what was wrong, Fox's announcers and sideline "reporters" were useless. That's what writers do, even ones who remind us how close they are to pro athletes, like Michael Wilbon, whose post-game fanboy screed took a straw-man approach to Cutler's performance—I won't say that Cutler is a "complete baby," but ...—and then added the woe-is-me homer trope of seeking pan-generational meaning for a franchise's behavior. (Conclusion: The Bears don't care about quarterbacks! Evidence: Jay Cutler made two bad passes against the Packers!) Wilbon, though, is just the media. All those players, current and former, who accused Cutler of "tapping out" (Deion Sanders' words)—well, as Josh said, it turns out they're just dumb fans, too.
What troubled and surprised me—and Nate, give us your shoulder-pad-wearer's take on this—is that current, non-studio-analyst players were questioning a fellow player's injury. The reality of the NFL is that every player is pretty much always hurt. Football players do their jobs, day in and day out, with the sorts of injuries that would have the rest us obeying the anesthesiologist's order to count backward from 100. At a time when the NFL Players Association is trying to make the league's owners, not to mention society at large, recognize the short- and long-term health ramifications of this line of work, it seems counterproductive to accuse a fellow union member of being a wuss, especially if he wasn't. Players hate it when team doctors minimize injuries and send guys back on the field. In this case, maybe other players should be praising the Bears medical staff for not putting Jay Cutler's health at further risk.
I watched the Bears-Packers game while reading this week's New Yorker, which contains a long article by Ben McGrath titled "Does Football Have a Future?" (The headline on the cover flap is even more provocative: "Should Football Be Banned?" a question the story doesn't attempt to answer.) The piece is an excellent narrative summary of the head-injury debate and the social and cultural paradoxes that football poses. For journalism wonks, it explains how Alan Schwarz of the New York Times has become the "Alan Brockovich," as friends call him, of the head-injury cause. For people who believe fans might better understand what players go through if they experienced it themselves, it introduces former Redskins lineman Markus Koch, who suggests "only half kidding" the development of a mouth guard that fans on the couch could wear "that registers the impact [players] are getting on the field, and at certain g-forces the helmet shell would crack and explode and leak gray matter and blood." More wings, anyone?
A more likely future for football is predicted in the New Yorker story by two other ex-players: Dave Meggyesy, who has been hammering against football's hierarchy and institutionalized violence since he played in the 1960s and, oddly enough, 1970s Steelers quarterback and current Fox analyst Terry Bradshaw (who, not to be glib, sounded during his interviews in the Green Bay locker room as if a career of "dings" was taking a toll). Both men raise the notion that football's future is less about new helmet technology or more sophisticated brain scans than about litigation. What did the NFL know and when did it know it? Football as the next tobacco, the next Agent Orange, the next asbestos.
If that seems extreme (McGrath reports that two groups of lawyers are preparing class-action lawsuits against the league on behalf of retired players), then at least the issue is affecting how fans consume the sport. Maybe it's because of Markus Koch's suggestions, maybe it's because I know a bunch of players and have stood on the sidelines during games, maybe it's because I think about football less as a fan than a writer, maybe it's because this is what happens when a subject achieves critical mass, but I am far more aware of the head-banging when I watch football than ever before.
So on Sunday, I noticed that Bears safety Chris Harris led with his helmet while making the tackle on the very first play from scrimmage (no penalty, no comment from the Fox crew). In the second quarter, I noticed that, even though Bears cornerback Charles Tillman led with his shoulders while tackling Packers wide receiver Jordy Nelson, both of their heads snapped back violently. A few minutes later, I noticed Bears linebacker Lance Briggs and Packers running back James Starks both drop their heads at the moment of impact, the crown of Briggs' helmet making contact at the spot where facemask meets shell above Starks' left eye. With 11 minutes left in the game, I saw Bears defensive end Julius Peppers launch himself head-first at the noggin of Packers quarterback Aaron Rodgers. Rodgers' chin strap wound up covering his mouth, he wobbled as he stood, and, to my eyes, he looked dazed. Peppers was flagged for roughing the passer, but the point of impact was not telestrated for our viewing knowledge.
Until medical game-breaks become routine—"brought to you by the official MRI supplier of the NFL!" —or until someone dies on the field, I think the league's ratings and its appeal are secure. The NFL has been shaped and pitched from the 1960s on as a sport of modernity, technique, specialization, and organization, on and off the field. There's a rule for everything, so when, in the fourth quarter in Pittsburgh, Steelers linebacker James Farrior rammed his helmet and facemask straight into the mug of Jets running back Shonn Greene, the rulebook decreed that no penalty should be awarded. "So what exactly is a helmet to helmet hit, @NFL and @nflcommish?" podcaster Dan Levy tweeted. "WHAT IS A HELMET TO HELMET HIT?" An NFL spokesman replied: "running back and not defenseless wr, that's why."
Football won't be banned. And no amount of rulebook evolution will remove injuries from the game. But as the fans become as aware of the impacts and injuries as they are of the touchdowns, all-caps tweets flood @NFL, and the lawsuits begin to arrive at league headquarters on Park Avenue, the fan's relationship with the game is bound to change.
So, um, Nate, who do you like in the Super Bowl?