Badgers or Grizzlies? Cyclone or Huskies?
If the NCAA Tournament were a fight to the death between mascots, who would win?
No. 1 Syracuse Orange vs. No. 16 UNC-Asheville Bulldogs
Another team undone by a nickname change. A band of Orangemen—Syracuse's nickname until 2004—would have been heavily favored here, but a color, lacking three-dimensionality, is unlikely to pose much of a threat. The only exception we can think of would be a matchup between bulls and crimson.
No. 8 Kansas State Wildcats vs. No. 9 Southern Mississippi Golden Eagles
A classic 8-9 pairing, with the competitors so evenly matched that a standoff seems inevitable. Golden eagles routinely prey on foxes and small cats, while many wildcats' diets include small- to medium-size birds. Either could prevail, given the element of surprise. We'll take the vigilant raptors to win in overtime while the wildcats are napping.
No. 5 Vanderbilt Commodores vs. No. 12 Harvard Crimson
Again with the colors. Vanderbilt's namesake, the shipping magnate Cornelius Vanderbilt, wasn't actually a naval commander—"Commodore" was a nickname, and he was known for piling up wealth, not enemy bodies. In this matchup, however, military prowess is not required.
No. 4 Wisconsin Badgers vs. No. 13 Montana Grizzlies
Once a sneaky sleeper pick, like Gonzaga, badgers—in particular the honey variety—have burst into the mainstream consciousness of late, and their tenacity is no longer a secret. While they may be nasty and fearless, the badgers would be better-served by caution in this matchup. Grizzlies might seem peaceful, even gentle, but getting too close to them is not a good idea.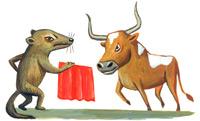 No. 6 Cincinnati Bearcats vs. No. 11 Texas Longhorns
Befitting a team from Texas, the longhorns have a huge size advantage, and unlike the rams, their horns are built to impale. Bearcats, also known as binturongs, have a bearish gait and body shape, but their face—and more importantly, their size—is closer to that of a cat. One of only two carnivores with a prehensile tail, they're agile tree climbers, so they might elude the bulls for a time by scaling the hoop or the rafters. Territorial, they warn off predators by emitting a popcorn-scented musk, and they can be vicious when cornered. In an up-tempo contest, they'd be a tough out, but these ankle-biters just aren't built to take down 1,000-pound cattle.
No. 3 Florida State Seminoles vs. No. 14 St. Bonaventure Bonnies
What's a Bonnie? The logo depicts a wolf, but according to this promotional video, it's actually a St. Bonaventure student: a Christian who is mentally disciplined, and who "thinks they're extraordinary" and "going to go places." Those hopes and dreams are going to get crushed against the Seminoles, whose warriors used guerrilla tactics to confound better-armed militia and U.S. Army forces for eight years in the 19th century's Second Seminole War.
No. 7 Gonzaga Bulldogs vs. No. 10 West Virginia Mountaineers
Bred for the medieval sport of bull-baiting, in which people placed bets on dogs to bring down tethered bulls by the nose, bulldogs are stocky and tenacious. No lone mountaineer would like to be attacked by a pack of them. But in a five-on-five battle, we trust the humans' ingenuity.
No. 2 Ohio State Buckeyes vs. No. 15 Loyola Greyhounds
Buckeyes can refer either to a type of deciduous tree related to the horse chestnut or to the nuts thereof; the Ohio State mascot implies the latter. The greyhounds, overjoyed with their first-round pairing, must be careful not to choke.