Hang Up and Listen: The Bracketology-ology Edition
Slate's sports podcast on March Madness, Peyton Manning's destination, and the fate of the designated hitter.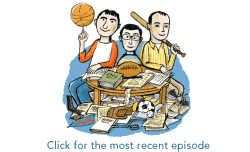 Listen to "Hang Up and Listen" with Stefan Fatsis, Josh Levin, and Mike Pesca by clicking the arrow on the audio player below:
Advertisement

This episode of Hang Up and Listen is brought to you by Audible. Get a free audiobook and 30-day trial today by signing up at www.audiblepodcast.com/hangup.
Hang Up and Listen is also brought to you by Netflix. Watch thousands of TV episodes and movies instantly, saving you time, money and hassle. For your free 30-day trial, go to www.netflix.com/slate.
In this week's episode of Slate's sports podcast Hang Up and Listen, Stefan Fatsis, Josh Levin, and Mike Pesca discuss the March Madness selection process and strategies on how to fill out your bracket. They also talk about the Peyton Manning derby and whether the designated hitter will spread to the National League.
Here are links to some of the articles and other items mentioned on the show:
Podcast production and edit by Mike Vuolo.
TODAY IN SLATE
Medical Examiner
Here's Where We Stand With Ebola
Even experienced international disaster responders are shocked at how bad it's gotten.