Table to Farm: Braised Pork Butt Edition
Slate's show about why pigs are such interesting animals and why you can make so many different meat products out of them.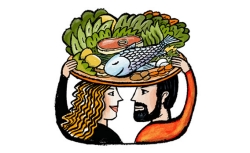 Listen to Table to Farm No. 6 with L.V. Anderson and Dan Pashman by clicking the arrow on the audio player below:


Laura and Dan talk to Bill Niman and Nicolette Hahn Niman, formerly of Niman Ranch and now of BN Ranch in Bolinas, Calif. Bill explains why pigs are the most interesting animals in the barnyard and how a pig farmer can love an animal and still bring it to slaughter, while Nicolette discusses some of the environmental concerns specific to pigs. Then Laura and Dan learn about heritage pork and how the sausage is made when they interview Michael Yezzi of Flying Pigs Farm in Shushan, N.Y. Finally, Dan cooks and eats some braised pork butt.
Braised Pork Butt With Garlic and Thyme
Yield: 4 to 6 servings
Time: 4 hours, largely unattended
One 3½-pound piece of bone-in pork shoulder
salt and black pepper
2 carrots, peeled and chopped
1 large onion, chopped
1 celery stalk, chopped
6 garlic cloves, chopped
7 sprigs of fresh thyme
2 sprigs of fresh rosemary
1 bay leaf
½ cup plus 2 tablespoons red wine
¼ cup chopped fresh parsley
1. Heat the oven to 325°F. Put large, deep ovenproof skillet or Dutch oven over medium-high heat. Season the pork generously with salt and pepper. When the pan is hot, add the pork shoulder, fat side down, and cook, turning every 2 to 3 minutes, until browned on all sides, about 10 minutes total.
2. Remove the pork from the pan, and pour off and discard all but 2 tablespoons of the fat. Add the carrots, onion, celery, garlic, thyme, rosemary, and bay leaf to the pan, and reduce the heat to medium. Cook, stirring occasionally, until the vegetables are soft and golden brown, 8 to 10 minutes. Add ½ cup of the wine and stir to scrape up any browned bits from the bottom of the pan. Stir in the parsley, then return the pork shoulder to the pan and add 2 cups water. Cover the pan with foil and then the lid and transfer it to the oven. Cook until the pork is very tender and falling from the bone, about 2½ hours, turning the meat and basting it with the pan juices every 30 minutes or so.
3. Let the pork cool at room temperature for at least 30 minutes, then transfer it to a serving platter. Strain the pan juices into a medium saucepan, then skim off the fat. Add the remaining 2 tablespoons wine, then turn the heat to high and bring the pan sauce to a boil. Drizzle the pan sauce over the pork and serve immediately. (Store leftover pork shoulder wrapped in foil or plastic wrap in the refrigerator for up to several days.)
Here are links to some of the things we discussed this week:
This podcast was produced by Dan Pashman.
TODAY IN SLATE
Foreigners
More Than Scottish Pride
Scotland's referendum isn't about nationalism. It's about a system that failed, and a new generation looking to take a chance on itself.