Table to Farm: Dueling Quesos Edition
Slate's show about how milk prices are determined and how to tell whether a cheese will melt properly.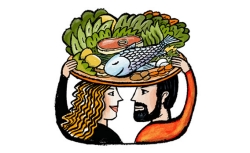 Listen to Table to Farm No. 8 with L.V. Anderson and Dan Pashman by clicking the arrow on the audio player below:
On this week's episode, Laura and Dan interview author Kirk Kardashian about the state of small American dairy farms, how the government determines milk prices, and the most important difference between organic and conventional milk. Then, the hosts chat with Elizabeth Chubbuck of Murray's Cheese in New York City about the definition of cheese, whether it's ethical to buy cheese, and how to tell whether a cheese is good for melting. Finally, Laura and Dan eat two kinds of queso—one made with real cheese, one made with Velveeta—and reflect on what they've learned over the course of the past eight episodes of Table to Farm.
Here's an adapted version of the recipe for Queso Blanco contributed by Ivy Stark, Executive Chef at Dos Caminos, to Lee Frank and Rachel Anderson's Ultimate Nachos:
Queso Blanco
Yield: 4 cups queso
Time: About 30 minutes
2 cups half-and-half
3 tablespoons unsalted butter
1 medium onion, chopped
3 serrano peppers, minced
3 tablespoons all-purpose flour
4 poblano peppers, diced
1 teaspoon dried Mexican oregano
½ teaspoon ground cumin
1½ cups shredded chihuahua cheese (about 6 ounces)
6 ounces Muenster cheese, shredded
1 tablespoon freshly squeezed lime juice
4 ounces pickled jalapeño peppers, drained and diced
Kernels from ½ ear roasted corn
1 tablespoon chopped fresh cilantro
1. Put the half-and-half in a small saucepan over low heat to warm. Meanwhile, put the butter in a large saucepan over medium heat. When it melts, add the onion and serranos and cook, stirring occasionally, until the onion is soft and translucent, 8 to 10 minutes. Add the flour and continue to cook, stirring constantly, for 5 to 7 minutes to remove the raw flour taste from the roux.
2. Whisk in the heated half-and-half and cook, stirring occasionally, until the sauce has thickened enough to coat the back of a spoon. Stir in the poblano peppers, Mexican oregano, and cumin and stir to combine.
3. Add the cheeses and stir over medium heat until they have fully melted. Stir in the lime juice and turn off the heat. Garnish the queso with the jalapeños, corn, and cilantro, and serve hot with warm corn tortillas or chips.
And here's Laura's mom's recipe for queso, aka the standard American recipe for queso:
Queso
Yield: 2½ cups queso
Time: 10 minutes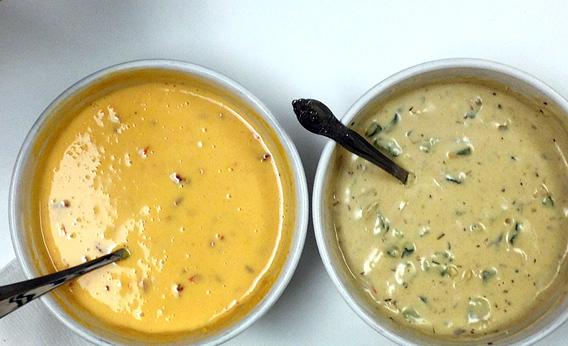 1 pound Velveeta Pasteurized Prepared Cheese Product, cut into ½-inch chunks
One 10-ounce can Ro-Tel Original Diced Tomatoes & Green Chilies (undrained)
Put the Velveeta and Ro-Tel in a medium saucepan over medium-low heat. Cook, stirring frequently, until the Velveeta melts and the mixture is smooth, 5 to 8 minutes. Serve hot with tortilla chips.
Here are links to some of the things we discussed this week:
This podcast was produced by Dan Pashman.