Table to Farm: Tri-tip Steak Edition
Slate's show about the life cycle of the average American cow and the changes the beef industry has seen over the past century.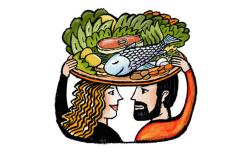 Listen to Table to Farm No. 3 with L.V. Anderson and Dan Pashman by clicking the arrow on the audio player below: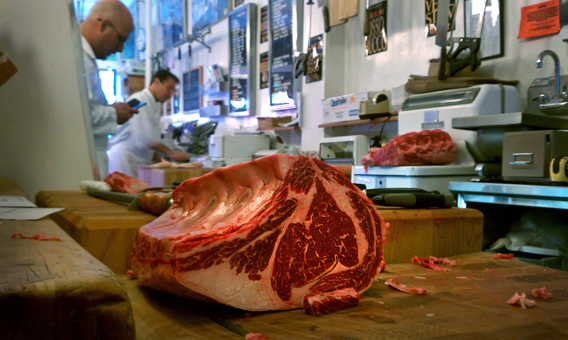 On this week's episode, Laura and Dan interview Christopher Leonard, a former Associated Press agribusiness reporter and the current Schwartz Fellow at the New America Foundation. Chris explains what life is like for cattle on feedlots, the impact of consolidation on the beef industry, and whether beef should be as cheap as it is. Then your hosts head to Staubitz Market in Brooklyn to talk to John McFadden Jr. about how his business and neighborhood have changed since he started butchering at age 12, the importance of marbling, and what he'd do if his son became a vegetarian. Finally, back at the table, Dan tries to tempt Laura with a seared tri-tip steak.
Seared Tri-Tip Steak
Yield: 6 to 8 servings
Time: 45 to 55 minutes, partially unattended
One 2½- to 3-pound tri-tip steak, excess fat removed
Coarse ground salt and black pepper
3 tablespoons extra-virgin olive oil
1. Heat the oven to 425 F. Season the steak generously with salt and lightly with pepper on all sides. Put a cast-iron skillet over high heat until very hot. Add the olive oil to the pan. When it's hot, add the steak and cook, turning every 2 to 3 minutes, until browned on all sides, about 10 minutes total. (You may want to use tongs to stand it up for a minute on each edge, so the exterior is fully seared.)
2. Transfer the pan to the oven and cook until a thermometer inserted into the thickest part of the steak reads 125 F (for rare) to 130 F (for medium-rare), 20 to 25 minutes. Transfer the steak to a cutting board and let it sit for 10 minutes. Slice and serve hot or at room temperature. (Leftover tri-tip steak can be wrapped in foil and stored in the refrigerator for up to a few days.)
Here are links to some of the things we discussed this week:
This podcast was produced by Dan Pashman.