DoubleX Gabfest: The Carlos Danger Edition
Listen to Slate's show about the trials of Huma Abedin, polyamory, and texting exes.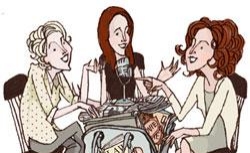 Listen to the DoubleX Gabfest by clicking the arrow on the audio player below:

Advertisement

In this week's Gabfest, DoubleX editor Hanna Rosin joins DoubleX managing editor Allison Benedikt and New Republic staff writer Noreen Malone to discuss the trials of Huma Abedin, polyamory, and texting exes.
Other items discussed in the show:
Allison Benedikt wants to let Will and Kate know about Baby Name Wizard's Name Voyager feature, to find out where the name George ranks and to gather research for the next one.
Noreen Malone found Peg Bracken's I Hate to Housekeep at a used bookstore and says it's the best hilarious summer read/cool housewarming gift on Amazon.
Listeners: Do you have any housekeeping corner-cutting tips? What's your secret to make your house look cleaner than it really is? Share your ideas on our Facebook page.
TODAY IN SLATE
Politics
Blacks Don't Have a Corporal Punishment Problem
Americans do. But when blacks exhibit the same behaviors as others, it becomes part of a greater black pathology.