The Carlos Danger Name Generator
Use our widget to get a name like Anthony Weiner's alleged sexting pseudonym.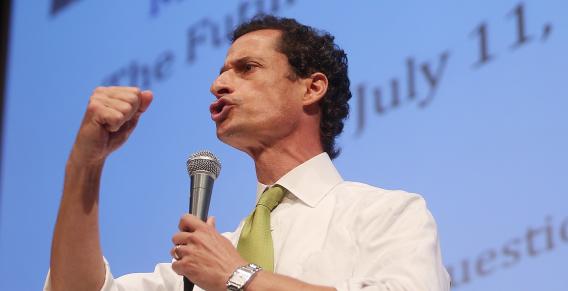 New York City mayoral candidate Anthony Weiner has vaguely confirmed allegations from gossip website the Dirty that he sent sexually explicit chat messages and photos to additional women. "I said that other texts and photos were likely to come out, and today they have," he said in a statement. Later, he admitted in a press conference that some of these liaisons happened after he resigned from Congress in 2011.

One of the specific claims in the Dirty's reports is that Weiner used a Yahoo account with the pseudonym "Carlos Danger" to email photos of his penis—a fact that Weiner has not confirmed or denied.
Want a fantastic online sobriquet like Carlos Danger? You're in luck. Type your first and last names into the fields below and click "Get My Name" to find your personal pseudonym.
First Name:
Last Name:
Get My Name
Update, July 23, 2013: The Carlos Danger Name Generator has been updated to increase the variability of the names.
Correction, July 23, 2013: An earlier version of the Carlos Danger Name Generator suggested incorrectly that the Carlos Danger Name for Anthony Weiner is Armando Catastrophe. The Carlos Danger Name for Anthony Weiner is Carlos Danger.
TODAY IN SLATE
Politics
The Irritating Confidante
John Dickerson on Ben Bradlee's fascinating relationship with John F. Kennedy.