The Culture Gabfest "Scamp Stamp" Edition
Slate's Culture Gabfest on It's Me, Hilary; Laura Kipnis' article about "sexual paranoia" on campus; and the art of celebrity impressions.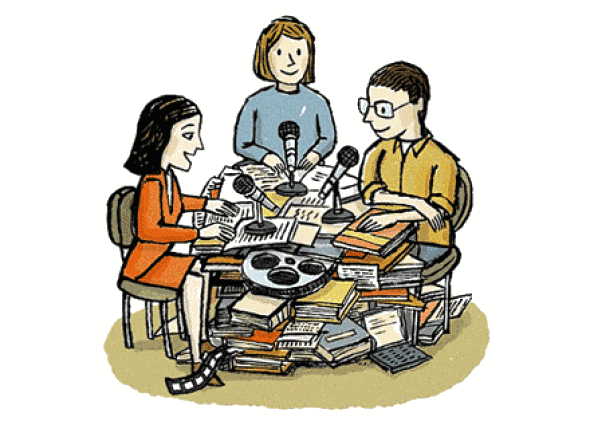 Listen to Culture Gabfest No. 340 with Stephen Metcalf, Julia Turner, and Dana Stevens with the audio player below.
This week on Slate Plus, listen to Steve, Dana, and Julia reveal their own celebrity impressions.
Also, New York listeners can join Julia Turner, John Swansburg, and other Slatesters to watch the premiere of the final half-season of Mad Men at the Bell House in Brooklyn on April 5. The event is FREE! Slate Plus members can arrive at 8 p.m. for preferred seating and a cocktail hour with Julia and Slate writers and editors. General admission is at 9. RSVPs required: Go to slate.com/madmen for details.
On this week's Slate Culture Gabfest, the critics gab about the new HBO documentary It's Me, Hilary about Hilary Knight, the illustrator who drew the popular children's book, Eloise. Next up, cultural critic and Northwestern University professor Laura Kipnis wrote an article critiquing what she calls the "melodramatic" discourse surrounding campus sexual assault and romantic student-teacher relationships. A backlash ensued, and the critics weigh in: Are students being overly sensitive? Finally, what makes mimicry into a work of art? Guest Jacob Rubin, author of the new novel The Poser about a talented impressionist, joins to discuss celebrity impersonation.
Links to some of the things we discussed this week follow:
This podcast was produced by Joel Meyer. Our intern is Lindsey Albracht.