So You're Doing an Impression. How Do You Decide What Words to Say?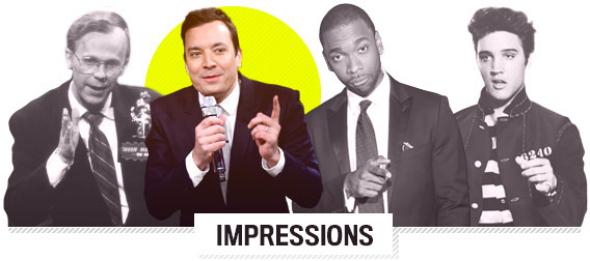 For his new novel The Poser—about a young man with an uncanny knack for imitating others—Jacob Rubin spent a lot of time thinking about what makes impressions work. Pegged to the release of his novel this month, Rubin will be doing a weekly series for Brow Beat on the art of the celebrity send-up. Read the rest of Slate's Impressions series here.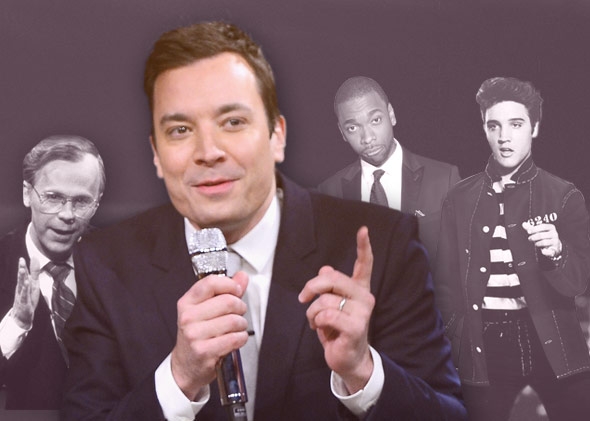 When hosting a fellow mimic on The Tonight Show, Jimmy Fallon will sometimes break out a parlor game called "Wheel of Impressions," in which the guest imitates a randomly selected celebrity discussing an arbitrary, usually absurd, subject. In the above clip, for instance, Kevin Spacey lands on Johnny Carson, as whom he then improvises, loosely, genially, on the theme of "costume parties."
Like many of Fallon's gags, "Wheel of Impressions" is meant to cultivate an air of informal fun, something you might do with—in this case, highly telegenic—friends on a Sunday afternoon. But what's most salient about the bit is that the answer it offers to a classic conundrum and opportunity of the impressionist: Now that I can do this person, what should he talk about?
As hinted by the Fallon set-up, one common fix is to have the character hold forth on the comically inapt. Here, for instance, Frank Caliendo delivers Allen Iverson's famous, weirdly profound critique of practice in the far-seeing voice of Morgan Freeman.
And here, Jimmy Fallon performs the dance hit Whip My Hair in Neil Young's emotive warble:
The comedy in such a premise is nearly inexhaustible. Some of it speaks to the proprietary rights the impressionist feels himself to have seized over the imitated. Now that I have the keys to the Lexus, I can drive it wherever I want. I can make Jack Nicholson speak German! Or a stern German seem strangely kind!
While some, it's true, incorporate choice details about the imitated (as Spacey, pro that he is, does, slipping in a reference to Carson's ex-wife), most good impressions have a weird way of rendering content redundant. It's a fact that the "Wheel of Impressions" implicitly depends upon: Kevin Spacey's Johnny Carson talking about costume parties is no different—or less funny—than Kevin Spacey's Johnny Carson talking about, well, anything.
This is one of the odd, sometimes cruel or penetrating qualities of an impression. It seems to disregard, or at least treat with suspicion, the ostensible content of the subject's speech. The true semantic payload, rather, can be found elsewhere—in the person's gestural and vocal presentation. That is: how the person talks so greatly trumps what they're talking about, that the former is revealed to have largely, if not entirely, supplanted the latter. It's like using a decoder ring or putting the person through an X-ray, to hit upon the subliminal message of their presence.
In this viral video, Christina Bianco swiftly runs through a gamut of divas—Cher, Bette Midler, Christina Aguilera, Edith Piaf, among them—while belting out "Total Eclipse of the Heart."
Each character, when singing, is not really conveying the lyrical meaning of Bonnie Tyler's single so as much as using it—and the melody—as a kind of alibi, with the help of which they continue to announce who they are. Hearing Bianco transition from singer to singer is like following without benefit of headphones the bromantic comedy the passenger next to you on a plane is watching. Deprived of sound, the flick soon dispenses with surface banter to reveal, almost accidentally, the deep grammar of its plot. In this case, with the song as a kind of control, we see Kristin Chenoweth (1:58) is, no matter what she seems to be singing about, actually communicating the sandbagging juxtaposition of tween chirpiness and operatic power. Or that Julie Andrews (2:38) is really celebrating being prim and hands-foldedly innocent.
Often when a comedian does privilege certain phrases, it is because these pet words seem to capture qualities already embodied gesturally. They are synecdoche, in which the totality of the person seems to cohere. Take, for instance, Dana Carvey's George H.W. Bush's notorious love of "prudent" and "juncture." These words, which Carvey admitted the president did not actually say very much, seem so well to indicate a frustrated, impatient, condescending bureaucrat, tripping over his own psychic redtape. Same with Frank Caliendo's Barkley's dependence on "terrible" and "knucklehead," natural extensions of Barkley's know-it-all-ism and too-easy dismissiveness. They are the only language the character needs because, like their gestures, the words—and the character—are only ever saying one thing: I am me, and this is how I am.
In the purest, abstract impressions, the figure is stripped of content entirely, reduced to a bare cadence. In an interview with Kevin Pollack, Dana Carvey talks about his ambition to transform people into a rhythm, free from any need of punch line. Here, he distills President Obama to a measured descent of tone and finger:
In this clip, Rich Little does the same with Reagan, capturing the man before he says a thing.
And yet this is very reduction—this disregard for content—can also make for one of the creepy and false qualities of an imitation, the source of stereotypes and paltry duplicates. It can be a kind of straitjacket, an ostensibly attentive way of disregarding a person entirely. Some of this is at play in moments of Bianco's reel, which as clever as it is, often deprives each singer of the chance of expression without self-parody.
The dangers of oversimplification are even more pronounced in the classic joke from The Simpsons.
Here the comedian "imitates" black and white drivers. The joke, of course, is how unexamined the difference really is. The cartoon stand-up is not imitating anyone, really; he is merely parroting a lazy—and false—distinction. It's not that he's decoding badly—he isn't decoding at all. He's mimicking a received view, a cliché. He hasn't ever observed the thing enough to know what to take out, mistaking the noise for the signal. Great mimicry, on the other hand, requires an almost scientific receptivity: You have to ignore what the subject says about itself and what others say about it, to find its core for yourself.
Photo illustration by Natalie Matthews-Ramo. Photo credits: Dana Carvey as George Bush by Alan Singer/NBC/NBCU Photo Bank via Getty Images, Jimmy Fallon' by Theo Wargo/Getty Images for The Tonight Show Starring Jimmy Fallon, Jay Pharoah by Larry Busacca/Getty Images, Elvis Presley/ Metro-Goldwyn-Mayer, Inc./Library of Congress.