The Culture Gabfest "If Bono Were a Chess Piece" Edition
Slate's Culture Gabfest on U2, the secret world of competitive chess, and the unfairness of framing Shonda Rhimes as an "angry black woman."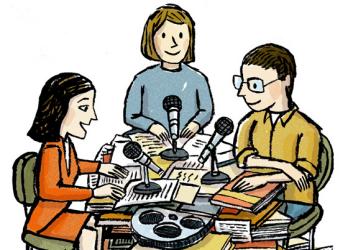 Listen to Culture Gabfest No. 314 with Stephen Metcalf, Julia Turner, Carl Wilson, Seth Stevenson, and Willa Paskin with the audio player below.
This week Slate Plus listeners will hear Julia and Steve answer a listener's question about their shameful displeasures: the cultural touchstones they are supposed to like but just … don't. Go to slate.com/cultureplus to learn more about Slate Plus and join today.
We have exciting live shows coming up! On Oct. 8 we are coming to downtown Los Angeles. We'll be joined by John August and Craig Mazin of the Scriptnotes podcast, plus a soon-to-be-announced special guest. Nota bene: Steve is scheming to bring some of the finest pie in upstate New York. Next up, the Oct. 20 Boston live show! Join us in Julia's hometown.
This week on the Slate Culture Gabfest, Julia and Steve are joined by three guests, in lieu of the irreplaceable Dana. Carl Wilson comes into the studio to talk about rockasaurs U2, whose new album you probably have, whether you like it or not. Do Bono and Co. have any credibility left? Next, Seth Stevenson recently reported on a huge upset in the world of competitive chess. What was this drama, exactly, and why wasn't anybody else paying attention? Finally, Willa Paskin joins the gabbers to discuss Shonda Rhimes and explain why the New York Times' use of the "angry black woman" stereotype to talk about her work was off-base, out of touch, and just plain wrong.
Links to some of the things we discussed this week follow:
This podcast was produced by Andy Bowers and Ann Heppermann. Our intern is Josephine Livingstone.