The Culture Gabfest: Trapped in a Glass Box With Dwarves Edition
Slate's podcast about The Hobbit, the A&E series Duck Dynasty, and the Myers-Briggs Type Indicator at 50.
Listen to Culture Gabfest No. 222 with Dan Engber, Stephen Metcalf, Dana Stevens, and Julia Turner by clicking the arrow on the audio player below:

The sponsors of today's show are Stamps.com and Audible.com. Go to Stamps.com and use the promo code "CULTUREFEST" for your no-risk free trial and bonus offer. Get a free audiobook from Audible's collection of more than 100,000 titles and a subscription to a daily audio digest when you sign up for a 30-day free trial at www.audiblepodcast.com/culturefest.
On the Dec. 26 episode of the Culturefest, Julia, Dana, and Stephen will gab at your behest! Call 424-255-7833 by Wednesday, Dec. 19 at 6 p.m. EST and leave us a voicemail with a question, cultural or otherwise, that you've always wanted to hear us discuss.
Culturefest is on the radio! "Gabfest Radio" combines Slate's Culture and Political Gabfests in one show—listen on Saturdays at 7 a.m. and Sundays at 6 p.m. on WNYC's AM820.
On this week's Culturefest, our critics are joined by Slate columnist Dan Engber to discuss Peter Jackson's The Hobbit and whether its increased frame rate ruins the movie … or if the movie was already a ruin to begin with. The Gabfesters then discuss the entertainment appeal of the A&E series Duck Dynasty and what its popularity might say about the state of the white working class in America. Finally, they consider personality typology and the relevance of the Myers-Briggs Type Indicator at 50.
Here are some links to the things we discussed this week: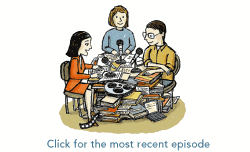 Julia's pick: Season 2 of the British drama series The Hour, to be watched as you wait for Mad Men to return.
Outro: "Tractor Rape Chain" by Guided by Voices
This podcast was produced by Dan Pashman. Our intern is Sally Tamarkin.