The Culture Gabfest: There Are Some Broke Down People Out There Edition
Slate's podcast about the TLC series Here Comes Honey Boo Boo, the indie comedy Sleepwalk With Me, and public marriage proposals.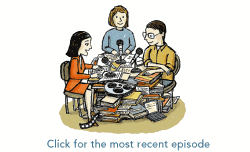 Listen to Culture Gabfest No. 206 with Stephen Metcalf, Dana Stevens, and Julia Turner by clicking the arrow on the audio player below:
The sponsors of today's show are Stamps.com and Audible.com. Go to Stamps.com and use the promo code "CULTUREFEST" for your no-risk free trial and bonus offer. Get a free audiobook from Audible's collection of more than 100,000 titles and a subscription to a daily audio digest when you sign up for a 30-day free trial at www.audiblepodcast.com/culturefest.
Culturefest is on the radio! "Gabfest Radio" combines Slate's Culture and Political Gabfests in one show—listen on Saturdays at 7 a.m. and Sundays at 6 p.m. on WNYC AM 820.
On this week's Culture Gabfest, our critics tackle the new TLC reality show Here Comes Honey Boo Boo, the cruelty of class schadenfreude and what happens when some reality TV stars are not agents of their own portrayal. The Culturefesters then discuss Mike Birbiglia's autobiographical indie comedy Sleepwalk With Me, its place as a coming-of-age-as-an-artist tale, and the popularity of process stories. Finally, they discuss public marriage proposals and whether these elaborately staged rituals performed in public indicate the presence of a groomzilla.
Here are some links to the things we discussed this week:
Dana's pick: Jessica Oreck's Mysteries of Vernacular, a project of animated shorts, each one exploring the etymology of one letter of the alphabet.
Julia's pick: A last chance summer read: the wildly popular bestseller Gone Girl, Gillian Flynn's dark portrait of a twisted marriage.
Stephen's pick: The 2007 Tom Junod essay, "My Father's Fashion Tips," an evocative portrait of the author's relationship with his father and a strong example of "show don't tell" nonfiction writing.
Outro: "Marry You" by Bruno Mars
You can email us at culturefest@slate.com.

This podcast was produced by Dan Pashman. Our intern is Sally Tamarkin.