What Twitter Has to Say About the GOP Debates
Check out the instant spin room.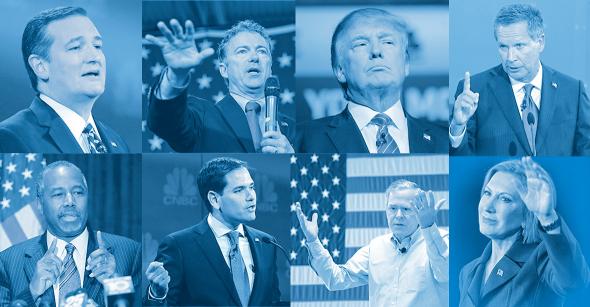 Just when you thought you couldn't endure one more day without a Republican presidential debate, Fox Business is hosting another one Tuesday at 9 p.m. ET. Taking the stage: Jeb Bush, Ben Carson, Ted Cruz, Carly Fiorina, John Kasich, Rand Paul, Marco Rubio, and, of course, Donald Trump. Chris Christie and Mike Huckabee, who did not make the 2.5-percent polling minimum to qualify for the main debate, will appear in a one-hour debate at 7 p.m. with undercard standbys Rick Santorum and Bobby Jindal. As always, pundits from both sides of the ideological spectrum will be tweeting their insights, jokes, and jabs throughout the night. Below are live tweets from top pundits and politicos. On the left, you'll see the liberal tweets. On the right, you'll see the conservative ones. Enjoy the instant spin!