The Guantánamo Memoirs of Mohamedou Ould Slahi
When Slahi wouldn't tell them what they wanted to hear, his captors took him on a torture cruise. They would make him disappear.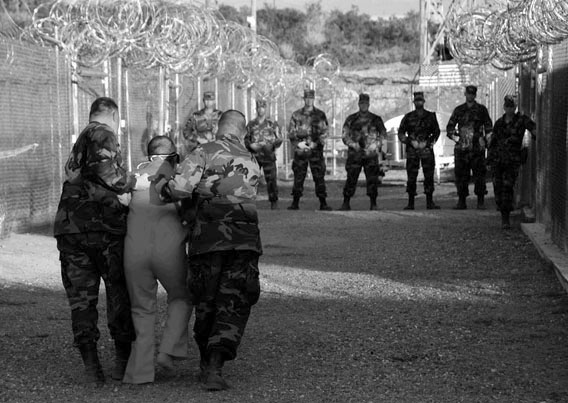 In July 2003, as Slahi's "special interrogation" continued, Guantánamo commander Maj. Gen. Geoffrey Miller added another brutal ruse to Slahi's interrogation plan. Following days of intensive questioning, Slahi was to be forcibly removed from his cell by a team of military police in riot gear, escorted past menacing dogs, and loaded onto a helicopter, where he would be flown out over the ocean and threatened with death or rendition to a Middle Eastern country—a threat to be made all the more real by the presence of Egyptian and Jordanian interrogators on the flight. The general's plan was subsequently revised because, as his intelligence chief later told Justice Department investigators, "Miller had decided that [the helicopter] was too difficult logistically to pull off, and that too many people on the base would have to know about it to get it done." Instead, on Aug. 24, 2003, in accordance with the plan that Defense Secretary Donald Rumsfeld ultimately signed, Slahi was abducted from his cell and taken on a three-hour boat trip into the Caribbean, where he was beaten and threatened by U.S. military personnel and two Arab interrogators.
I barely finished my meal, when all of a sudden [ ? ? ? ? ?] and I heard a commotion, guards cursing loudly, "I told you, motherfucker …," people banging the floor violently with heavy boots, dog barking, doors closed loudly. I froze in my seat. [ ? ? ? ? ?] went speechless. We were staring at each other, not knowing what was going on. My heart was pounding because I knew a detainee was going to be hurt. Yes, and the detainee was me.

Suddenly a commando team of three soldiers and a German shepherd broke into our interrogation room. [ ? ? ? ? ?] punched me violently, which made me fall face down on the floor, and the second guy kept punching me everywhere, mainly on my face and my ribs. Both were masked from head to toe.
"Motherfucker, I told you, you're gone!" said [ ? ? ? ? ?]. His partner kept punching me without saying a word; he didn't want to be recognized. The third man was not masked, he stayed at the door holding the dog collar, ready to release it on me.
"Who told you to do that? You're hurting the detainee," screamed [ ? ? ? ? ?], who was no less terrified than I was.
As to me, I couldn't digest the situation. My first thought was, they mistook me for somebody else. My second thought was to try to look around, but one of the guards was squeezing my face against the floor. I saw the dog fighting to get loose. I saw [ ? ? ? ? ?] standing up, looking helpless at the guards working on me.
"Blindfold the motherfucker! He's trying to look—" One of them hit me hard across the face and quickly put goggles on my eyes, earmuffs on my ears, and a small bag over my head. They tightened the chains around my ankles and my wrists; afterward I started to bleed. All I could hear was [ ? ? ? ? ?] cursing, "F-ing this and F-ing that." I thought they were going to execute me.
The other guard dragged me out with my toes tracing the way, and threw me in a truck, which immediately took off. The beating party would last for the next three to four hours, before they turned me over to another team that would use different torture techniques.
"Stop praying, motherfucker. You're killing people," [ ? ? ? ? ?] said, and punched me hard on my mouth. My mouth and nose started to bleed, and my lips grew so big that I technically could not speak anymore. The colleague of [ ? ? ? ? ?] turned out to be one of my guards; [ ? ? ? ? ?] and [ ? ? ? ? ?] each took one of my sides and started to punch me and smash me against the metal of the truck. One of the guys hit me so that my breath stopped and I was choking. I felt like I was breathing through my ribs.
Did I pass out? Maybe not. All I know is that I kept noticing [ ? ? ? ? ?] several times spraying ammonia in my nose. The funny thing was, Mr. [ ? ? ? ? ?] was at the same time a "lifesaver," as were the guards I would be dealing with for the year to come; all of them were allowed to give me medication and first aid.
After 10 to 15 minutes, the truck stopped at the beach. My escort team dragged me out of the truck and put me in a high-speed boat. [ ? ? ? ? ?] never gave me a break; they kept hitting me.
"You're killing people," said [ ? ? ? ? ?]. I believe he was thinking out loud: He knew he was committing the most cowardly crime in the world, torturing a helpless detainee who was completely submissive and turned himself in. [ ? ? ? ? ?] was trying to convince himself that he was doing the right thing.
Inside the boat, [ ? ? ? ? ?] made me drink salt water, I believe it was direct from the ocean. It was so nasty I threw it up. They put an object in my mouth and shouted, "Swallow, motherfucker!" I decided inside not to swallow the organ-damaging salt water, which choked me as they kept pouring the water in my mouth. "Swallow, you idiot!" I contemplated quickly, and decided for the nasty, damaging water rather than death.
[ ? ? ? ? ?] and [ ? ? ? ? ?] had been escorting me for about three hours in the high-speed boat. The goal of such trip was, first, to torture the detainee and claim that the "detainee hurt himself during transport," and second to make the detainee believe he is being transferred to some far faraway secret prison. We detainees knew all about this; we had detainees who reported flying four hours and finding themselves in the same jail where they started. I knew from the beginning that I was going to be transferred to [ ? ? ? ? ?].
When the boat [landed], [ ? ? ? ? ?] and his colleague dragged me out and made me sit cross-legged. I was moaning from the unbearable pain.
"Uh … Uh … ALLAH. ALLAH … I told you not to fuck with us, didn't I?" said Mr. X, mimicking me. I hoped I could stop moaning because the gentleman kept mocking me and blaspheming the Lord; however the moaning was necessary so I could breathe. "We appreciate everybody who works with us, thanks gentlemen," said [ ? ? ? ? ?]. I recognized his voice. Although he was addressing his Arab guests, the message was addressed to me more than anybody.
It was nighttime. My blindfold didn't keep me from feeling the bright lighting, some kind of high-watt projectors.
"We happy for zat. Maybe we take him to Egypt, he say everything," said an Arab guy whose voice I'd never heard, with a thick Egyptian accent. I could tell the guy was in his late 20s or early 30s based on his voice, his speech, and later on his actions. His English was both poor and decidedly mispronounced.
Then I heard indistinct conversations here and there, after which the Egyptian and another guy approached. Now they're talking directly to me in Arabic.
"What a coward! You guys ask for civil rights? You get none," said the Egyptian.
"Somebody like this coward, it takes us only one hour in Jordan until he spits everything," said the Jordanian. Obviously he didn't know that I had spent eight months in Jordan and no miracle took place.
"We take him to Egypt," said the Egyptian, addressing [ ? ? ? ? ?].
"Maybe later," said [ ? ? ? ? ?].
When I heard Egypt, and a new rendition, my heart was pounding. I hated the endless world tour I was forcibly taking. I thought that rendition to Egypt on the spot was possible, because I knew how irritated and desperate the Americans were when it came to my case.
After all kinds of threats and degrading statements, I missed a lot of the trash talk between the Arabs and their American accomplices. At one point, I drowned in my thoughts. I felt ashamed that my people were being used for this horrible job by a government that claims to be the leader of the democratic free world, a government that preaches against dictatorship and "fights" for human rights and sends its children to die for that purpose. What a joke this government makes of its own people! What would the dead-average American think if he or she saw what his or her government is doing with someone who has done no crimes against anybody?
If people in the Arab world knew what is happening in this place, the hatred against the U.S. would be heavily watered, and the accusation that the U.S. helps and works together with dictators in our countries would be cemented. I had a feeling, or rather a hope, that these people would not go unpunished for their crimes. The situation didn't make me hate either the Arabs or the Americans; I just felt bad for the Arabs.
After about 40 minutes, I couldn't really tell, [ ? ? ? ? ?] instructed the Arabic team to take over. The two guys grabbed me roughly and since I couldn't walk on my own, they dragged me on the tips of my toes to the boat. I must have been very near to the water because the trip to the boat was short. I don't know, but either they put me in another boat or in a different seat. The seat was both hard and straight.
"Move, fucker!" They gave this order and knew that I was too hurt to be able to move. After all I was bleeding from my mouth, my ankles, my wrists, and maybe my nose, I could not tell for sure. But the team wanted to maintain the factor of fear and terror.
"Sit!" said the Egyptian guy, who did most of the talking, while both were pulling me down until I hit the metal. The Egyptian sat on my right side, and the Jordanian on my left. "What's your fucking name?" asked the Egyptian. "M-O-OH-H-M-M-EE-D-D-O-O-O-O-U!" I answered. Technically, I couldn't speak because of my swollen lips and hurting mouth. You could tell I was completely scared. Usually I wouldn't talk when somebody started to hurt me. This is a milestone in my interrogation history. In Jordan, when the interrogator smashed my face, I refused to talk, ignoring all his threats. You can tell I was hurt like never before, that it is not me anymore, and I will never be the same as before. A thick line was drawn between my past and my future with the first hit [ ? ? ? ? ?] did to me.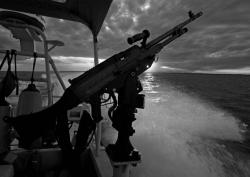 "He is like a kid," said the Egyptian, accurately addressing his Jordanian colleague. I felt warm between them, though not for long, because with the cooperation of the American, a long trip of torture was being prepared.
They put on a kind of thick jacket, which fastened me to the chair. It was a good feeling—however there was a destroying drawback to it. My chest was so tightened that I couldn't breathe properly. Plus, the air circulation was worse than the first trip. I didn't know what exactly but something was definitely going wrong. "I c…a…n…t br…e…a…the!"
"Suck the air," said the Egyptian wryly. I was literally suffocating inside the bag around my head.
The order went as follows: They stuffed the air between my clothes and me with ice cubes from my neck to my ankles, and whenever the ice melted they put in new hard ice cubes. Moreover, every once in a while, one of the guards smashed me, most of the time in the face. The ice served both for pain and for wiping out the bruises I had from that afternoon. Everything seemed to be perfectly prepared. Historically, dictators during medieval and pre-medieval times used this method to let the victim die slowly. The other method of hitting the victim while blindfolded in inconsistent intervals of time was used by Nazis during WWII. There is nothing more terrorizing than making somebody expect a smash every single heartbeat.
"I am from Hasi Matruh, where are you from?" said the Egyptian, addressing his Jordanian colleague. He was speaking as if nothing was happening. You could tell he was used to torturing people.
"I am from the south," answered the Jordanian.
What would it be like if I landed in Egypt after about 25 hours of torture? What would the interrogation look like? [ ? ? ? ? ?], a [ ? ? ? ? ?], described to me his unlucky trip from Pakistan to Egypt. Everything I was now experiencing—ice cubes and smashing—was consistent with [ ? ? ? ? ?]'s story. So I expected electric shocks in the pool. How much power can my body, especially my heart, handle? I know something about electricity and its devastating, irreversible damage. I saw [ ? ? ? ? ?] collapsing in the block a couple of times every week with blood gushing out of his nose until it soaked his clothes. [ ? ? ? ? ?] was a martial arts trainer and athletically built.
But what if they don't believe me? No, they would believe me, because they understand the recipe of terrorism more than the Americans and have more experience. Americans tend to widen the circle of involvement to catch the most possible number of Muslims. They always speak about the big conspiracy against the U.S. I personally had been asked who practiced the basics of the religion and sympathized with Islamic movements; no matter how moderate the movement, I had been asked to prove every detail about it. That is very amazing in a country such as the U.S., where Christian terrorist organizations such as Nazis and white supremacists have the freedom to express themselves and recruit people openly and nobody can bother them, while as a Muslim if you sympathize with the political views of an Islamic organization you're in big trouble. Even attending the same mosque as a suspect brings big trouble. I mean this fact is clear for everybody who understands the ABCs of American policy toward the so-called Islamic terrorism.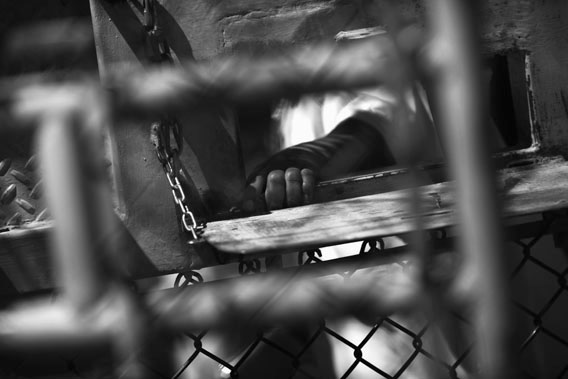 In Arabic counties, the approach is similar to the U.S. approach to Christian organizations. As long as you are not involved in criminal acts, nobody gives you trouble. Sympathizing and even associating with Islamic organizations is not considered a crime. I know those facts firsthand because I have been dealing with both approaches for a relatively long time.
The Arab/American party was over, and the Arabs turned me over once more to the same U.S. team. They dragged me out of the boat and threw me, I would say, in the same truck as the one that afternoon. Obviously we were riding on a dirt road. "Do not move!" said [ ? ? ? ? ?] but I didn't recognize any words anymore. I don't think anybody beat me, but I was not conscious.
When the truck stopped, [ ? ? ? ? ?] and his strong associate towed me from the truck and dragged me over some steps. The cool air of the room hit me, we passed the room atmosphere and boom, they threw me face down on the metal floor of my new home. "Do not move, I told you not to fuck with me, motherfucker!" said [ ? ? ? ? ?], his voice trailing off. Obviously he was tired, and left right away with a promise of more actions, and so did the Arab team.
A short time after my arrival, I felt somebody taking [the hood] off my head. When the blindfold was taken off I saw a [ ? ? ? ? ? ? ? ? ? ? ? ? ? ? ? ? ? ? ? ? ? ? ? ? ? ? ? ? ? ? ? ? ? ? ? ? ? ? ? ? ? ? ? ? ? ? ? ? ? ? ? ? ? ? ? ? ? ? ? ? ? ? ? ? ? ? ? ? ? ? ? ? ? ? ?]. I figured he was a doctor, but why the heck is he hiding behind a mask, and why is he U.S. Army, when the Navy is taking medical care of detainees?
"If you fucking move, I'm gonna hurt you!"
I was wondering how could I possibly move, and what possible damage could I do. I was in chains, and every inch of my body was hurting. That is not a doctor, that is a human butcher! When the young man checked on me, he realized he needed more stuff. He left and soon came back with some medical stuff. I glimpsed his watch; it was about 1:30 a.m., which meant about eight hours since I was kidnapped from [ ? ? ? ? ?] camp.
The doctor started to wash the blood off my face with a soaked bandage. After that, he put me on a mattress—the only item in the stark cell—with the help of the guards. "Do not move," said the guard, who was standing over me. The doctor wrapped many elastic belts around my chest and ribs area. After that, they made me sit.
"If you try to bite me, I'm gonna fuckin' hurt you!" said the doctor.
I didn't respond; they were moving me around like an object. Later they took off the chains, and some time later one of the guards threw a thin, small, and worn-out blanket on me through the bin hole, and that was everything I would have in the room. No soap, no toothbrush, no iso-mat, no Quran, nothing.
I tried to sleep, but I was kidding myself, my body was conspiring against me. It took some time until the medication started to work, then I trailed off, and only woke up when one of the guards hit my cell violently with his boot. "Get up, piece of shit!" The doctor once more gave me a bunch of medication and checked on my ribs.
"Done with the motherfucker," said he, when he showed me his back heading toward the door. I was so shocked seeing a doctor acting like that, because I knew that at least 50 percent of medical treatment is psychological. I was like, "This is an evil place, since my only solace is this bastard doctor."
Slahi continued to be interrogated in complete isolation through September and October. On Oct. 17, 2003, a GTMO interrogator emailed a military psychologist to report, "Slahi told me he is "hearing voices" now. … He is worried as he knows this is not normal. … Is this something that happens to people who have little external stimulus such as daylight, human interaction, etc???? Seems a little creepy." The psychologist wrote back that "sensory deprivation can cause hallucinations, usually visual rather than auditory, but you never know. … In the dark you create things out of what little you have."
To be honest, I can report very little about the couple of weeks that were to come because I was not in the right state of mind. I had been lying on my bed all the time, I was not able to realize my surroundings. I tried to find out the Kibla, the direction of Mecca, but there was no clue. Back in [ ? ? ? ? ?] the Kibla was indicated with an arrow in every cell. Yes, the U.S. is demonstratively showing the rest of the world how religious freedom ought to be maintained. Even the call to prayer was to be heard five times a day in [ ? ? ? ? ?], which I found positive. The U.S. always repeated that the war is not against the Islamic religion, which is very prudent because technically it is impossible to fight against a religion as big as Islam; strategically it would be a lost war.
In the secret camps, the war against the Islamic religion was more than obvious. There was not only no sign to Mecca, but ritual prayers were also forbidden. Reciting the Quran was forbidden. Quran possession was forbidden. Fasting was forbidden. Practically any Islamic related ritual is strictly forbidden. I am here not talking about hearsay, I am talking about something I experienced myself. I don't believe that the average American is paying taxes to wage war against Islam; however, I do believe that there are people in the government who have a big problem with the Islamic religion.
They tried so hard to make me insane. For the first weeks I had no shower, no laundry, no brushing. I almost developed bugs. I hated my smell. No sleep was allowed; in order to enforce this, I was given 740-milliliter water bottles in intervals of one to two hours, depending on the mood of the guards, for 24 hours. The consequences were devastating. I couldn't close my eyes for 10 minutes because I was sitting most of the time in the bathroom. When I later asked one of the guards, after the tension [eased], "Why this water diet? Why don't you just make me stay awake by standing up like in [ ? ? ? ? ?]?"
"Psychologically it is devastating to make somebody stay awake on his own, without ordering him," said [ ? ? ? ? ?]. "Believe me, you haven't seen anything. We have put detainees naked under the shower for days, eating, pissing, and shitting in the shower!"
I started to hallucinate and hear voices as clear as crystal. I heard my family in a casual familial conversation, in which I couldn't take part. I heard Quran readings with a heavenly voice. I heard music from my country. Later on the guards used these hallucinations and were talking with funny voices through the plumbing, encouraging me to hurt the guard and plot an escape. But I wasn't misled by them, even though I played along.
"We heard somebody, maybe a genie," they used to say.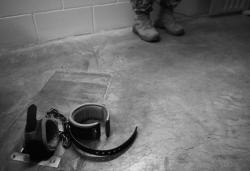 "Yeah, but I ain't listening to him," I responded. I realized I was at the edge of losing my mind. I started to talk to myself. Although I tried as hard as I could to convince myself that I am not in Mauritania, nor am I near my family, so I could not possibly hear them speaking, I kept hearing voices constantly, day and night. Medical psychological assistance was out of the question, or really any medical assistance besides the asshole I didn't want to see anyway. I couldn't find a way on my own; at that moment, I didn't know if it was day or night, but I assumed it to be night because the toilet drain was rather dark.
I gathered my strength, guessed the Kibla, the direction of Mecca, kneeled, and started to pray to God, "Please guide me. I know not what to do. I am surrounded with merciless wolves, who fear not thee." When I was praying I burst into tears, though I suppressed my voice lest the guards hear me. You know there are always serious prayers and lazy prayers. My experience taught that [the Lord] always responds to your serious prayers.
"Sir," I said, when I finished my prayer. One of the guards showed up after putting on his Halloween mask.
"What?" asked the guard with a dry, cold emotion.
"I want to see [ ? ? ? ? ?].
Confessions are like the beads of a necklace, if the first bead falls, the rest follow.
They dedicated the whole time until around 10 November 2003 for questioning me about Canada and Sept. 11; they didn't ask me a single question about Germany, where I really had the center of gravity of my life.
Whenever they asked me about somebody in Canada I had some incriminating information about him, even if I didn't know him. Whenever I thought about the words, "I don't know …" I got nauseous because I remembered the words of [ ? ? ? ? ?]: "All you have to say, 'I don't know, I don't remember, we'll fuck you,' " or [ ? ? ? ? ?]: "We don't want to hear your denials anymore!" So I erased the words out of my dictionary.
"We'd like you to write your answers on paper, it is too much work to keep up with your talk, and you might forget things when you talk to us," said [ ? ? ? ? ?].
"Of course!" I responded. I was really happy with the idea because I'd rather talk to a paper than talk to him. At least the paper wouldn't shout in my face or threaten me. After that, [ ? ? ? ? ?] drowned me in a pile of papers, which I duly filled with writings. It was good to let out my frustration and my depression. "[ ? ? ? ? ?] reads your writing with a lot of interest," said [ ? ? ? ? ?].
"We're gonna give you an assignment about [ ? ? ? ? ?]. He is detained in Florida and they cannot make him talk. He keeps denying everything. You better provide us a smoking gun against him," said [ ? ? ? ? ?].
I was so sad. How rude was the guy to ask me to provide a smoking gun about somebody I hardly know?
"Oh, yes, I will," I said. He handed me a bunch of papers and I went back in my cell. Oh, my God, I've been so unjust to myself and my brothers. "Nothing's gonna happen to us … they'll go to hell … nothing's gonna happen to us …" I kept praying in my heart, and repeating my prayers. I took the pen and paper and wrote all kind of incriminating lies about a poor person who was seeking refuge in Canada and trying to make some money so he can start a family. Moreover, he's handicapped. I felt so bad, and kept praying silently, "Nothing's gonna happen to you, dear brother …" and blowing on the papers I finished. Of course it was out of the question to tell them what I know about him truthfully because [ ? ? ? ? ?] already gave me the guidelines. "[ ? ? ? ? ?] is awaiting your testimony against [ ? ? ? ? ?] with extreme interest!"
I gave the assignment to [ ? ? ? ? ?], and after the evaluation I saw [ ? ? ? ? ?] smile for the first time. "Your writing about Ahmed was very interesting, but we want you to provide more detailed information," said he. What information did the idiot want from me? I don't even remember what I've just written.
"Yes, no problem," I said. I was very happy that God answered my prayers for [ ? ? ? ? ?] when I learned in 2005 that he was unconditionally released from custody and sent back to his country.
"He's facing the death penalty," [ ? ? ? ? ?] used to tell me. And I was really in no better situation. "Since I am cooperating, what are you going to do with me?" I asked [ ? ? ? ? ?]. "It depends, if you provide us a great deal of information we didn't know, it's going to be weighed against your sentence. For instance, the death penalty would be reduced to life, and life to 30 years," he responded. Lord have mercy on me. What a harsh justice!
"Oh, that's great," I replied.
I felt bad for everybody I hurt with my false testimonies. My only solaces were, one, I didn't hurt anyone as much as I did myself; two, I had no choice; three, I was confident that injustice will be defeated, it's only a matter of time; four, I would not blame anybody for lying about me when he gets tortured. Ahmed was just an example. I have been writing more than thousands of pages about my friends with false information. I had to wear the suit U.S. Intel tailored for me, and that is exactly what I did.
The above is an excerpt from Mohamedou Ould Slahi's handwritten 466-page memoir, composed during his detention at Guantánamo and declassified by the U.S. government. These excerpts were chosen by Larry Siems and edited by Slate. Since Slahi remains in custody and cannot freely communicate, we have limited our editorial changes to correcting grammar and clarifying idiomatic phrasing in order to preserve his unique voice. In the few instances where his meaning required additional context, we have inserted text marked off in brackets. Click here for more on the Guantánamo Memoirs.