A Year of Gun Deaths
What Slate learned from trying, and failing, to record every death by gun in America since Newtown.
"We're a victim of our own information, so to speak," MacKay told me. "Data integrity is always a priority. We send out training bulletins to officers all the time. But if I'm an officer and this report is the last thing I'm doing for the day, and it's cold and wet and I'm trying to get home to my family—well. If there's a gun on the scene, I'll probably include that, but I won't always note if that handgun was a revolver or a semiautomatic." In preparing the report, Austin officials talked with police departments in 10 other cities of similar size. According to MacKay, most responded, "We don't track all that."
This lack of information filters down to researchers. Though most scientists I talked to said that they'd always found individual police departments forthcoming and helpful, I heard widespread frustration that data isn't systematically available in a more timely manner. "I don't know why we don't have rapid case accounts," said Harvard's Cathy Barber. "It's crazy that we are using 2010 data."
It might help, of course, if the federal government issued directives to local police urging them to systematically record and report firearm data. But who would make such a request? The Bureau of Alcohol, Tobacco, Firearms and Explosives, which for years (as the National Network for Safe Communities' David Kennedy told me) made it difficult or impossible for local police departments to get basic information about guns used in murders? (This was thanks to the National Rifle Association–supported Tiahrt amendments, which, though weakened recently, still restrict the extent to which the ATF can share information on guns.) The FBI is a possibility; they already collect data on firearms used in murders, robberies, and aggravated assaults for their yearly Uniform Crime Reports.
And then there's the CDC. The agency assembles the death statistics that social scientists depend upon, accumulating them from death certificates collected nationwide. But that process takes a long time; right now, confirmed totals from 2010 are available, and the center has released preliminary figures for 2011. The center also runs the National Violent Death Reporting System, which was created to track deaths nationwide—but which due to funding shortfalls currently only covers 18 states. (Along with $10 million for firearms research, President Obama's 2014 budget proposal includes $20 million to expand the NVDRS to 50 states. It remains to be seen whether those sums will make it through appropriations.)
The CDC has a complicated history when it comes to gun-related research. Since 1997, it has been prohibited by Congress from research that may "advocate or promote gun control." That vague language had a chilling effect on all gun-related research funded by the CDC. "Nothing was explicitly prohibited," said David Hemenway, director of the Harvard Injury Control Research Center. "But CDC knew if they ever did anything about firearms they'd be brought before House oversight committees and berated. There were all these shots across the bow, saying, Do whatever you want, but if you do the wrong thing, we'll blow you up."
But last winter, in the wake of Newtown, Obama signed an executive order instructing the CDC to once again support research on firearms. "CDC seems willing to, you know, say the word firearms now, which they weren't willing to do before, even in private meetings," Hemenway said. Other researchers agreed that this is a significant, important change in the government's attitude toward gun research (though they cautioned it's only a first step). "It's not clear which catastrophic event triggered it, but it's a big change, and it's a good change," said Alan Leshner, who oversaw this spring's valuable Institute of Medicine/National Research Council report on future priorities for firearm research. And Matthew Miller of Harvard's School of Public Health told me, "It has dispelled the chilling effect that has been a pall over the firearm research community over the last 17 years. It sends a signal that it's not OK to shun this research for political reasons."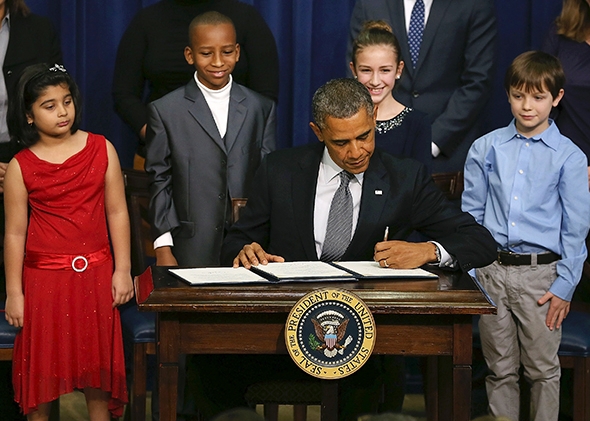 A year after Newtown, we're in the midst of a boomlet in firearms research funding—one that may be the lasting legacy of this tragedy. (It's certainly not new federal legislation, though some states have made small moves, as the map below shows.) "There's a whole new group of foundations," said Hemenway. "This month we're applying for lots of grants on guns from sources that were not available before." Similarly, Michael Klein's GVA represents a significant investment of private wealth in the study of guns in America.
Gun Laws Passed Since Dec. 14, 2012
Click on a state to learn more about its new laws.
And private money is crucial, because despite the warming at the CDC, the federal government's spending on firearms research is still surprisingly low. The president's $10 million pledge to the CDC was a vast improvement over the near-nothing the government devoted to firearms research before. But Harvard's Matthew Miller was blunt. "A single-year $10 million investment is, at best, going to result in a few decent studies. It's possible this becomes a recurrent funding stream, and that'd be better. But $10 million is a paltry sum compared to the billions of dollars spent studying other causes of morbidity and mortality in the U.S."
Miller pointed out that firearms-related mortality is responsible for more deaths under the age of 40 than any other cause. "You can't point to any disease that kills this many people. There'd be an enormous outcry if we only spent $10 million on cancer in children, for example. This is the way the conversation needs to go."
But of course guns are different from other causes of morbidity and mortality. There's no pro-cancer constituency in America; no right to cancer is enshrined in the Constitution. Even if we spent $10 billion on gun research, could that research actually effect change? The key, researchers believe, is in treating guns not as a political issue but as a public health problem—one in which the only way to change minds is demonstrating that certain concrete steps definitively cause fewer deaths. That's how this summer's IOM/NRC report treats guns. That's why Cathy Barber, for example, discourages anti-suicide messages that are also anti-gun messages. It stands to reason, she says, that such messages create bad results. "People in households with guns are at a three-times greater risk for suicide in America," she told me. "If they're a higher risk group, you want to get a message to them, and the way to get a message to them is not to talk about how horrible guns are." She points to a program in New Hampshire in which gun shops posts warnings and messages about suicide as a positive step.
But in order to test the efficacy of programs like that—public health campaigns designed to save lives immediately—you need current, reliable data. And that's why I have high hopes for Michael Klein's Gun Violence Archive. Why should we have to wait years for the CDC to issue a list of numbers, with very little additional data attached? Why can't we test the programs and ideas that might save lives now? Slate's gun-deaths interactive started life as a provocation, and it ends its time at Slate as a flawed experiment. But in its new life, we hope it might yet be a lifesaver.