Slate 60: Donor Bios
The largest American charitable contributions of the year.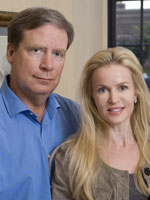 1. Stanley F. and Fiona B. Druckenmiller—$705 million to the Druckenmiller Foundation. Stanley Druckenmiller, 56, founded Duquesne Capital Management in Pittsburgh. Fiona Druckenmiller, 47, is a former investment-portfolio manager at the Dreyfus Corporation in New York. The Druckenmillers gave $705 million to their eponymous foundation in New York. Established in 1993, the family foundation primarily supports medical research, education, and efforts to fight poverty. Last year the foundation awarded a $100 million grant to New York University's Langone Medical Center to create a neuroscience institute. A trustee of the medical center since 2006, Fiona Druckenmiller said in a written statement that she and her husband believe advancements in neuroscience and stem-cell research will one day benefit and lengthen many people's lives.
"Every family is affected in one way or another by brain disorders or brain aging. An aging brain can lead to problems with memory, learning, sleep, feelings of well-being, not to mention all the ways the brain mediates other aspects of health," she said. "The brain is one of the last great frontiers in medicine and advances in related research could help both the individual and society function at a higher level."
Including this most recent grant, the Druckenmillers have given Langone Medical Center about $146 million through both grants from their foundation and personal donations. In past years, the foundation has supported medical research with grants to the New York Stem Cell Foundation and cancer-research programs. The Druckenmillers' support for education and anti-poverty programs includes a $25 million gift the couple gave in 2006 to the Harlem Children's Zone, a New York organization that serves poor children and their families. Stanley Druckenmiller serves as chairman of the group's board of trustees. They have also made substantial donations over the years to Bowdoin College (Stanley Druckenmiller's alma mater), Human Rights Watch, the Robin Hood Foundation, and the Spence School, a private girls' school.
Along with his work with Harlem Children's Zone, Stanley Druckenmiller serves on the board of the Children's Scholarship Fund in New York and the investment committee for Bowdoin College in Brunswick, Maine. He also serves on the board of overseers of Memorial Sloan-Kettering Cancer Center in New York. Fiona Druckenmiller serves on the boards of the Spence School and the American Museum of Natural History, both in New York, and the Parrish Art Museum in Southampton, N.Y. She is also a member of the Leadership Council of the New York Stem Cell Foundation.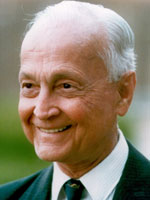 2. John M. Templeton—$573 million to the John Templeton Foundation. Templeton was an international investor and a pioneer in mutual-funds management who died in July 2008 at 95. He bequeathed $573 million in cash and stock to the John Templeton Foundation in West Conshohocken, Pa. He established the foundation in 1987 to support research into the relationships between science and religion, and spirituality and health, and to support programs that promote free enterprise and character development. The foundation held nearly $822.4 million in assets at the end of 2008 and awards about $70 million in grants each year. With this large infusion of money from the bequest, the foundation is now among the 25 wealthiest grant-makers in the country, with more than $1.6 billion in assets.
The foundation awarded grants last year to a wide array of nonprofit organizations including the Duke University Center for Spirituality, Theology, and Health in Durham, N.C.; the Faraday Institute for Science and Religion at St. Edmund's College at the University of Cambridge; the Foundational Questions Institute, a physics and cosmology organization in New York; the Institute for American Values' Thrift and American Culture Project, in New York; the Positive Psychology Center at the University of Pennsylvania; the Program on Indian Economic Policies at Columbia University; and the SEVEN Fund, a Cambridge, Mass., group focused on finding entrepreneurial solutions to poverty.
Templeton was born in Winchester, Tenn., and started his career on Wall Street in 1937 He created a number of lucrative investment funds. In 1972 he created the Templeton Prize for Progress Toward Research or Discoveries About Spiritual Realities, which was designed to show that advances and achievement in work related to spirituality were as important as advancements in science, economics, and other disciplines. He stipulated that the monetary value of the Templeton Prize must always exceed that of the Nobel Prizes, and at a current value of approximately $1.6 million, the Templeton Prize is the world's largest annual award given to a living person. Past winners have included the Rev. Billy Graham, the late Aleksandr Solzhenitsyn, and the late Mother Teresa. In 1992, Templeton sold his Templeton Fund to the Franklin Group for $440 million and devoted the remainder of his life to his philanthropy.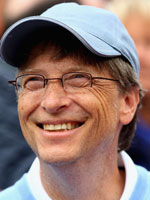 3. William H. (Bill) III and Melinda F. Gates—$350 million to the Bill & Melinda Gates Foundation. Bill Gates is a co-founder and chairman of Microsoft, and Bill and Melinda are co-chairmen of the foundation they established in 2000. The money will go toward construction costs for the foundation's new headquarters and campus in downtown Seattle. The new facility is expected to open in 2011.
With a fortune valued at $50 billion, Bill Gates is the wealthiest American, according to Forbes. In 2004, he and Melinda pledged approximately $3.3 billion to their foundation, which they have been steadily paying in annual installments. So far the couple has paid nearly $2.7 billion toward the commitment, including an approximately $34.5 million payment in 2009. The $350million for the new building was a separate donation and not part of their annual payments on the earlier commitment.
Since they started the foundation, the Gateses have given and pledged a total of $21 billion to their foundation. The grant-maker works to alleviate extreme poverty and provide health care to people in developing countries and to expand educational opportunities in the United States. It also supports human-service programs for disadvantaged youths and families in the Pacific Northwest.
4. Michael R. Bloomberg: $254 million to various arts, human-service, public-affairs, and other groups. Bloomberg, 67, the mayor of New York, founded Bloomberg LP, a financial-data and news-service company. He gave approximately $254 million to 1,358 nonprofit organizations, five of which are working to reduce and prevent deaths and injuries from automobile crashes. The remaining 1,353 groups support the arts, human services, public-affairs, and other causes.
Bloomberg would not disclose exactly how much money he gave to each of the five organizations—the Association for Safe International Road Travel, the International Bank for Reconstruction and Development, the Johns Hopkins Bloomberg School of Public Health, the World Health Organization, and the World Resources Institute for Sustainable Transport—in 2009, but the undisclosed payments were a portion of a $125 million pledge he announced in 2009. A sixth group, the Global Road Safety Partnership, is also participating in the program but did not receive any money until this year. The six organizations will work over five years to devise an international program to benefit 10 developing countries that have large numbers of deaths resulting from traffic accidents.
Among the other organizations Bloomberg supported were the American Heart Association; the Art Institute of Chicago; the Ballet Theatre Foundation in New York; the Capital Area Food Bank in Washington; Fordham University; the Harlem United Community AIDS Center; the National Sept. 11 Memorial & Museum at the World Trade Center; the Nature Conservancy; the New York Stem Cell Foundation; the Oregon Food Bank; Saint Vincent Catholic Medical Centers of New York; Starlight Children's Foundation; the Tourette Syndrome Association; and numerous other organizations in New York and elsewhere.

5. Louise Dieterle Nippert—$185 million to the Greenacres Foundation. Nippert's fortune derives primarily from Procter & Gamble stock. Her late husband, Louis B. Nippert, was the great-grandson of James A. Gamble, a co-founder of the household- and personal-products company in Cincinnati. The Nipperts were also principal owners of the Cincinnati Reds baseball team in the 1970s; Louise Nippert remains a minority owner of the team today.
She gave $185 million in stock to the Greenacres Foundation in Cincinnati, which she and Louis Nippert established in 1988, converting their estate and gardens into a cultural and environmental-education center. Louis, a lawyer, died in 1992.
Of the total she gave to her foundation, Nippert earmarked $100 million to endow the foundation's programs and $85 million to establish the Louise Dieterle Nippert Musical Arts Fund, which will support classical music in Cincinnati.
The fund will distribute money annually to three arts groups. The Cincinnati Symphony Orchestra will receive 75 percent, approximately $3 million a year, so that it can maintain its size of approximately 90 musicians and its full 52-week performing season. The Cincinnati Opera will receive 12 percent, about $500,000 a year; and the Cincinnati Ballet will receive 5 percent, roughly $200,000 a year from the fund. The annual payments to the ballet and opera companies are solely to ensure that both can afford to hire the orchestra for performances, and that the ballet company can continue to use the city's Music Hall as its home theater. The remaining 8 percent will support other arts groups in the Cincinnati area that promote classical music.
The Greenacres Foundation held $28.2 million in assets in 2008, according to its tax filings. This new infusion of money pushes the organization's assets to more than $213 million. Nippert grew up in Cincinnati and graduated from the University of Cincinnati in 1934. A trained singer, she studied voice and piano at the university's College-Conservatory of Music and performed with the Cincinnati Symphony Orchestra in 1957.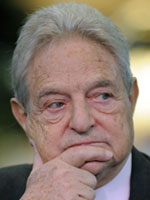 6. George Soros—$150 million to the Fund for Policy Reform and Central European University. Soros is chairman of Soros Fund Management, a New York firm that manages hedge funds, and is the founder of the Open Society Institute, a foundation with headquarters in New York. He donated $100 million in cash to establish the Fund for Policy Reform, which will support advocacy efforts designed to reduce climate change. The fund will make annual $10 million awards over the next 10 years to the Climate Policy Initiative, a San Francisco think tank that advises governments throughout the world on environmental policies.
In addition, Soros pledged $50 million to Central European University in Budapest to create the Institute for New Economic Thinking. The institute was established as a response to the financial crisis and to challenge traditional economic thought and will provide research grants, establish a scholarly journal, and organize conferences. Its first symposium is scheduled for April and will convene economic scholars to examine how the financial turmoil of the last year affects regulatory policies. Soros said in a news release that he decided to support the institute because "the entire edifice of global financial markets has been erected on the false premise that markets can be left to their own devices. We must find a new paradigm and rebuild from the ground up."
Soros, who helped found Central European University in 1991, plans to give the university $5 million a year for the next 10 years to complete his commitment to the new institute. His philanthropy is rooted in his personal history. Born in Budapest in 1930, Soros defected in 1946, escaping to England as the Soviets seized control of his country. He graduated from the London School of Economics in 1952 and began working at an investment bank. He moved to the United States in 1956, where he eventually established a private investment firm that became the Quantum Fund, one of the first hedge funds. It was through Quantum that Soros accumulated most of his wealth, which Forbes has pegged at $13 billion. He established the Open Society Institute in 1993 to support the development of democratic institutions throughout Central and Eastern Europe and in the former Soviet Union. The organization made at least $185 million in grants in 2009, including $100 million to help people in Eastern Europe and the former Soviet Union who are struggling because of the global economic downturn, and a $50 million matching grant to the Robin Hood Foundation in New York, to aid needy people in that city. To receive all the grant money, the Robin Hood Foundation must raise close to $100 million over the next two years.
Open Society also made a $35 million grant to help low-income families in New York state purchase back-to-school supplies and clothing for their children. The organization worked with the state of New York and the U.S. Department of Health and Human Services to give out about $200 each to approximately 850,000 children receiving public assistance in the state. A portion of this grant money—$5 million—is going to the Open Society Institute Baltimore to provide services to Baltimore residents hurt by the recession.
7. Eli and Edythe L. Broad—$105.2 million to the Broad Foundations. Eli Broad is founding chairman of KB Home Corp., a house builder, and of SunAmerica, a financial-services company, both of which are located in Los Angeles. The Broads have pledged $105.2 million—of which $65.2 million has been paid—to their foundations, which support civic programs, contemporary-art museums, efforts to improve elementary and secondary public-school education, and medical and scientific research.
The foundations awarded several grants last year. The largest was a $20.8 million grant to the Broad Center for the Management of School Systems in Los Angeles for the center's Broad Superintendents Academy, a management-training program to prepare future leaders of urban public-school systems, and the center's Broad Residency in Urban Education, which places executives with backgrounds unrelated to education into two-year, paid management posts in urban schools.
In addition, the foundations awarded a $5 million grant to the California Institute of Technology in Pasadena and the University of California- Los Angeles to establish the Joint Center for Translational Medicine. The center's research will seek new therapies for debilitating diseases; its first research project will investigate a new treatment for late-stage melanoma.
The foundations gave a $2.5 million grant to two public charter schools in New York. Uncommon Schools will receive $1.5 million over three years to establish new schools in Brooklyn and Manhattan, and for facilities and operations. The Success Charter Network will receive the remaining $1 million of the grant money over two years to support its four Harlem Success Academies and to open new schools in the New York area.
The foundations also gave the Aldine Independent School District in Houston a $1 million grant for college scholarships for graduating high-school seniors.
In 2008 the Broads, through their Eli and Edythe Broad Foundation, gave $30 million to the then-struggling Museum of Contemporary Art in Los Angeles, of which $15 million was a challenge grant to replenish the museum's severely diminished endowment, and another $15 million to support exhibitions at the museum over five years.
Under the terms of the challenge portion of the grant, the foundation promised to match up to $15 million the museum raised from other donors. By last summer, the museum had raised more than $26 million from its board of trustees and other donors.
8. J. Ronald and Frances Terwilliger—$102 million to Habitat for Humanity International. Ronald Terwilliger, 69, is chairman of Trammell Crow Residential, a Dallas real estate company. The Terwilligers pledged $100 million to Habitat for Humanity International in Americus, Ga. The charity will receive the money upon Ronald Terwilliger's death.
Ronald Terwilliger, chairman of Habitat's board of directors,  said approximately $70 million of the commitment will establish a fund to enable the charity to offer small loans to people in developing parts of Africa, Asia, Central America, and Eastern Europe so they can make basic improvements to their homes (such as building a cement floor where there was once only a dirt surface or replacing an inadequate roof). He said the remaining $30 million will create an endowment to support the organization's main goal of building houses for needy people in the United States and abroad. Terwilliger said he made the pledge to highlight the often overlooked importance of helping poor working families have a decent place to live, and that he hoped other philanthropists will make housing a giving priority.
"My belief is while people are very interested in giving to health and education, there are so many who need a good home to live in," he said. "It seems to me we ought to concentrate more on sheltering and feeding and clothing people first."
The Terwilligers also gave the organization $895,877 in miscellaneous donations—including an airplane—last year. In addition, the couple gave a total of more than $1.1 million to 16 other nonprofit groups, including Stand Up for Kids and the Terwilliger Family Foundation, both in Atlanta; the Urban Land Institute Foundation in Washington; and other education, environmental, human-services, and medical-research groups. Ronald Terwilliger serves on the boards of the Enterprise Foundation, the Urban Land Institute, and the U.S. Naval Academy, his alma mater.
9. William P. Clements Jr.—$100 million to the University of Texas Southwestern Medical Foundation. Clements, 92, founded Sedco, an oil and gas drilling corporation, and served two terms as governor of Texas. He pledged $100 million to the University of Texas Southwestern Medical Foundation to support the university's medical center. Clements, who placed no restrictions on how the money should be used, plans to pay the entire commitment over the next four years.
From the time he founded Sedco in 1947 to the time he retired as chairman of the company in 1985, Clements had a substantial political career. He served as deputy secretary of defense from 1973-77. He served as governor of Texas from 1979-83 and again from 1987-91. In between, he oversaw the 1984 merger of Sedco with Schlumberger Limited, an 80-year-old company that originated in Paris. Today he raises cattle on his ranch near Forney, Texas. Although not an alumnus of the University of Texas, Mr. Clements served on the university system's board of regents from 1996-2007 and has been involved with the institution since the 1960s.
MYSLATE
For complete photo credits, click spacerhereyeshyperlinkPhotographs of: Steven and Carol Aaron courtesy of Dallas Jewish Community Foundation; Paul Allen by Mark Wilson/Getty Images; Caroline Amplatz courtesy Minnesota Medical Foundation; Michael Bloomberg courtesy the office of Mayor Michael Bloomberg; Eli and Edythe Broad by Carlo Allegri/Getty Images;  Joseph and Linda Chlapaty by Joe Dixon; William Clements courtesy Texas State Library; Henry and Rebecca Conn by Melissa Bugg; Jerry and Judith Davis courtesy the University of Florida Foundation; M.A. Douglas courtesy University of California-Irvine; Stanley and Fiona Druckenmiller courtesy John Abbott; David Eddings courtesy Reed College; Lawrence Ellison by Justin Sullivan/Getty Images; Bill Gates by Getty Images; Thomas Golisano by Getty Images; Robert Gumbiner by Thomas McConville, courtesy Museum of Latin American Art; Arthur Hodson courtesy of Indiana Wesleyan U.; John and Susan Jackson by Michael Marsland, courtesy of Yale University; Irwin Jacobs by Getty Images; Dolores Jordan courtesy California State University-Fresno; William Lowrie courtesy Ohio State University; William McGuire courtesy United Health Group; W.A. (Tex) Moncrief courtesy the University of Texas; Louise Nippert courtesy Cincinnati Symphony Orchestra; Pierre Omidyar by Eric Millette; Conrad Prebys by Nadia Borowski Scott, courtesy Sanford-Burnham Medical Research Institute; Stewart and Lynda Resnick courtesy Los Angeles Museum County Museum of Art; Raymond Rich courtesy of Marist College; David Rubenstein by Bill Denison, courtesy the Carlyle Group; Eric and Wendy Schmidt by Getty Images; Jeffrey Skoll by Getty Images; George Soros by Getty Images; Ted and Vada Stanley courtesy newyorksocialdiary.com; Ted Turner by Getty Images; Albert Viragh courtesy of Chaminade College Prepratory School; Sanford and Joan Weill by Colin Williams; Oprah Winfrey by Getty Images.10000false2201027102706PMSundayFebFebruary222/8/2010 3:27:06 AM634011784260000000201027102706PMSundayFebFebruary222/8/2010 3:27:06 AM634011784260000000.