Hot Collars
I got three custom shirts online. I'll never buy off the rack again.
This process initially sounded a bit too involved for me—I'm used to one-click online buying—but I can see why some men might like it. As a practical matter, the consultants are expert measurers. Jennifer Cushard, the adviser who came over to my house one weekday morning, asked me a battery of questions about how I wear my shirts (did I like them slim or roomy?), and she knew several insider tricks to get the best fit. She explained, for instance, that most people's left and right arms are slightly different in length, so she measured each of my arms. (One was a half-inch longer, and my shirt reflects that difference.)

Cushard also helped me design my shirt. She explained which fabrics were good for certain functions or weather and which were most popular, and she knew what kind of collar would look best on me. Finally, she was a great saleswoman. She regaled me with descriptions of J. Hilburn's hyper-involved, exclusive pants-making process—and I was so bowled over that I decided to order a pair.

I can see why J. Hilburn has been so attractive with VCs. The shirt and trousers I ordered were wonderful, of a fit and quality that surpassed any clothes I've ever purchased. If I could afford it, I'd buy much more of my wardrobe through the company.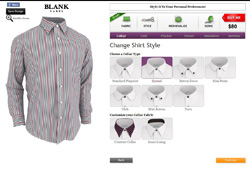 Blank Label Shirts range from $60 to $98, depending on your choice of fabric. Mine cost $65. Given its lower prices, I expected Blank Label to have a discount feel, and in some respects it does. There are no pictures of handsome models wearing custom shirts, the photos of the fabric swatches don't offer much visual detail, and the guidelines for how to take your measurements aren't as thorough or polished as Indochino's. But as I went through the buying process, I was won over by the site's virtues: the wide variety of fabric and customization options, and a few extra touches that make getting the right shirt easier. In addition to letting you take your own measurements, the site offers two other ways of getting the right fit. First, you can fill out a questionnaire with the dimensions you know—like your height, weight, off-the-rack shirt size, and the brand of shirts you like to buy—and Blank Label's tailors will estimate your perfect shirt size. The site calls this method "90 percent accurate." For more accuracy, Blank Label lets you mail in your best-fitting shirt to use as a template for their custom offerings. It pays for shipping both ways.
Blank Label also leads the field in customization. You can get contrasting fabrics for your collar and cuff, pick out your buttons and the style of the placket (the central panel where the buttons are stitched), and even add epaulets, if you like. Given all this free rein, you could easily order up a clown shirt. (Do yourself a favor and have a loved one look over your design before you confirm it.) Still, I was glad to have the options—and they're all free.
My favorite thing about Blank Label, though, was its exceptional customer service. There were two problems with my order that could easily have soured me on the site. First, a few days after I designed my shirt, I got an e-mail from a customer-service rep explaining that the fabric I'd selected was no longer available. I was about to get angry at the thought of having to redesign the shirt when I noticed this wonderful line: "Also, please feel free to choose a more expensive fabric at no additional cost." So that's what I did. I got an $85 shirt for $65.
The shirt arrived in a couple weeks, and—just like the others—it was stylish, well-constructed, and fit perfectly. But there was one tiny problem: When I opened the top button, it broke in half in my fingers. I don't think this was shoddy workmanship; it seemed like the button got bent or cracked during shipping. Anyway, I went to the site and discovered that it has a wonderful return policy: You can send back "any shirt, any time, [for] any reason," without any shipping charges. Blank Label will make you a new shirt even if you simply don't like the design you chose—if, say, you chose epaulets and then discovered you're not actually a general.
As I entered in my return details, a live-chat message popped up  to ask if I needed help. I typed in my problem and got a reply from Fan Bi, Blank Label's founder. He apologized and asked if I would be OK taking the shirt to a local tailor to be fixed. Blank Label would cover the cost of attaching the extra button and would give me a $20 credit for my trouble. That sounded fair to me. Again, I was won over.
Of the three sites I tried, Blank Label is probably the one I'll return to most often, mainly because I love its prices and customer service. When I'm looking for something fancier, I might check out J. Hilburn. What I won't do is spend much time shopping for shirts at the mall, unless I see something at a steep discount. After you get a custom-fit shirt, you'll never go back.