Testing, Testing … 1, 2, 3?
Which (cheap) digital audio recorder works best?
The only downside was that UX300 had the most trebly sound of the group—the audio was thin (if clear under most circumstances) and had less mid-range and almost no bottom end, even with the low-cut filter set to off.
Sound … bites?: 12
Bells and whistles: 8
User-friendliness: 4
Total:  24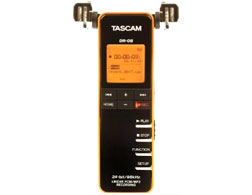 Tascam DR-08 ($167) One shouldn't judge a book by its cover and all that, but the Tascam DR-08 just looks cool. It's got orange trim! Its microphones fold out like the arms of a Transformer! Oh, and it sounds really good, too.
Though Tascam is a brand more widely known to musicians (I loved my Tascam four-track recorder as a teenager) than to reporters, the DR-08 is perfectly suitable for interviews. It also sounded the best overall in almost all conditions—except outside with a calm breeze. The low-cut filter has not one, but three settings (from 40 to 120 Hz) to reduce noise. The device also has an adjustable threshold setting for the voice-activated recording, and an incredibly intuitive (and cool looking) interface. It recorded up to 24 bit, 96 kHz stereo audio.
Sound … bites?: 13.2
Bells & Whistles: 7
User Friendliness: 5
Total: 25.2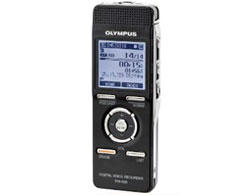 Olympus Digital Voice Recorder DM-520 ($148) The first digital recorder I ever purchased (about three years ago) was an Olympus. Frankly, I didn't like it at all—the sound quality was horrendous, the interface obtuse, and the accompanying software a joke; but I have to say that the Olympus DM-520 is quite impressive. The overall sound quality was excellent—though not quite as high as the Tascam's, particularly when it came to recording music. What makes it a slightly superior device is that it packs an abundance of great features—my favorite being the "scene" function that provides quick access to presets like "dictation," "conference," and "lecture," plus the ability to add up to three user presets. The 520 also comes with rechargeable batteries and a robust audio application called Sonority (a vast improvement over the previous version), which offers speed control, noise cancellation, and bass/treble adjustments.
For dictation, interviews or lectures, this thing was great. If you want a small digital recorder to capture live music, I'd go with the Tascam.