Photo Finish
What's the top photo printer?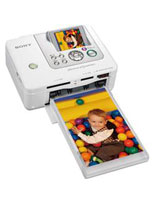 The Sony is a step up in picture quality, but it's not the "print lab-quality," the company advertises. The sunset turned out too orangey, as did some skin tones. Other prints featured overly dark areas and slightly oversaturated colors. But this little dye-sub is easy to use and offers many helpful printing options. Unlike the previous models, the Sony has a list view that displays an index of nine images at once on the screen. This makes it much easier to find the picture you want to print. It prints in black and white or sepia, and it allows you to manually adjust things like color saturation and brightness. You can also crop images on the Sony, and the 2.5-inch LCD screen is big enough to make that feature practical. That said, at $150, you can get more for less money.
Picture quality: 15
Ease of use and features: 12
Value bonus: 3
Total: 30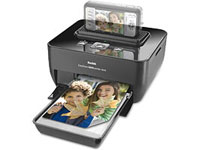 Kodak Easyshare G610 Printer Dock, $99.95 (not including camera) Printer style: Dye-sublimation Cheapest cost per print: 29 cents Average print time: about 76 seconds
It may have taken Kodak a few years to reinvent itself for the digital age, but this printer proves it has caught up with the competition—it makes great prints, and it's a breeze to use. (Keep in mind, though, that this printer will function only with a Kodak camera.) Plop a Kodak camera onto the printer's dock (no wires), and both turn on automatically. The camera's LCD screen doubles as the printer display. The prints are sharp and balanced, and the colors were generally very true to the original image. Plus, this printer has one feature that puts it above the other three dye-subs: print paper without snap-off edges. (When using other dye-subs, I spent close to three minutes per printer shucking edges off stacks of 20 photos.)
The Kodak did have a few hiccups, though. Some photos possessed a slight green tinge, and a few solid-colored areas had a waxy, uneven look. The sunset features a rather whitish area in the sky that shouldn't be there. And to crop images or make them black and white, you have to do so on the camera before docking it with the printer. There was a point deduction for working only with Kodak cameras, but if you've already got a Kodak camera (or are considering buying one), this printer is a strong bet.
Picture quality: 17
Ease of use and features: 11
Value bonus: 3
Total: 31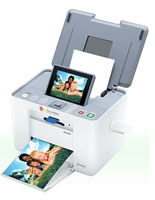 I've said some nice things about the other contenders, but forget about them: Buy this printer. It's got all the bells and whistles—cropping, black and white option, manual image adjustments—and it was still exceptionally easy to use. The controls and menus were so intuitive that I barely needed the manual. The 3.6-inch LCD screen can display an index of 16 images at a time, which makes finding photos on a full memory card a snap.
While dye-sub-makers tout their superior print quality because they layer dyes rather than print tiny dots like an inkjet, I didn't notice any dots on the Epson's prints unless I scrutinized photos with a 10x gem loupe. Epson dominated in print quality: Pictures came out sharp and balanced—the blacks and colors were true and vivid, not oversaturated. (A few prints did show a slight red tint, but that didn't bother me much.) And, the Epson smoked the competition in printing speed. The fact that this printer—and its supplies—are among the cheapest makes me love it even more. But most importantly, I honestly enjoyed churning out prints on this baby. No contest—Epson wins the photo print-off.
Picture quality: 18
Ease of use and features: 14
Value bonus: 5
Total: 37