Photo Finish
What's the top photo printer?
I'm a lazy photographer. It used to take me forever to develop my print film—in fact, I still have some undeveloped rolls somewhere. Unfortunately, the advent of digital photography has made my bad habit worse: I rarely upload my pictures to a photo-sharing site and order prints—I view them only on my computer. But when I started to get nostalgic for thumbing through shoe boxes of old pictures, I began to wonder whether home photo printers might provide me with a happy medium. With a photo printer, I wouldn't have to waste time uploading every photo or waiting for prints to be delivered. It could offer the immediate gratification I've gotten used to with digital photography, and it would satisfy my hankering for some hard copies. I decided to put them to the test.
Methodology
First, I gathered six models that cost under $150 and would print 4-by-6 photos. I picked two inkjet printers, which function similarly to your traditional computer printer but have much higher resolution. The other four print via a process called "dye-sublimation," in which colored dyes on a cellophane ribbon are heated and transferred onto photo paper. Here's one in action. (Note that dye-sub cartridges generally use special paper that features snap-off edges, which can be cumbersome.) Although most printers can also hook up to a computer, I tested them in standalone mode by printing from camera memory cards. To do so, you insert the card into a slot in the printer, preview the images on the printer's LCD screen, and select which ones you want for printing (some printers also allow you to adjust brightness, crop photos, and add effects). The printers were judged in the following categories:
Picture Quality (20 possible points): I took a set of photos with my Canon Digital Rebel, printed them out, and picked five for scoring purposes: a day portrait, a landscape, a poorly lit interior shot with people, a shot of colorful posters, and a sunset. (Click on the labeled photo buttons below to view these shots in detail.) I compared the prints side by side, and against the original images on my computer screen. Color accuracy and correct shading mattered most. Although I used a magnifying glass and a gem loupe to check image sharpness and detail, imperfections I couldn't see with the naked eye didn't hurt the scores much. (When looking at the scans I made of the prints, keep in mind that my scanner is not spectacular. If I describe something you can't see in the scans, trust me, it's there.)
Ease of Use and Features (15 possible points): If a printer's too complicated to use, it'll only gather dust. Big concerns: Are the controls intuitive? Could I print in black and white or crop a photo? Was I squinting at a tiny LCD screen? I also timed the printers' output with a stopwatch—the faster, the better.
One note: I've calculated each printer's price per print based on each brand's best deals on supplies (i.e., the cost of its largest paper-and-ink combo pack divided by the number of prints it provides) to give you a sense of value. The printers were given zero to five bonus points for value according to how they ranked in terms of cost per print: The cheapest got five points, the most expensive zero. While online printing services will create 4-by-6s for much less, shipping bumps up the cost significantly. The total cost per print at Kodak's service, for example, is five prints for 45 cents each, 10 prints for 30 cents each, 20 prints for 27 cents each, and so forth. For small jobs, the home printer is generally cheaper. And, you don't need to wait a week to get your pictures.
Here are the results, from National Enquirer to National Geographic:
(Click the labeled buttons to view these shots in detail.)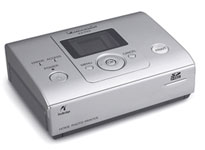 Panasonic KX-PX2M, $99.99 Printer style: Dye-sublimation Cheapest cost per print: 46 cents Average print time: about 74 seconds
I'll be nice first. The Panasonic handles shading and color very well—it never created super-deep, oversaturated colors like some of the other dye-subs. That said, there is a major quality issue: Countless lines ran widthwise through every print. That's a deal-breaker. Making matters worse, the controls are hard to use, and they don't offer a lot of options. You can print in black and white or sepia tone, but you can't crop pictures. Not that you really could crop on the Panasonic: The "large" 1.5-inch LCD is so small that it reminded me of a 35mm film negative. The Panasonic accepts only SD memory cards, not the CF cards my camera uses. (I had to borrow a neighbor's memory card to test this one. With the exception of the Kodak, all the other printers also accepted CF cards.) Its best cost per print was higher than all others by at least 17 cents, and to top it all off, when I called Panasonic customer service to ask if this printer could connect to a Mac, no one knew anything about Panasonic photo printers. Don't buy this printer.
Picture quality: 9 (out of 20)
Ease of use and features: 5 (out of 15)
Value bonus: 0 (out of 5)
Total: 14 (out of 40)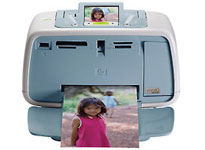 HP Photosmart A526, $99.99 Printer style: Inkjet Cheapest cost per print: 29 cents Average print time: about 83 seconds
You might assume that HP, as the dominant player in the color printer market, makes one of the best photo printers. You'd be wrong. The HP's tendency to exaggerate contrast and color saturation will disappoint even the most amateur shutterbug. Check out the HP's print of the desert landscape shot from Burning Man. You can't tell from that photo that the guy with the backpack isn't wearing any pants! And black from this printer turned out purplish. The functionality here seems more Fisher-Price than Hewlett-Packard—you can select which photos you want to print on the built-in LCD screen, reduce red-eye, and print, but you can't crop, print black and white, or print several photos on your memory card in one batch. HP may be a trusted brand, but its photo printer can't hang with the competition.
Picture quality: 10
Ease of use and features: 6
Value bonus: 3
Total: 19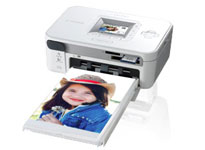 Canon Selphy CP740, $99.99 Printer style: Dye-sublimation Cheapest cost per print: 28 cents Average print time: about 75 seconds
I'm a Canon guy: I own a Canon camera and a Canon scanner, and my film camera was a Canon. My photo printer, however, will not be a Canon. This one's print quality is spotty. Colors that should have been vivid were flat and bland in some prints and overly saturated in others. Most skin tones took on a sickly tinge. Noticeable blurry areas appeared on many prints, and all of them seemed too dark (check out the photo of my friends sitting at the table, in particular). While you can at least print multiple photos in one set with this printer, it doesn't offer any other special features. You can do a lot better.
Picture quality: 12
Ease of use and features: 8
Value bonus: 4
Total: 24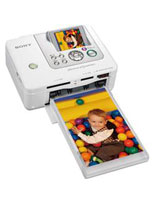 The Sony is a step up in picture quality, but it's not the "print lab-quality," the company advertises. The sunset turned out too orangey, as did some skin tones. Other prints featured overly dark areas and slightly oversaturated colors. But this little dye-sub is easy to use and offers many helpful printing options. Unlike the previous models, the Sony has a list view that displays an index of nine images at once on the screen. This makes it much easier to find the picture you want to print. It prints in black and white or sepia, and it allows you to manually adjust things like color saturation and brightness. You can also crop images on the Sony, and the 2.5-inch LCD screen is big enough to make that feature practical. That said, at $150, you can get more for less money.
Picture quality: 15
Ease of use and features: 12
Value bonus: 3
Total: 30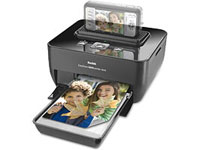 Kodak Easyshare G610 Printer Dock, $99.95 (not including camera) Printer style: Dye-sublimation Cheapest cost per print: 29 cents Average print time: about 76 seconds
It may have taken Kodak a few years to reinvent itself for the digital age, but this printer proves it has caught up with the competition—it makes great prints, and it's a breeze to use. (Keep in mind, though, that this printer will function only with a Kodak camera.) Plop a Kodak camera onto the printer's dock (no wires), and both turn on automatically. The camera's LCD screen doubles as the printer display. The prints are sharp and balanced, and the colors were generally very true to the original image. Plus, this printer has one feature that puts it above the other three dye-subs: print paper without snap-off edges. (When using other dye-subs, I spent close to three minutes per printer shucking edges off stacks of 20 photos.)
The Kodak did have a few hiccups, though. Some photos possessed a slight green tinge, and a few solid-colored areas had a waxy, uneven look. The sunset features a rather whitish area in the sky that shouldn't be there. And to crop images or make them black and white, you have to do so on the camera before docking it with the printer. There was a point deduction for working only with Kodak cameras, but if you've already got a Kodak camera (or are considering buying one), this printer is a strong bet.
Picture quality: 17
Ease of use and features: 11
Value bonus: 3
Total: 31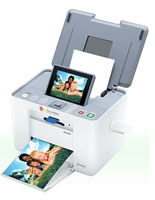 I've said some nice things about the other contenders, but forget about them: Buy this printer. It's got all the bells and whistles—cropping, black and white option, manual image adjustments—and it was still exceptionally easy to use. The controls and menus were so intuitive that I barely needed the manual. The 3.6-inch LCD screen can display an index of 16 images at a time, which makes finding photos on a full memory card a snap.
While dye-sub-makers tout their superior print quality because they layer dyes rather than print tiny dots like an inkjet, I didn't notice any dots on the Epson's prints unless I scrutinized photos with a 10x gem loupe. Epson dominated in print quality: Pictures came out sharp and balanced—the blacks and colors were true and vivid, not oversaturated. (A few prints did show a slight red tint, but that didn't bother me much.) And, the Epson smoked the competition in printing speed. The fact that this printer—and its supplies—are among the cheapest makes me love it even more. But most importantly, I honestly enjoyed churning out prints on this baby. No contest—Epson wins the photo print-off.
Picture quality: 18
Ease of use and features: 14
Value bonus: 5
Total: 37