The Passion of Lew Wallace
The incredible story of how a disgraced Civil War general became one of the best-selling novelists in American history.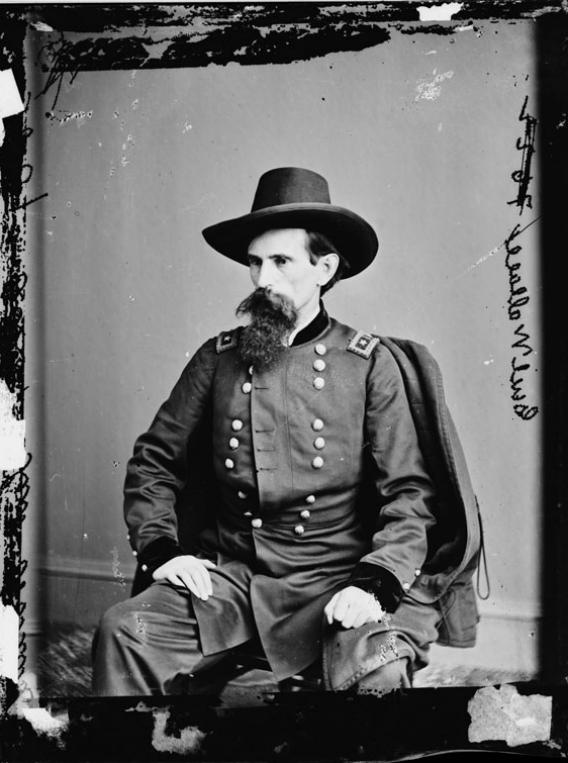 You can also listen to John Swansburg read this piece using the player below:
Lew Wallace was making conversation with the other gentlemen in his sleeper car when a man in a nightgown appeared in the doorway. The train was bound for Indianapolis and the Third National Soldiers Reunion, where thousands of Union Army veterans planned to rally, reminisce, and march in a parade the New York Times would later describe as "the grandest street display ever seen in the United States." It was Sept. 19, 1876, more than a decade since the Civil War had ended. Wallace had grayed a bit, but still wore the sweeping imperial moustache he'd had at the Battle of Shiloh. "Is that you, General Wallace?" the man in the nightgown asked. "Won't you come to my room? I want to talk."
Robert Ingersoll, also a veteran of Shiloh, was now the nation's most prominent atheist, a renowned orator who toured the country challenging religious orthodoxy and championing a healthy separation of church and state. Wallace recognized him from earlier that summer, when he'd heard Ingersoll, a fellow Republican, make a rousing speech at the party's nominating convention. Wallace accepted his invitation and suggested they take up a subject near to Ingersoll's heart: the existence of God.
Ingersoll talked until the train reached its destination. "He went over the whole question of the Bible, of the immortality of the soul, of the divinity of God, and of heaven and hell," Wallace later recalled. "He vomited forth ideas and arguments like an intellectual volcano." The arguments had a powerful effect on Wallace. Departing the train, he walked the pre-dawn streets of Indianapolis alone. In the past he had been indifferent to religion, but after his talk with Ingersoll his ignorance struck him as problematic, "a spot of deeper darkness in the darkness." He resolved to devote himself to a study of theology, "if only for the gratification there might be in having convictions of one kind or another."
But how to go about such a study? Wallace knew himself well enough to predict that a syllabus of sermons and Biblical commentaries would fail to hold his interest. He devised instead what he called "an incidental employment," a task that would compel him to complete a thorough investigation of the eternal questions while entertaining his distractible mind. A few years earlier, he'd published a historical romance about the Spanish conquest of Mexico, to modest success. His idea now was to inquire after the divinity of Christ by writing a novel about him.
It took four years, but in 1880, Wallace finished his incidental employment. He called it Ben-Hur: A Tale of the Christ. It's one of the great if little known ironies in the history of American literature: Having set out to win another soul to the side of skepticism, Robert Ingersoll instead inspired a Biblical epic that would rival the actual Bible for influence and popularity in Gilded Age America—and a folk story that has been reborn, in one medium or another, in every generation since.
The ongoing celebration of the Civil War's 150th anniversary has focused thus far on the conflict's traditional heroes. Ulysses S. Grant is the subject of a best-selling biography; Abraham Lincoln just won an Oscar. Lew Wallace is not one of those heroes. He lacked Grant's training and instincts for war, and possessed nothing akin to Lincoln's political genius or personal charm. Wallace was brave but overconfident on the battlefield, impatient and impertinent off of it. The Union's two greatest generals, Grant and William Tecumseh Sherman, both rebounded from early missteps—Sherman was so spooked after the Union's defeat at First Bull Run that critics openly questioned his sanity. Wallace, however, couldn't live down his early stumble, at Shiloh, and spent much of the war on its sidelines.
Yet Wallace's unlikely journey from disgraced general to celebrated author is as thrilling as any story of his era, and his fame in his own lifetime surpassed that of all but a handful of his comrades in arms. Few men participated so completely in the postbellum American experience. Wallace had a Zelig-like knack for insinuating himself into the defining moments of his day. A lawyer by training, he served on the tribunal that tried the Lincoln assassination conspirators and presided over the one that convicted Henry Wirz, the commandant of the notorious prison camp at Andersonville, Ga., and the only Confederate executed for war crimes. During the disputed election of 1876, the Republican Party sent Wallace to oversee the original Florida recount. For his role in delivering the White House to Rutherford B. Hayes, he was rewarded with the governorship of the New Mexico territory. The duties of office included putting down a range war in Lincoln County; among the combatants was William H. Bonney, better known as Billy the Kid. Initially charmed by the young gunslinger, Wallace once asked him for a demonstration of his marksmanship and was impressed by his handling of both six-shooter and rifle. He soon tired of the Kid's homicidal antics, however, and put a $500 bounty on his head.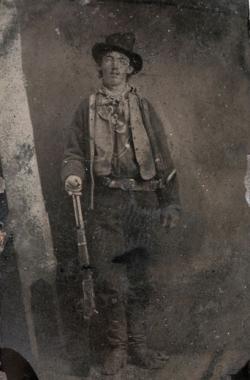 His role in the life and death of Billy the Kid earned Wallace a bit part in the dime novels that burnished the outlaw's legend, but it was nothing compared to the celebrity his own novel brought him. He had begun the book in his native Indiana, writing in the shade of what would come to be known as the Ben-Hur beech, and would finish it in Santa Fe. At night, after he'd wound down the territory's affairs, he would retreat to a dismal back room of the adobe governor's palace and bar the doors and windows. Sitting at a rough pine table, he composed the novel's eighth and final book by the light of a solitary lamp.
Wallace's novel has since been eclipsed in the American imagination by a bronzed, bare-chested Charlton Heston, careening around the Holy Land in William Wyler's 1959 film adaptation of Ben-Hur, which won a record 11 Academy Awards and was a blockbuster hit for MGM. But the book was wildly popular in its day, selling perhaps as many as a million copies in its first three decades in print. The story of the Jewish hero Judah Ben-Hur, whose life Wallace ingeniously intertwined with that of Jesus Christ, captivated readers despite winning little affection from contemporary critics, who found its romanticism passé and its action pulpy. On a visit to Boston, home of the literary old guard, Wallace noted with pique that William Dean Howells, James Russell Lowell, and Oliver Wendell Holmes Sr. all declined invitations to parties held in his honor. "Why did they not come?" he wrote to his wife Susan. "Would their presence have been too much of a sanction or endorsement for the wild westerner?"
Ben-Hur found admirers in other high places. Grant, who hadn't picked up a novel in a decade, read Ben-Hur in a single, 30-hour sitting. President James A. Garfield, a former professor of literature, devoured it nearly as fast, stealing chapters between meetings. He woke at 5:30 one morning so he could finish it in bed. "With this beautiful and reverent book you have lightened the burden of my daily life," he wrote to Wallace later that same day. Ben-Hur's publisher, Harper & Brothers, soon produced a Garfield Edition, with the president's letter reproduced as a foreword; the lavishly illustrated two-volume set sold for a then astronomical $30.
The novel's readership wasn't confined to Union veterans. In an Indiana newspaper, the historian S. Chandler Lighty discovered Varina Davis' account of reading Ben-Hur aloud to her father "from 10 o'clock until daybreak, both of us oblivious to the flight of time." Her father was Jefferson Davis, the former Confederate president. Men and women on both sides of the Mason-Dixon could enjoy Wallace's tale of martial virtue set safely in the distant past and embrace its message of Christly compassion triumphing over Old Testament vengeance. The story of Ben-Hur's success is, in part, the story of how Americans put the divisions of the war behind them in the waning days of Reconstruction.
It's also the story of how they welcomed a new era of economic opportunity. Among other things, Ben-Hur is a rags-to-riches story, in the mode of Wallace's contemporary, Horatio Alger. Judah's virtuousness is tested, and richly rewarded, throughout the novel. The Gospel of Matthew teaches that it is easier for a camel to pass through the eye of a needle than for a rich man to enter the kingdom of heaven. In Ben-Hur, Wallace suggests that piety brings with it prosperity—an alluring prospect to readers eager to take part in Gilded Age affluence.
Wallace himself had struggled financially through much of his life. His correspondence is full of enthusiastic accounts of railroad investments and mining prospects that never pan out; he patented unprofitable improvements to railway ties, automatic fans, and the fishing rod. But Ben-Hur opened the doors of opportunity. The novel so impressed President Garfield that he offered Wallace the position of minister plenipotentiary to the Ottoman Empire (annual salary: a princely $7,500) and encouraged him, when not attending to U.S. interests, to gather material for a new novel. By the time Wallace returned from Constantinople four years later, Ben-Hur had become Harper & Brothers' top-selling title. A steady stream of royalty checks freed Wallace from the practice of law ("that most detestable of occupations," he called it) and from his creditors. "I contemplate with great satisfaction the pains that will wrench his little pigeon heart when he hears that all my debts are paid," Wallace wrote of one of them, his brother-in-law.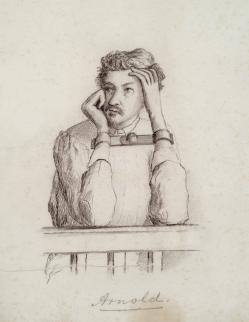 Wallace enjoyed his newfound wealth. He built the finest luxury apartment building in Indianapolis—the Blacherne, named for an imperial palace in Constantinople—and kept a grand apartment for himself. Next to his home in nearby Crawfordsville he erected an idiosyncratic study—Ben-Hur's face peers out from a frieze above the entrance—where he could pursue his avocations. He played the violin and made his instruments by hand. He was also an accomplished visual artist. During the Lincoln conspiracy trial, Wallace passed the time making sketches of the accused, which he later used as the basis for a large oil painting. Having grown up in the woods of the Old Northwest, he was an avid outdoorsman, and spent much of his leisure time hunting and fishing at his newly acquired game preserve, Water Babble.
Yet for all the worldly comfort Ben-Hur brought its author, Wallace was restless. He wasn't just a writer of romances; he was a romantic himself, with a chivalric sense of honor, and he was plagued by the blot left on his reputation by the Battle of Shiloh. That battle, in which 26,000 men were killed or wounded, scarred all of its participants. Robert Ingersoll, then a Union cavalryman, spent the first day corralling infantry as they fled the slaughter of the front lines; when a storm broke that evening, he wrote that the rain fell "slowly and sadly, as though the heavens were weeping for the dead." Even the usually imperturbable Grant was taken aback. Writing of Shiloh in his memoirs, he recalled a field "so covered with dead that it would have been possible to walk across the clearing, in any direction, stepping on dead bodies, without a foot touching the ground." Shiloh wouldn't be the bloodiest fight of the war, but it was the first to intimate the horrors to come, and it dispelled any hope of a quick end to hostilities. After Shiloh, Grant wrote, "I gave up all idea of saving the Union except by complete conquest."
It's difficult to comprehend death on this scale; now try to imagine being blamed for it. On April 5, 1862, Lew Wallace had been the youngest major general in the Union Army, a promising if brash officer who'd fought ably during the early months of the conflict. But on April 6, when the Confederates attacked and nearly succeeded in overrunning Grant's Army of the Tennessee, Wallace failed to bring his sorely needed troops to the field of battle, and he shouldered a heavy portion of the blame for the dire toll. He was rumored to have gotten lost on the short journey to Shiloh's front lines—or worse, to have lost his nerve. Within a few months, he was relieved of his field command. He spent the rest of the war trying to win back the confidence of his superiors and the rest of his life trying to prove his innocence. In Ben-Hur, Wallace had written a novel that would help America forget the Civil War. But its author never could.
One of Lew Wallace's earliest memories was of hiding amid a hillside stand of ironweed and watching his father drill the local militia of Covington, Ind. The Sauk leader Black Hawk was doing battle with settlers in neighboring Illinois—where a young Abraham Lincoln had volunteered for service—but his campaign to win back his people's land would soon be defeated, to the relief of Covington's home guard. Though David Wallace was a West Point graduate, most of his men carried umbrellas and cornstalks in lieu of muskets during their training exercises. To his 5-year-old son, however, "nothing of military circumstances half so splendid and inspiring had ever taken place."
The Wallaces were a prominent if not a wealthy family. David, a lawyer, would eventually serve a term as Indiana's governor and move his family to the state capital. But Lew spent much of his boyhood in the country, on what was then still the American frontier. In his posthumously published autobiography, he describes a boy who would have been at home in Tom Sawyer's gang, forever fleeing instructors and marching off to do imaginary battle with a sword made of old clapboards. In 1842, when Wallace learned of Texas' War of Independence, he and a friend provisioned a canoe and set out down the White River to offer their services to James Bowie and Davy Crockett. Lew's grandfather apprehended them a few miles downriver. Wallace was 15.