The Passion of Lew Wallace
The incredible story of how a disgraced Civil War general became one of the best-selling novelists in American history.
As the novel's popularity spread, theater companies hoping to bring Ben-Hur to Broadway besieged author and publisher with lucrative offers. But Wallace was reluctant. He worried that audiences would not permit a depiction of Christ on stage. (In 1879, a passion play in San Francisco had landed its star in jail, still wearing his halo.) But years of lobbying by the New York producers Marc Klaw and Abraham Erlanger eventually broke him down. The agreement between the parties stipulated that no actor would play the role of Jesus. He would instead be represented by a 25,000-candlepower light.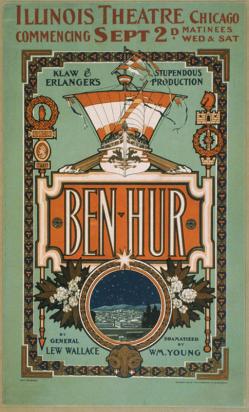 The play was a runaway hit, a fixture of Broadway and the regional theater for the next 20 years. And like the novel, it soon overcame any clerical objections. One clergyman wrote to Wallace of "the immense missionary work Ben-Hur has done. I am sure the author will receive the blessing of the Master of the Harvest for the countess souls his labor has garnered." William Jennings Bryan called it "the greatest play on stage when measured by its religious tone and moral effect." The evangelist Billy Sunday liked it so much that he volunteered his services as a spokesman.
And it wasn't just a hit in New York; like the novel, it found a truly national audience. Regional theaters were so eager to host the show that they conducted renovations in order to accommodate the elaborate production. In the 1904-05 season alone it played in Milwaukee, Indianapolis, Columbus, St. Louis, Dallas, Austin, San Antonio, Galveston, Houston, New Orleans, Mobile, Birmingham, Atlanta, Cincinnati, Chicago, Louisville, Detroit, Cleveland, Pittsburgh, Washington, and the former Confederate capital, Richmond. If the novel had introduced many Americans to fiction-reading, the play introduced even more to the theater. Newspaper accounts of the traveling production describe audiences filled with first-timers, many of them devout churchgoers who'd previously been suspicious of the stage. Texas' Howard Miller, an expert on the play, points to newspaper coverage of a 1907 performance in Toledo, Ohio. When the curtain fell after the crucifixion, many in the rapt audience failed to applaud—not because they hadn't enjoyed the production, but because they weren't accustomed to clapping for Christ.
Klaw and Erlanger had created an impressive spectacle, with a massive cast, a reverent treatment of the Christ story, and exhilarating interpretations of the novel's action scenes. The chariot race was performed using real horses, which galloped on hidden treadmills—a not-unprecedented trick, but a breathtaking one nonetheless. As had been the case with its source, the play failed to impress critics ("the piece rises above the level of ordinary melodrama in only two or three scenes," wrote the New York Times), but audiences couldn't stay away. Miller notes that for many Americans, seeing Ben-Hur became an annual rite, akin to Christmastime pilgrimages to The Nutcracker today. Irving McKee, Wallace's first biographer, estimated that by the time the show's two-decade run came to an end, 20 million people had seen it.
Wallace was awestruck when he first saw the Ben-Hur stage sets. "My God," he said. "Did I set all of this in motion?" What he had set in motion was an entertainment that had reached more Americans than perhaps any other story save the original tale of the Christ. Though he couldn't know it, Ben-Hur's success on stage augured its future as a blockbuster silent film in 1925 and feature film in 1959—few folk stories in American history have proved as durable. Wallace, however, remained convinced that his legacy had been written not under the Ben-Hur beech but on the road to Shiloh Church.
In 1884, Century Magazine commissioned a series of firsthand accounts of Civil War battles. With his literary star on the rise, Wallace was asked to contribute one of the first, on Fort Donelson. His article appeared in December, alongside serial installments of Huckleberry Finn and William Dean Howells' The Rise of Silas Lapham. Whatever satisfaction Wallace took in keeping such august company was soon replaced by apprehension, however, when he learned that Grant, deeply in debt and suffering from cancer, had also agreed to write for the Century series after years of refusing to revisit the war. His subject would be Shiloh. Wallace's ignominious role in the fight threatened to return to the national stage.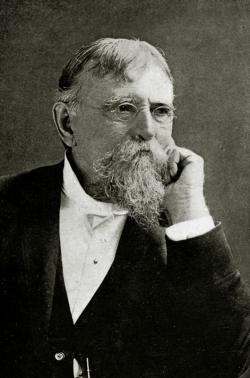 Wallace wrote Grant imploring him to use the article as an occasion to absolve him of wrongdoing. The letter left no argument for his blamelessness unexplored. He reminded Grant that he'd fought bravely at Donelson and acted with dispatch to save Washington in 1864. He asked Grant to consider what motive he possibly could have had to "play you falsely that day." He even suggested that had Grant's aide, Rowley, not caught up to him on the shunpike, Wallace might have saved the day at Shiloh. In wistful detail, he painted a counterfactual history of April 6 in which he bravely charged the Confederate lines from the rear. It reads like a page out of one of his novels:
"The enemy had used the last of his reserves. I would have taken the bluff on which Sherman had been camped in the morning and without opposition affected my deployment. The first of the rebels struck would have been the horde plundering the sutlers and drinking in the streets of the camp. Their fears would have magnified my command …"
Not trusting that his letter would have its desired effect, Wallace also visited Grant to plead with him in person. His talent for horning in on history did not fail him. He arrived on the same day that Twain was paying a call to the former president, bearing an offer to publish his memoirs (and to pay his friend a handsome 70 percent royalty). "There's many a woman in this land that would like to be in my place," said Julia Grant when the two callers met in the parlor, "and be able to tell her children that she once sat elbow to elbow with two such great authors as Mark Twain and General Wallace."
Only one of the great authors got his wish that day. Grant's article not only failed to absolve Wallace, it reaffirmed his conviction that the Third Division had taken the wrong road and that its absence had cost the Union dearly on the first day of fighting. It was worse than perhaps even Wallace had dared to fear.
Shortly after the article was published, however, Grant had a change of heart. The widow of a general who had been killed in action at Shiloh had come across a letter from Wallace to her husband, dated April 5, 1862. It was the letter Wallace had sent to the commander of the neighboring division at Shiloh, announcing his plans to use the shunpike should trouble arise. It convinced Grant of what Wallace had long argued. The letter "modifies very materially what I have said, and what has been said by others, about the conduct of General Lew. Wallace at the battle of Shiloh," Grant wrote. He still maintained that he'd ordered Wallace to take the river road, but allowed that his wishes may have been lost in the fog of war: "My order was verbal, and to a staff officer who was to deliver it to General Wallace, so that I am not competent to say just what order the general actually received."
It was the vindication Wallace had longed for since 1862. But even this failed to satisfy him. The Century article, with its repetition of the standard account of Wallace's mistakes, became the Shiloh chapter of Grant's memoirs. The exoneration appeared as a footnote, one that Wallace worried would be ignored by most readers. Rightly, as it would turn out: A Blaze of Glory, Jeff Shaara's recent novel of Shiloh, and The Man Who Saved the Union, H.W. Brands' recent biography of Grant, both describe Wallace as having been lost on April 6.
Unsatisfied with Grant's pardon, Wallace continued his efforts to clear his name, taking any chance he could get to refight the battle. In 1888, Benjamin Harrison tapped his fellow Hoosier to write his campaign biography, hoping to leverage some of Wallace's celebrity for his presidential run. ("That is excellent," wrote a waggish friend of Harrison's when Wallace accepted the assignment. "He did so well on Ben-Hur that we can trust him with Ben Him.") Wallace began the chapter on Harrison's Civil War service with what he euphemistically called "the great Union victory" at Shiloh, taking a few pot shots at the high command before moving on to battles in which the subject of his biography actually took part. In April 1862, when Shiloh was fought, Benjamin Harrison was still practicing law in Indianapolis.
Wallace just couldn't let the battle go. In a moving letter to Susan from the waning days of his appointment in Turkey, Wallace reflected on his long, varied career and looked forward to passing his final days "in the old man's gown and slippers, helping the cat keep the fireplace warm." He was proud of the diplomatic work he'd done, and pleased by Ben-Hur's success. Only one cloud hung over his head: "Shiloh and its slanders! Will the world ever acquit me of them?" he wrote. "If I were guilty I would not feel them as keenly."
In the spring of 1898, as tensions between the United States and Spain mounted, Lew Wallace sent a telegram to Secretary of War Russell Alger. He offered to raise a brigade, or even a division, of volunteer troops from the black population of the Midwest and lead them into battle himself. "The most magnificent regiments in the Turkish army consist of negroes," he wrote. "I think it could be duplicated in our country." Alger's reply was prompt and polite, thanking the general for his "patriotic action in this matter." But the McKinley administration had little need for a 71-year-old general. "In the event of war," Alger wrote. "You will be duly notified." Don't telegram us, we'll telegram you.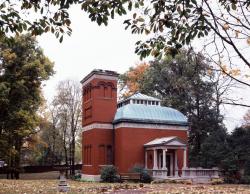 Wallace's attempt to join the war effort may look like a publicity stunt, but his offer seems to have been made in earnest. As the Morsbergers document in their biography, Wallace used all of his political capital in an attempt to win a commission, sending a wave of friends in Washington to petition the McKinley administration on his behalf.
The Civil War was fading further into memory, and its events took on a rose-colored hue. Though Grant's hard-nosed essay on Shiloh was a notable exception, Century Magazine's "Battles and Leaders" series had tended toward the celebration of great men committing valorous acts. A new generation of young men now longed for a chance to demonstrate their courage in a war with Spain, and indeed a renewed martial spirit was likely a factor in Ben-Hur's popularity in the last decade of the 19th century. Judah's manly exploits appealed to Gilded Age Americans wary of what the historian Jackson Lears has termed "overcivilization": the soft, domestic comforts of bourgeois metropolitan life in a country with a now-closed frontier.
Some of Wallace's comrades-in-arms rejected post-war sentimentalism, perhaps none so completely as Ambrose Bierce, whose essay "What I Saw of Shiloh" (1881) described the battle in ghastly detail. He recalled the sight of a sergeant, still breathing "in convulsive, rattling snorts" despite having been shot through the skull. "I had not previously known one could get on, even in this unsatisfactory fashion, with so little brain," he wrote. To Bierce, death was "a dismal thing, hideous in all its manifestations." But Wallace had never lost the romantic view of war that had taken hold of him as a boy. He had his doubts about America's nascent imperialism, but if there was to be a fight, he wanted to be in the thick of it.
"How many there are who spend their youth yearning and fighting to write their names in history," observes the narrator of A Prince of India, Wallace's 1893 follow-up to Ben-Hur, "then spend their old age shuddering to read them there!" Wallace still shuddered at the way his name had been written into history, and he surely also saw the war with Spain as one final chance at a revision. When McKinley failed to commission him a general, he visited his local recruiting office and attempted to enlist as a private. "If I can not serve in the one capacity, I should be happy to serve in the other," Wallace told the Indianapolis News, calling the rank of private "no less honorable" than that of major general. The recruiter, citing his age, turned him away.
Wallace died of stomach cancer on Feb. 15, 1905, at the age of 77. In the days following his death, nearly every newspaper in the country carried an obituary, many of them as lead stories that jumped to full-page spreads. The Cincinnati Enquirer announced the news with a headline overwrought even by fin de siècle standards, though not atypical of the coverage:
Ended
Is the Chariot Race
In Which He Drove Pegasus to Lasting Fame
And General Lew Wallace Succumbs to Death
Author of Ben-Hur Had Hoped to Be Restored
By the Gentler Agencies of Spring
But Failed to Muster the Necessary Strength
To Resist Winter's Rigor and the Encroachment of Disease—Sketch of His Career
Some of these career sketches revisited the scandal of Shiloh, but the success of Ben-Hur was the dominant theme of most. "Throughout the rank and file of our steady churchgoing people the man who is ignorant of Ben-Hur, who cannot relay vividly every point of the chariot race, is set down as beyond the pale in both literature and religion," wrote the New York Post. "Shakespeare and Milton are above the range of honest folk, the Bible they are often content to take at second hand, but Ben-Hur brings grandeur nearer our common dust."
Wallace is buried in his hometown of Crawfordsville, in a cemetery near Indiana Route 231. Over his grave stands a gaudy marker of which he surely would have approved—an obelisk draped in a granite rendering of Old Glory. His epitaph is a line taken from Ben-Hur: "I would not give one hour of life as a Soul for a thousand years of life as a man."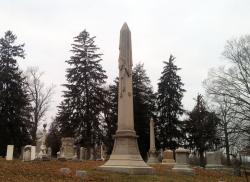 That line is spoken by Balthazar, one of the three Wise Men who arrive in Bethlehem to herald the virgin birth, and, in Wallace's novel, the man who shepherds Judah Ben-Hur toward a belief in Christ's divinity. Wallace professed that writing the novel led him to his own belief in Christ, though he never joined a church. ("Not that churches are objectionable to me, but simply because my freedom is enjoyable," he explained.) There's no reason to doubt the sincerity of Wallace's faith, and yet it's hard to believe that he ever came to share Balthazar's disdain for earthly endeavor. Few men in American history have made more of their time in this life, or been so concerned with the legacy they were leaving behind.
It would surely please Wallace to know that he achieved a kind of immortality in this world. Though his name is not well remembered today, his novel has never disappeared from the American landscape. Earlier this month, scholars convened at Rutgers for a daylong conference on the book, covering everything from its theology to its geology. This Easter weekend, the Ovation channel will air the American premiere of an excellent Canadian miniseries adaptation of Ben-Hur, starring, among others, Hugh Bonneville of Downton Abbey. MGM, meanwhile, has just bought a script for a new feature film version. In the item reporting MGM's acquisition, Deadline Hollywood noted that scripts about Pontius Pilate, Noah, and two about Moses have lately attracted attention from powerbrokers like Brad Pitt, Ridley Scott, and Steven Spielberg—attention that is sure to intensify in the wake of the record-setting ratings success of the History Channel's The Bible miniseries. That Americans can't resist a Biblical epic may seem intuitive in 2013, but it wasn't in 1876. All of these productions owe something to Lew Wallace.
Wallace, in turn, surely owed some part of his literary success to his military failure. Unable to live up to his romantic ideal of the gallant soldier, he was left to imagine such a soldier in his fiction. In Judah Ben-Hur, he created the hero he wished he'd been at Shiloh, a paragon of strength and pluck.
Wallace returned to Shiloh several times after the war, surveying the land for new evidence to support his version of events. During one trip, made after Ben-Hur had won him fame and fortune, he found the tree next to which he'd camped one night. It had been a sapling then; it was now full-grown. Wallace broke a branch from its trunk and sent it off to Tiffany & Co., in New York, which outfitted it with an elegant ivory handle. Cane or scepter? A symbol of frailty or power? It could be either. Shiloh had laid Wallace low—and set him on his roundabout road to glory.