The Passion of Lew Wallace
The incredible story of how a disgraced Civil War general became one of the best-selling novelists in American history.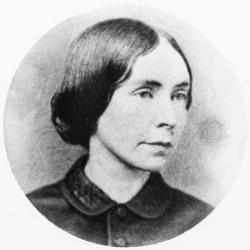 Though he disdained the schoolhouse, Wallace was from an early age an avid reader, consuming the works that would shape his literary sensibility and further whet his appetite for war. The romances of Sir Walter Scott and Jane Porter's account of William Wallace's heroism in the face of British oppression made him long for a chance to prove his own mettle. In the meantime, he would carry himself like a goodly knight. A neighbor described him as having "the bearing of a soldier and the manners of a courtier." That courtly manner, and his striking good looks—tall, sinewy, with "a dark and beautiful face, correct in every line," in the words of one admirer—would help him win the hand of Susan Elston, who married Wallace despite her father's dim view of his prospects and memories of prior offences. As a boy, Wallace had snuck into the stately Elston home to behold two domestic items unfamiliar to him: a sofa and a piano.
With reluctance, Wallace followed his father into the legal profession, and he was preparing for the bar exam when the United States declared war with Mexico in 1846. The 19-year-old tried to complete his studies, but his mind was already in Matamoros. "Of what consequence was a license to practice law?" he wrote. "How petty the soul which could be screwed down to prefer a court to a camp!" In his autobiography, which unlike his fiction admits a touch of humor, he recalled appending a note to his hastily completed bar exam:
"Dear Sir,—I hope the foregoing answers will be to your satisfaction more than they are to mine; whether or not, I shall go to Mexico."
A few days later, the examining judge replied:
"Dear Sir,—The court interposes no objection to your going to Mexico."
"The communication was unaccompanied by a license," Wallace wrote. He volunteered his services to the U.S. Army.
Wallace imagined the conquest of Mexico would be full of the "gallantries" he'd read about in novels. Instead, his regiment was ordered to garrison an unnamed camp at the mouth of the Rio Grande, across the river from a small Mexican smuggler's outpost, which the soldiers called "Bagdad." The camp was soon beset with an epidemic of diarrhea so fatal that the survivors ran out of wood for coffins. The men heard of Gen. Zachary Taylor's victories from passing steamboats. But if Mexico failed to live up to Wallace's romantic notions of war, it also failed to disabuse him of them.
When he returned from Mexico, Wallace hung a black-and-white shingle outside a small office in Covington advertising his services as a lawyer. Though he'd finally acquired a license to practice, business was not brisk. One day, Wallace accompanied a colleague to a tavern in nearby Danville, Ill. There the young lawyers met a man Wallace described as "the gauntest, quaintest, and most positively ugly man who had ever attracted me enough to call for study." The man was engaged in a storytelling contest with several local lawyers, and, despite his rough aspect, was running away with the competition, exhausting all comers with a seemingly endless store of well-spun yarns. It was Wallace's first glimpse of Abraham Lincoln.
By the time Lincoln was inaugurated in 1861, Wallace's fortunes had improved slightly. He had worked as a prosecutor, won election to the state Senate, and defected from the Democratic Party to the Republican, more out of a commitment to the Union, and a growing admiration for Lincoln, than any ardent abolitionist feeling. When Fort Sumter came under fire in April, Indiana's Republican governor, Oliver P. Morton, called on Wallace to help him organize Indiana's volunteers, a duty Wallace accepted on the condition that he might command one of the state's six regiments once they'd been mustered. Morton agreed, and Wallace was commissioned a colonel. He was about to get his second taste of war, and his first chance to realize his dream of winning honor in the line of duty.
In a full-page illustration by Winslow Homer, published in Frank Leslie's Illustrated Weekly in 1861, Wallace sits astride his horse in a pair of billowing trousers, an exotic-looking kepi perched on his head. He is wearing the uniform of the Zouave, elite units of the French Army that borrowed their tactics and uniform style from Algerian fighters. Zouaves moved swiftly, reloaded their weapons on the ground (as opposed to making a target of themselves standing up), and communicated by bugle calls rather than verbal orders, which could be drowned out in the din of war. According to Robert and Katharine Morsberger, Wallace's most comprehensive biographers, he first encountered the Zouaves in a magazine article. The modified tactics must have pleased Wallace the tinkerer; the uniforms surely satisfied his taste for pageantry. When he'd taken command of the 11th Indiana volunteers, he'd resolved to train and outfit his men in the manner of the Zouave.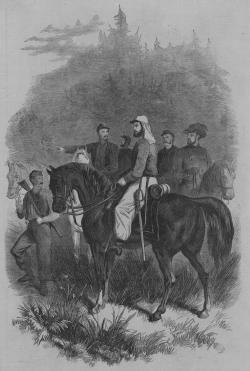 In June, before the war's first major battle was fought at Bull Run, Wallace's regiment was ordered to Cumberland, Md. to support Union activities in the vicinity of Harper's Ferry, then in rebel hands. Alerted to the presence of a Confederate garrison in a nearby town, Wallace decided to put his Zouaves into action. After a 20-mile march under cover of darkness, the 11th Indiana surprised a small unit of Confederates holed up in the town of Romney, in what is now West Virginia. The regiment's unfamiliar tactics "frightened the rebels and they all took to their heels like scared cats," as one of Wallace's men put it in a letter cited by Gail Stephens, a student of Wallace's military career. The enemy withdrew after a brief skirmish, leaving behind their supplies and slaves. A Zouave who sustained minor injuries after being shot in the belt buckle represented the lone Union casualty.
The victory at Romney was of minor strategic value, but it was early evidence that the Union Army could hold its own against the vaunted rebels and, to Wallace, proof of his ability as a commander. A friend in Washington told Wallace that President Lincoln had spoken of his "splendid dash on Romney." Harper's Weekly sent an illustrator to make a series of drawings of the now famous 11th Indiana. Depicting scenes of after-hours horseplay—one Zouave bounds around camp on a pair stilts—they capture the innocence of that early moment in the war.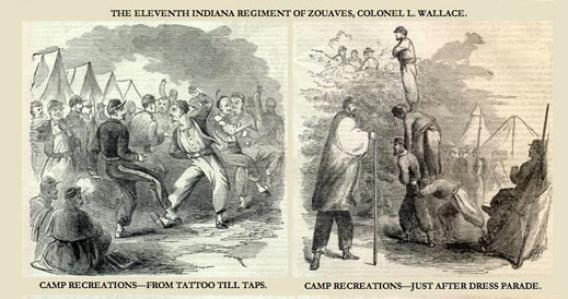 In his autobiography, Wallace writes that the acclaim the Zouaves won at Romney "astonished nobody so much as ourselves." But that has the ring of revisionist modesty. Wallace never lacked for confidence, even as an inexperienced volunteer. In the months that followed, he wrote to Susan despairing of the war's progress ("defeat follows defeat—mismanagement after mismanagement") and offering detailed explanations of how he would quickly bring the Confederacy to its knees were he in command.
After his success at Romney, Wallace was sent to the war's western theater, where Grant was preparing for his invasion of Tennessee. Wallace was rising rapidly through the ranks—he was soon promoted to brigadier general—but was impatient for further glory and frequently unhappy with the role he was assigned in the campaign. After being left on guard duty during the army's initial advance on Fort Donelson, Wallace grumbled to Grant's aide-de-camp, a Captain Hillyer. "You are not going to be left behind," Hillyer reassured him. "I know Gen. Grant's views. He intends to give you a chance to be shot in every important move." Wallace's eagerness to lead every charge would only make his disappearance at Shiloh that much harder to fathom.
In the spring of 1862, Confederate Gen. Albert Sidney Johnston found himself in an unenviable position. After a series of defeats at the hands of Grant, the rebels had been forced to yield central Tennessee and consolidate their forces in Corinth, Miss., home to a strategic railroad crossing. Johnston commanded a force about 40,000 strong; Grant, encamped 20 miles north on the Tennessee River at Pittsburg Landing and Shiloh Church, had 40,000 men of his own, though he was soon to be reinforced with 35,000 more from Don Carlos Buell's Army of the Ohio. The dilemma before Johnston was whether to dig in at Corinth and wait for a superior Union army to advance, or to bring the fight to Grant while the odds were still close to even.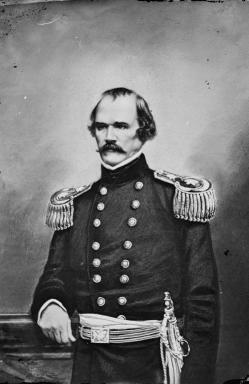 Johnston chose to attack, hoping the element of surprise would tilt the balance in the Confederates' favor. The relative ease with which Grant had pushed the rebels out of Tennessee had certainly left him complacent. The Union general had decided against entrenching; despite being deep in enemy territory, Grant felt the initiative was his. He did, however, take the precaution of posting Lew Wallace and his 7,500 men 6 miles upriver, where they could keep an eye on the Union flank.
At dawn on the morning of April 6, a patrol of Federal scouts made an unhappy discovery: Thousands of men in gray uniforms advancing on Union soldiers who were just sitting down to breakfast. When word of the attack reached Grant, he ordered Wallace's Third Division to help turn back the surging Confederates, who were overrunning the hastily assembled Union lines. But Wallace never showed.
Wallace's detractors would later claim that he had simply lost his way in the Tennessee woods. The truth is more complicated. From Crump's Landing, where he'd been stationed, there were two roads leading to the Union front: one that hugged the river to Pittsburg Landing, the other a so-called shunpike that led to Shiloh Church, where Sherman was camped. Having surveyed his position in the days prior to the Confederate attack, Wallace had judged the shunpike to be the most passable, and had ordered his cavalry to make further improvements to it in case he needed to march his division quickly to the front.
It was around 11 a.m. when Grant's summons reached Wallace. Grant's order, issued verbally and transcribed and delivered by an aide, was lost in the course of the battle; its contents would become the subject of acrimonious debate. Grant claimed that he ordered Wallace to march to Pittsburg Landing, via the river road. Wallace said the order simply instructed him to join up with the right of the Union lines. He took the shunpike.
In her thorough study of Wallace's military career, Shadow of Shiloh (2010), Gail Stephens makes a compelling case that Wallace's version of events is the most logical. Timothy B. Smith, a former Park Ranger at the battlefield and a historian who has written extensively on Shiloh, agrees. Wallace may have enjoyed playing armchair general-in-chief in his letters to Susan, but he was not in the habit of disobeying orders, and he'd never shown anything but an appetite for battle. (Grant had made good on his promise to put Wallace in the line of fire at Fort Donelson, and his poised performance had earned him another promotion, to major general, then the highest rank in the army.) Wallace had also made his preference for the shunpike known prior to the Confederate attack, alerting the commander of the neighboring division of his plans to use that road, though that information never reached Grant. It seems likely that either due to a mistaken assumption on Grant's part (that Wallace would necessarily take the river road), or an omission on the part of his messenger, Wallace believed his orders were to join up with the Union army as quickly as possible, and he chose the road he believed best suited to that task.
What Wallace didn't know was that by the time his men began marching, the Union army was no longer where he thought it was. Sherman's position had been overrun, pushed back toward the river. Had Wallace marched to the end of the shunpike he'd have found himself behind enemy lines, cut off from the rest of the Union army. Impatient for Wallace to arrive, Grant sent an aide to speed his progress around 1:00. The aide found him on the shunpike, headed unwittingly toward the Confederate rear. Informed of the new disposition of Union forces, Wallace reversed course and marched his men to the new lines. He arrived as night was falling, too late to fire a shot in the first day's fight.
"Well, we've had the devil's own day, haven't we?" Sherman is said to have remarked to Grant on the night of April 6. "Yes," Grant replied. "Lick 'em tomorrow, though." With Wallace's division finally in place, and Buell's reinforcements having arrived overnight, Grant unleashed a vicious counterattack on April 7, pushing the rebels back over ground still littered with the dead and dying from the previous day's fight. Realizing they were now outnumbered, the Confederates beat a retreat in the afternoon.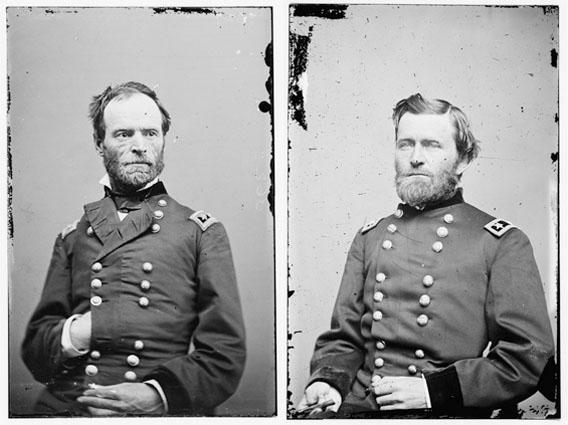 Shiloh was initially hailed as a Union triumph. Among the Confederate dead was Albert Sidney Johnston, who'd been shot while leading his men in a charge; he would be the highest-ranking officer on either side to be killed in action during the war. But as casualty figures made their way north, newspapers began to portray the battle as a scandalous failure. Questions arose regarding Grant's competence; there were rumors he'd been drunk during the battle. Lincoln's famous quip about Grant—"I can't spare this man; he fights"—came in the wake of Shiloh, as members of Congress, and even the governor of Grant's home state of Ohio, called for his head.
Grant's career survived Shiloh; Wallace's did not. The north needed someone to blame for the heavy casualties, which exceeded those of all the war's previous battles combined. Wallace's "dilatoriness" gave Grant cover for his own lack of preparedness, and he implicated Wallace in his official reports. The press, with the help of Grant's staff, grabbed hold of the story of the missing division. Though Wallace received no official reprimand for his actions, by July he had been relieved of his field command. He spent the rest of 1862 and all of 1863 a general without an army—and worse, for Wallace, a soldier robbed of his honor.
He spent his idle time ill-advisedly, peppering the Union command with letters, maps, and affidavits in an attempt to clear his name. His superiors had other things to worry about, and largely ignored him. At one point Wallace demanded a court of inquiry to investigate his actions at Shiloh. He was only talked out of it by Sherman, who knew Wallace well enough to play expertly on his vanities.
"Keep quiet as possible and trust to opportunity for a becoming sequel to the brilliant beginning you had," he wrote. "I do not think that Gen. Grant or any officer has unkind feelings toward you, [though some] may have been envious of your early and brilliant career." Sherman prescribed a course of political expedience: "Avoid all controversies, bear patiently temporary reverses, get into the current events as quick as possible, and hold your horses for the last home stretch."
Sherman was right. Wallace did get a chance at redemption in the last home stretch. In the summer of 1864, the Confederate general Jubal Early made a dash for Washington. Grant had left the city largely undefended as he tried to pin Lee down at Petersburg, Va. Wallace, then stationed in Baltimore, was the only man between 13,000 Confederates and the Union capital. Piecing together a rag-tag army of 6,000, he fought a hopeless battle at Monocacy Junction, yet managed in defeat to slow Early's advance for a crucial day, buying time for Grant to send reinforcements. Were it not for Wallace's stand, the capital might have fallen. A Navy warship had been idling near the Sixth Street docks to speed Lincoln to safety.