Girl Drinks
A history of sweet cocktails for ladies, on the occasion of the Cosmopolitan's 25th anniversary.
All of the sudden, all across the country, it was as if every night were ladies' night, and oh, what a night. In the phrase of Life magazine, "dating bars" functioned "more or less as perpetual college proms." And what is a prom without spiked punch?
The most worthy of singles-bar girl drinks is, to my tongue, the Lemon Drop. By convention, authorship of the drink is ascribed to Henry Africa, a San Francisco saloonist who, nuttier than a Herb Caen anecdote, changed his name to that of his bar. At the dawn of the Me Decade, with Bay Area nightlife entering its Tales of the City phase, Henry Africa's soothed the sensibilities with décor including authentic Tiffany lamps and an efflorescence of hanging plants, and hence it earns distinction as the first of the fern bars. Unlike other mixological icons of the fern-bar era—the Harvey Wallbanger and the Freddy Fudpucker, the Pineapple Francine and Rupert Holmes' piña colada, any of which you can readily imagine spilling into the lap of Jack Tripper at the Regal Beagle—the Lemon Drop is timeless and modernist-clean.
I want to take care not to oversell this vodka-based beverage: Vodka has no character (an inescapable limitation of endlessly many girl drinks), and a bar that promotes its Lemon Drop is likely selling a crude synthetic slush. But if you are obliged to entertain and you have a bottle of vodka to kill, the Lemon Drop is where you want to be. Made properly, it is a good gateway for leading a potential apprentice cocktailian to the richer pleasures of the Sidecar and the White Lady. I vouch for this recipe, written by a food blogger who counts the drink as a high home-bar pleasure, "even though I would certainly never order one out because I keep my shame to myself."
The Very Early 1980s: Vodka Tonic
Whit Stillman's Last Days of Disco, presenting a dry carousel of a yuppie roundelay, opens with a long sequence set somewhere Studio 54ish. On behalf of a friend, nightclub flunkie Des McGrath (Chris Eigeman) delivers a drink to publishing assistant Alice Kinnon (Chloë Sevigny). Des says, "Jimmy Steinway gave me this vodka tonic to give you … "
Alice: That's odd he knew I drank vodka tonics. I never told him.
Des: It's uncanny.
Alice: You mean it's a complete cliché? All women recent college graduates drink vodka tonics, or something like that?
Des: Well, maybe.
1987: The Sex on the Beach
The flavor scientists who arranged the sticky molecules of DeKuyper's Peachtree Schnapps produced a nuclear reaction—a fad without precedent. It sold 1.3 million cases in its first year. The Fuzzy Navel, to which it syrupily contributes, became the most popular mixed drink in the country, and the Sex on the Beach—which is a Fuzzy Navel deluxe—installed its naughty name on the American menu and the spring-break canon. The flood of fruitish flavor receded by the end of the decade, and the peach schnapps bottle moved to the back of the national liquor cabinet, where snooping kids figured nobody would miss it. Not knowing what they were doing, just messing around with the fruit juice their parents put in the fridge before they left for the weekend, teenagers dared to mix further girly variations on the Sex on the Beach and its duck-faced sorority sister, the Woo Woo.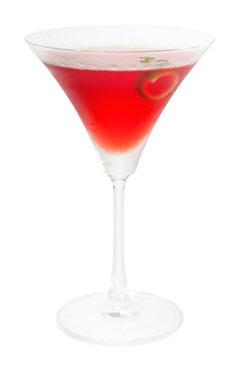 1988: The Cosmopolitan
In the middle of the 1980s, Absolut was test-marketing its first fruit-flavored vodka in Miami, and a bottle of the lemon-kissed Absolut Citron made its way into the hands of Cheryl Cook, a hotel bartender in South Beach. Wanting to put something pretty in the inverted cone of an iconic cocktail glass, she mixed it with cranberry juice, triple sec, and Rose's lime juice, and she named it after Helen Gurley Brown's magazine. It caught on, and women liked it, but it was not yet a girl drink, despite being "oh so pretty in pink." (This was, after all, mid-'80s Miami, where even an artist as butch as Michael Mann did the police in pastels.)
The formula circulated the fleshpots of port cities, eventually nestling in the ear of Toby Cecchini, a bartender at Keith McNally's Odeon in New York. In 1988, he upgraded the ingredients to the formula that's standard today, arriving at something "pretty good, like a high-end, girlish kamikaze," as he has said in a Slate diary and in a memoir. It was girlish, but it was unisex. "It's an insider's cocktail that absolutely everyone drinks," William Grimes observed. "Like a well-written sitcom, it flatters its audience into believing they are a little more sophisticated and knowing than they really are."
1991: The Chocolate Choo-Choo
"Girl Drink Drunk" is a Kids in the Hall sketch about a nondrinker who orders the frilly fictional Choo-Choo and quickly develops a ruinous habit, hiding around his workplace not only rum but also a stash of paper umbrellas. The comedy is good but the mixology is conceptually flawed. Many of the featured beverages are elaborate caricatures of tiki drinks, which by their nature are no more or less girlie than a Samoan wrestler in a grass skirt.
1998: The Cosmopolitan, No. 2
It took 10 years for the Cosmopolitan to complete its gender assignment, and the transformation required the efforts of actual sitcom writers. In 1998, HBO's adaptation of Candace Bushnell's Sex and the City debuted, and its characters, being trendy sorts, ordered them ostentatiously. (Candace's pal Bret gave the drink a celebrity cameo in Glamorama that same year: "On this much Xanax, it's remarkably easy to concentrate … while pouring cranberry juice, Cointreau, and lemon citron into a shaker filled with ice that you yourself attacked with an ice pick and then you're rolling a lime and slicing it … ") The show effectively designated the drink as a totem and a sacrament. Soon, thousands of high-heeled bright young things were clambering across the cobblestone clubland of the Meat-Packing District to order a Cosmopolitan at Keith McNally's Pastis, one of Carrie's favorite joints. This liquid cupcake was the blood of her body.