Girl Drinks
A history of sweet cocktails for ladies, on the occasion of the Cosmopolitan's 25th anniversary.
2008: The Cosmopolitan, No. 3
The feature-film adaptation of Sex and the City closes with the gals lifting a toast to solidarity, clinking Cosmos to celebrate themselves. "Why did we ever stop drinking these?" says Miranda. "Because everyone else started," answers Carrie.
When the hoi polloi pick up a trend, the hoity-toity press onto the next. I'd bet that the gang—and especially Samantha—would have moved on to one of the girl-friendly variations on the mojito that began making the rounds in 2000, around the time that the soundtrack to Buena Vista Social Club went platinum. Pomegranate, maybe?
That last one is made with VeeV, a very strong organic liquor from an eco-conscious distiller. It is fundamental to the VeeV sales pitch that you can save the rainforest and add antioxidants to your diet while holding a drink that looks good with your manicure. In 2008, the stuff was sufficiently of the moment that Florence Fabricant in the New York Times published a recipe that used it to make … the Amazon Cozmo.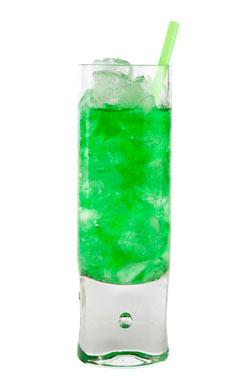 2011: The Midori Super Sour
"Working to be relevant to a new generation of 21-25 year old women," Midori, the troublingly green melon liqueur, hired Kim Kardashian as a brand ambassador. The theme of Kim's campaign is stand out, which encourages young women to attract attention by ordering a refreshment that, under a nightclub blacklight, glows like an Industrial Toxini.
When asked at promotional appearances what her preferred way to choke back Midori is, Kim stands there, Saran-wrapped into a Midori-green dress, and claims to prefer the Midori Super Sour, a concoction I cannot countenance. If you simply must dabble in this realm, try Andrew Bohrer's recipe, which uses gin. Gotta use gin unless you want "a cocktail balanced for a Cabbage Patch Kid."
2012: The Best Amaretto Sour in the World
We have just wrapped the books on a momentous girl-drink year. Some people are still feeling the New Year's hangovers they earned guzzling prebottled cocktails produced by VeeV and by Skinnygirl, a brand developed by the acclaimed Real Housewife Bethenny Frankel. (Some people are still receiving in-patient trauma counseling after being exposed to "the World's Largest Bachelorette Party" that went down at Tao in Las Vegas, where attendees pounded the calorie-conscious "Skinnygirl Naked Cosmo.") Smirnoff expanded its range of confectionary vodkas beyond Fluffed Marshmallow and Whipped Cream to include Iced Cake and Kissed Caramel; not to be outdone, Van Gogh Vodka introduced a PB&J flavor, "setting a new low bar in beverage crassness."
Getting frisky over in R&D, a few bloggers gave girl drinks high-tech makeovers—dipping a lemon wedge into dehydrated Midori granules for a "Deconstructed Midori Sour," for instance, and using gin, vermouth, a Granny Smith, and a nitrogen-infusion process to create a classed-up appletini. ("Does it taste like a 'real' Appletini? Hell, no. That's why I'm still drinking it.").
2013: The Cosmopolitan, No. 4
If you are going to insist on making a Cosmopolitan this year—possibly because you are one of these people born in the '90s who already have the nerve to throw '90s theme parties—then look to Slate's variation, which embiggens the drink's flavor profile and updates its chic with a double-cheeked pink-grapefruit kiss of fashionable Aperol. (If you have none at hand, substitute an overdose of orange bitters.) This is a Cosmopolitan for the 21st-century girl, right down to its pandering, catchy name. A Robert Pattinson fan celebrating the big two-one could do worse than to have one or two.
The Cosmopolis
1½ ounces Absolut Citron
¾ ounce Cointreau
¾ ounce fresh lime juice
¾ ounce 100 percent cranberry juice
1 teaspoon Aperol
Shake with ice. Strain into a chilled cocktail glass. In accordance with a tradition aged for 25 years, set your expectations to "pretty good."