The Geologist in the Jungle
One man's journey into the rainforest in search of a mysterious tree kangaroo.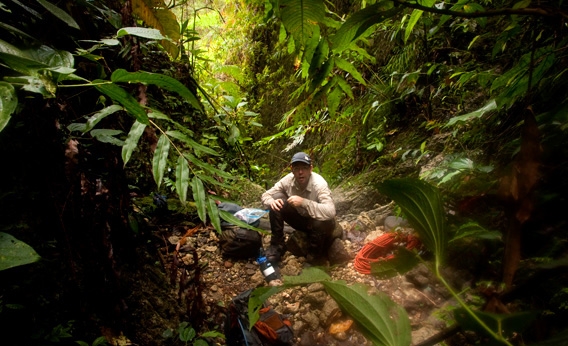 After planning dozens of previous expeditions full of ego clashes and unpleasant surprises, Lane had developed various coping strategies. This, in part, explained his deadpan affect and seeming inability to get worked up over almost anything. He received the Chico State president's direct order not to bring the students along with stubborn unflappability. "If you let that stuff get to you, you end up with a nine-to-five as a pencil pusher, stuck in traffic," Lane told me. There was something in his tone that implied such a fate was the one defeat he really feared. So Lane had simply ignored Zingg's request and met up with the students in Port Moresby to begin the expedition. And now here they were, deep in the New Britain jungle, far beyond the reach of any administrative consequence, ready to fan out in search of Lane's elusive quarry.
Dylan van Winkel, a 25-year-old South African herpetologist who had joined the expedition, told me at one point that tree kangaroos give off a strong, musky odor, so I inhaled deeply, hoping for a whiff. Instead, I smelled rotting vegetable matter and my own sweat. I searched the canopy overhead for a glint of chestnut fur among the mossy branches. Almost immediately it began to rain, pounding down so hard that it was like being held beneath an open hydrant, the roar so loud we could barely hear one another. We didn't even bother with raincoats, which would only drench us from the inside with the humidity. The jungle was filled with mutant versions of flora more familiar as houseplants and garden flowers: 10-foot ferns, head-high begonias, and fluorescent-pink impatiens erupting from the rotting crevices of trees. Rattan, that Pier 1 standby, was here a flesh-tearing horror, with stems covered in three-inch spikes and cat-claw thorns lining the undersides of its fronds. My clothes were soon shredded and my forearms bloody with deep scratches.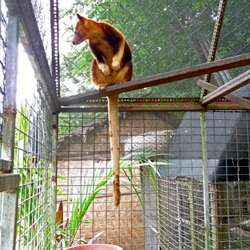 Dylan stopped frequently to roll over rotten logs, each one like a lottery scratch-off whose jackpot was yet unnamed species of spiders, beetles, and frogs. At one point, he squatted and poked at something on the ground with the machete, a slimy heap of half-digested seedpods. "Cassowary shit," he said. We all took pictures. Five feet tall and weighing perhaps 60 pounds, the Bennett's Cassowary is one of the more dangerous creatures in the forest. It resembles a flightless steroidal turkey, with a royal blue neck streaked with red, a mound of shaggy black feathers, and dagger-like spurs on thick legs. The birds can be territorial and attack humans, leaping and punching with their spurs or head-butting with an ax-like crest of bone atop their skulls. "He can jump up to a meter in the air, and he'll go for your throat, your stomach, or your groin," Lane casually observed. He had been charged by one, of course.
From a scientific perspective, of course, stomping through inaccessible rainforest and looking around at random trees is hardly a methodologically sound way of finding a tree kangaroo. Some of the best research on tree kangaroos in the wild has been done by Lisa Dabek, director of the Tree Kangaroo Conservation Program at the Woodland Park Zoo in Seattle. Dabek used native hunters with tracking dogs to locate the animals, then sent climbers up into the branches after them, until, to escape, the tree kangaroos leaped to the ground, where they were promptly tackled, radio-collared, and released. There are few other ways to make long-term observations. But Dabek's research and dedication have achieved real results; she persuaded local landowners to create an 180,000-acre conservation area around the heart of the tree kangaroo's habitat on the mainland's Huon peninsula. It took Dabek 10 years, and extraordinary cooperation by the native communities, to establish the protections.
That is exactly what Lane would have to do—a long process of diplomacy and trust-building with the local tribes—but it was unclear whether he had the patience for that. Lane was aware of this, of course, but rigorous methodology and slow diplomacy were not his preferred M.O. My own feelings wavered between resentment at having come halfway around the world on a half-assed goose chase and a sense of wonder that we were searching for something rich and strange at the far end of the earth. But there I was, and there was nothing much to do but follow Lane deeper into the jungle of the Nakanai. He was out there trying for the big win, the Hail Mary that would save New Britain with one grand and miraculous discovery.
Find the rest of Matthew Power's Island of Secrets at The Atavist.