SPONSORED CONTENT BROUGHT TO YOU BY
Hitting It Big...Then Giving It All Away
The great American industrialists waited until their later years to bequeath their fortunes to the public. Today's billionaires aren't postponing their philanthropy until retirement.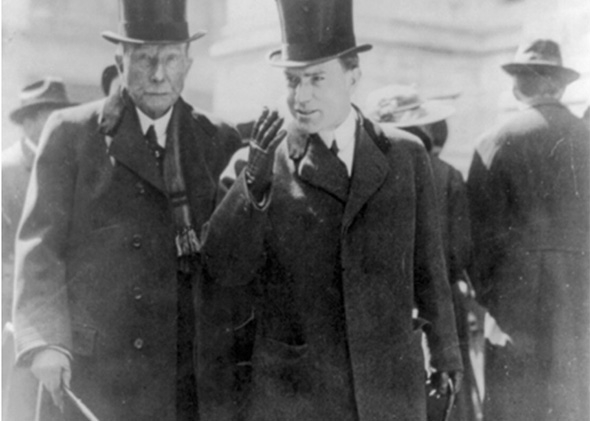 Most of us spend our lives working to ensure we have enough money to live comfortably in our retirement, putting away extra cash, investing wisely, and carefully monitoring our 401(k)s. But what about those lucky few who have accumulated enough wealth to be utterly unconcerned about the financial challenges retirement might bring? What happens when you have more money than you can spend?
The answer to that question is also, in part, the story of America. Some of the United States' greatest institutions were built on the generosity of philanthropists, particularly those of the late 19th and early 20th century—the so-called Gilded Age. Ironically, these men often made their fortunes through less than ethical business practices, exploiting lax regulations to push a labor force to its limits. Yet once they reached old age, they began donating their riches to a vast array of museums, universities, and charities. Having spent their younger years accumulating a fortune, they decided to spend their later ones giving it away.
John Rockefeller is a quintessential example of the American industrialist-turned-philanthropist. A wildly successful oil baron, Rockefeller retired from his Standard Oil Co. in late middle age to turn to full-time philanthropy. His support for education—and hatred of racism—led him to fund Spelman College for black women in Atlanta, as well as various schools for blacks across the South. Rockefeller also donated substantial funds to some of America's most esteemed universities, including Columbia, Brown, Harvard, and Yale. His Baptist faith led Rockefeller to fund further endowments for Baptist colleges across the country.
Yet the former oil baron's most significant charitable contributions were in the field of health. Through the Rockefeller Foundation's International Health Board, he helped to obliterate hookworm and later helped to eradicate yellow fever from Mexico—an act that fostered amicable relations between the United States and Mexico. His foundation brought medicine and preventative care to at-risk populations and sponsored some of the earliest public health awareness campaigns. In all, Rockefeller donated countless billions to these successful drives to create a more educated country and a healthier world.
Rockefeller's philanthropy is nearly matched by that of Andrew Carnegie, another industrialist who turned to charity in his later years. Carnegie, born into a working-class family in Scotland, made a fortune in the United States from steel manufacturing. But as he reached retirement age, Carnegie turned his good business sense toward charity, hoping to help more Americans become upwardly mobile through education. A lifelong promoter of universal literacy, Carnegie donated millions of dollars to public libraries throughout the world, helping the very notion of free libraries to gain a foothold in America. He also founded the Carnegie Institute of Technology—today part of the prestigious Carnegie Mellon University. His investments in education are rivaled only by those of Leland Stanford, the railroad magnate whose donations—about $1 billion in today's dollars—created Stanford University.
Other industrialist-philanthropists turned to the arts as a means of shedding their riches by enriching the public. Henry Clay Frick, known as one of the most ruthless industrialists in American history, is also one of the country's most important patrons of the arts. A steel and railroad baron, Frick spent much of his wealth on paintings, from early Renaissance to Baroque and Romantic. In his final decades, he displayed the paintings in his massive mansion on New York's Fifth Avenue, which he bequeathed to be converted into a museum following his death. William Henry Vanderbilt, son of Cornelius Vanderbilt, the infamous railroad tycoon, collected and then donated hundreds of paintings to the Metropolitan Museum of Art. And the industrialist (and later Secretary of the Treasury) Andrew Mellon's massive donation of paintings to the federal government still forms the core of the National Gallery of Art in Washington, D.C.
As the Gilded Age ended and the 20th century progressed, many of these industrialist-philanthropists' generous bequests eventually dried up. Today, however, we are living in another golden age of philanthropy, led by billionaires who are often eager to donate away their fortunes decades before they reach senescence. Warren Buffett, an investment wizard and business mogul, has pledged to give away 99 percent of his considerable wealth now that he has reached old age. He joins Bill Gates, the founder of Microsoft, in that promise, and has already donated billions to the Bill and Melinda Gates Foundation, a pro-health, pro-education private charity of which Buffett is a trustee. The Gateses are well below retirement age, as is Mark Zuckerberg, the 29-year-old billionaire founder of Facebook, who has pledged to give away at least half of his fortune.
Philanthropists in the 21st century, then, don't feel compelled to wait until senescence before sharing their wealth with the world. They're happy to begin the process during their younger years for the benefit of the rest of us. The great philanthropists of American history—Rockefeller, Carnegie, Stanford—hit it big early and only gave their fortunes away later in life. But today, you're never too young to start giving away your wealth.