What Does It Take To Be a Dominatrix?
How an Upper East Side private school girl ends up with a dungeon for an office.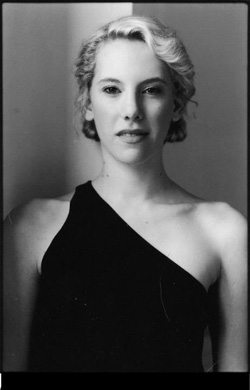 When you start, the dominatrix says, it feels like being thrown into a deep ocean when you don't know how to swim. You are coughing up water, choking, feeling like you are drowning.
Her first week at the dungeon Alexis Lass Trbojevic was overwhelmed by what she saw. What she saw was subs being whipped and caned, subs with bloody welts, subs walking on all fours on leashes, subs getting slapped in the face and spat on, subs licking the bottoms of women's shoes, subs left bound in cages for six or eight hours. She had to remind herself of a line from The Night of the Iguana, "Nothing human disgusts me …"
She thought of her mother saying that you become brave by acting brave. Though she also thought of other things her mother would say about what she was doing. In the beginning it was very hard to get the voice of her Upper East Side upbringing out of her head, to separate the flock of preppie Spence girls in their green plaid uniforms, the blocks of doorman buildings and tulip lined avenues, from the the amorphous entity she was beginning to think of as her self. Those first days in the dungeon, wearing latex, whip in her hands, she hears a voice call her trashy, a whore, a loser, but she doesn't know if it's her voice.
Then somewhere she crosses over. The world she has moved into is so extreme, so profoundly and flamboyantly unacceptable that it frees her from the narrow or confining definitions of a successful life; it's not like failing a little, or not fitting in a little. It's like going to Mars.
The abstractions here are easier to understand than the specifics. By that I mean that if you watch 30 seconds of one of the fetish films Alexis makes, in which a woman steps in stiletto heels on a man's genitals, you will not see Alexis' world as clearly as if you read Susan Sontag's essay on sadomasochism and fascism: "The color is black, the material is leather, the justification is truth, the aim is ecstasy, the fantasy is death."
When Alexis first told her mother what she was doing her mother said, "Don't come in the house." Alexis' mother was the closest person in the world to her. Alexis said, "Fine if that's what you want."
In the end her mother let her back into the house. But the break is still there, not visible, but there, the break where you find in yourself the ability to walk away from everything you have known; the break is thrilling, liberating and, as Alexis says, a little like dying.
Alexis describes her mother as a dark, remote, beautiful creature, drinking coffee, smoking long cigarettes reading her books by dead Russians. "She would probably be the best domme in the world," Alexis says.
One of the tricky financial issues that Alexis runs into with her fetish film business is that she can't resist spending money on the aesthetics: She wants a real goat skull for the Viking shoot, or an antique morgue table from the thirties, or the perfect cigarette holder for a film noirish shoot, or an art deco chaise longue, or a Caroline Herrera vintage Roman gown.
It could be her weakness as a businesswoman that Alexis cares about how her films look more than she cares about cheaply and efficiently delivering the fetish. In fact it seems like her heart is most unambiguously in painting the sets, in the installation, in the design, in the construction work, in the hunt for costumes and props, in the composition, in the look.
Alexis often explains her attraction to sadomasochism in general as aesthetic. "There is something beautiful about the sound of a whip in the dark," she tells me when she is describing her first days in the dungeon. For her there is also something beautiful in the inversion of regular life: the way the men are on their knees, small, bent over, and the women are taller.
I begin to notice that Alexis uses the word "aesthetically" when she wants to distance herself from other things that are happening. On the other hand she is truly interested in the aesthetics of sadomasochism, and I can't think of a time where I have seen her where she doesn't have paint under her fingernails.
Of course I want to know why Alexis is drawn into the Scene. This will not be a question that she answers easily, though she is generous enough to try. In fact she has already told me that this is the very question the Scene is designed to obscure; it is behind stage, off limits, hidden in some box with chains.