What Does It Take To Be a Dominatrix?
How an Upper East Side private school girl ends up with a dungeon for an office.
I ask Alexis how she would reply to an imaginary feminist who argues that she is degrading herself to fulfill male fantasies for money, that she is being exploited, in her latex dishabille, for oppressive patriarchal fantasies.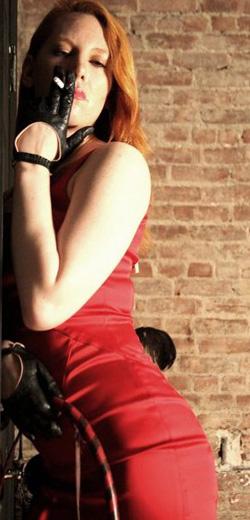 This is not how she thinks about the power relations in what she does, and she thinks about them a lot. Being dependent on one man's fantasies or whims is different from being dependent on various fairly interchangeable and shifting subs' payments for services rendered.
She also points out that the payments are called "tributes." She sees that money as equalizing the situation, undoing the humiliation a little, delivering back to these men their ego after they have been totally broken down; in some way the tribute or payment restores these bent over, shirtless, beaten men back to the often exalted place they have in the outside world.
Alexis' dungeon slash studio floats above an anonymous, midtown street; the dungeon is very clean and well lit and tastefully furnished for a dungeon. Somehow it feels like early morning here, even though it is 2 in the afternoon. There is a skinny gray cat wandering past the giant wooden cross, and a fluffy black one curled up on the '30s morgue table, and one curled up asleep on the low mattress that is there for late nights.
Alexis is tired from staying up until 2 shooting photographs of a Viking girl covered in silver body paint with a goat skull.
We are talking about Story of O, a famous French novel from the '50s about sadomasochism. I am somehow simultaneously bored and disturbed by the extremes of how O. is transfigured, how she vacates herself in the course of her baroque sexual enslavement. When Susan Sontag writes about O. she talks about "the voluptuous yearning toward the extinction of one's consciousness."
I mention the scene where O. is branded, and Alexis says that she once took part in a branding. She was with another domme who had a sub who was a math teacher from Ohio and wanted to be branded. They somehow found a branding iron that said "m." It was just what they happened to find, but they thought maybe "m" could stand for "mistress."
Alexis thought that she could hold the blowtorch because she had done welding before. She was nervous, and the slave was nervous, but she held it steady, the flame blue and red. She stood in a leather bikini and stilettos, holding it very still, while the other domme took the branding iron and put it on his skin. After it was over the dominatrixes started laughing, not a mean laugh, she explains, but nervous, relieved, scared. They had never done anything like that before.
Alexis said to the other domme, "Are you just going to leave him like that?" And the other domme got some Neosporin, and a bandage. But now she thinks the branding was going too far; she would never do anything like that anymore.
I think of other people I know with what Alexis calls "anger issues," the way it seeps into and poisons the lives of those around them, in socially acceptable ways, in ways not visible to the outside world, how things happen, minor dramas in the kitchen, books or other objects thrown or torn into pieces, fetishes unnamed and unwanted but still playing themselves out, accidental rituals of humiliation, humdrum or otherwise, little, banal stories of O. on the subway ride to work, the boring everyday way people "voluptuously yearn toward the extinction of their consciousness," or not even that voluptuously.
The Viking girl already sent Alexis a text this morning saying she is having second thoughts about the topless photos with silver body paint because her fundamentalist Christian family in Texas might see them. Alexis is more or less taking the position that body paint is clothes.
Somewhere in the middle of this Alexis is telling me about a dinner party she went to with her parents on the Upper East Side, at the house of an important judge. They are sitting around the table, the judge, his wife, his son who goes to an all boys' school, his 85-year-old mother with dyed red hair, Alexis and her family, and a couple of other Upper East Side friends, eating a pork roast from Lobel's, with horseradish sauce. They are talking about things they regret not doing. Someone turns politely to the the important judge's 85-year old mother and asks her what she regrets not doing. She says, "I wish I'd been a stripper."
In the dungeon, the window to the fire escape is criss-crossed with bars. Alexis takes another sip of her orange soda and lights a menthol cigarette.